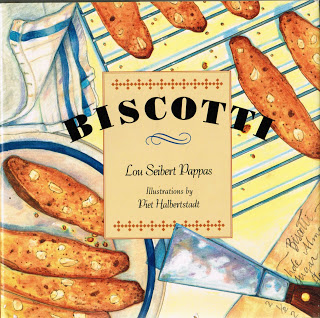 These crunchy, twice-baked Italian cookies have become a familiar sight at coffee shops to have with steaming cups of cappuccino, but are also just as good with wine or served with a creamy gelato.  My daughter Kara used to enjoy a caffelatte (coffee with hot milk) with anise-flavored biscotti when she lived in Sicily.  She is still hooked on coffee and biscotti.  What is so wonderful about biscotti is that they can be enjoyed any time of day from breakfast with coffee to having one with a late night hot chocolate.  They are ultra crunchy and perfect to dunk into anything. 
The word biscotti has a double meaning.  The root name stems from bis and cotto.  Bis means more than one, and cotto means "cooking" in Italian, so you literally bake the cookies twice.  The dough in formed into logs, baked once, taken from the oven and sliced diagonally and returned to the oven for a second baking.  The double baking criteria makes them crisp and long-lasting.  Christopher Columbus relied on biscotti to feed his crew on long sea voyages.  They  were baked to draw off almost all the moisture and produced a cracker-like ration that wouldn't mold at sea. 
The flavor possibilities are endless with biscotti.  The cookbook provides 26 different ways to make biscotti including pistachio with raisins, espresso, chocolate-ribboned, caramel walnut, almond crunch, white chocolate macadamia, triple ginger, and cinnamon.  They are all easy to make.  Go make some now and enjoy them with a nice cup of coffee.  Bravo Biscotti!