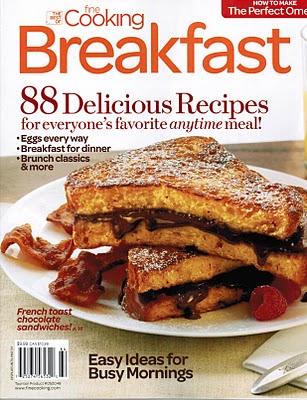 I seem to have breakfast, brunch, biscotti, and everything else in between on my mind lately, since I have had three blogs in the last week or so about them.  Not sure why that is, but it was reinforced once again when I arrived home from San Francisco over the weekend and found this in a box waiting for me from my wonderful friend, Roxanne.  She knows what I like.  Roxanne is always sending me fun things like cookbooks, magazines, or food items.  Everyone should have a friend like Roxanne.
Fine Cooking magazine is one of my all-time favorites, and this is one of their recent special publications.  Grab it if you see it!  It will be on display at book stores and grocery stores until the end of May.  You will want breakfast three times a day after browsing through these recipes.  Inside you will find breakfast drinks, breads, brunch for a crowd, quick breakfast ideas, midnight cravings, special occasions, and my favorite, breakfast for dinner.  One of my favorites to have is some kind of hash with a poached egg.  There is pork and potato hash with poached eggs and avocado that looks amazing, along with a sweet potato and chile hash with fried eggs.  I made up a hash recipe a few months ago with some leftovers I had in the refrigerator.  My girls went crazy over it and it is now on the permanent request list  when they are home.  First I cooked some bulk chorizo in a cast iron skillet, added some cubed,  leftover baked potatoes, sliced onion, and a few cloves of garlic.  When that was all nice and browned, I sprinkled in a good amount of smoked paprika, gave it a stir,  then made a few indentations in the hash, and cracked in eggs.  It then goes into a 425 degree oven just until the whites are just cooked and the eggs are still runny.  When it comes out of the oven, drizzle it with a little olive oil, and sprinkle with chopped cilantro or flat leaf parsley. Oh, my goodness.. You have to try it.  If not, try one of the recipes seen below from the book.  Fix someone you love a good breakfast today.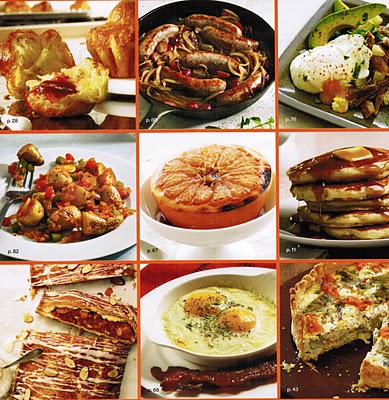 Thanks, Roxanne!  Miss you!