I enjoy cooking more with alcohol than drinking it.  Knowing this, my daughter Kristina bought this great cookbook for me last Christmas.  Alcohol infuses such incredible flavor into food; everything from main dishes to sweets.  Author Lynne Tolley is the great-grandniece of Jack Daniel.  In 1904, Jack Daniel won a gold medal at the St. Louis World's Fair for his "Tennessee Sour Mash Sippin' Whiskey," the spirit of Tennessee.  The great state is renowned for many things, most notably its music, walking horses, natural beauty, and Jack Daniel's whiskey.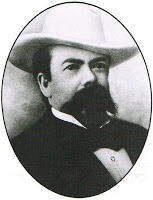 Many people enjoy Jack Daniel's with a cola drink, but there are many other good partners with the whiskey such as roast pork, ham, sweet potatoes, wild mushrooms, and barbecue.  The whiskey has distinctive notes of vanilla, caramel, and oak, which enhances so many other flavors.  It has traditionally been served as a celebration drink for special occasions and social gatherings, and was even used in the past as a tonic or medicine.  But today inventive cooks and chefs use Jack Daniel's in favorite sauces, side dishes, entrees, and desserts. 
The birthplace of Jack Daniel's is the small town of Lynchburg.  The cookbook not only will offer you great recipes, but there are stories about the people and places that capture the traditions of Southern hospitality.  You can read amusing stories of "tall tales," family reunions, farmer's markets, small town life, music, and hunting.  The rugged Great Smoky Mountains are on the east side of the state, and there are stories about bears; not hunting bears, but running into them while hunting for other animals or camping.  I know this first hand, as I wrote a
blog
last year about a run-in with a bear while camping in the Smoky Mountains with my family many years ago.  I'm afraid that was my only memory of Tennessee for a long time, but now I will try some of these great recipes to erase my bear-scare experience.  And that won't be hard at all.