I grew up with a cherry tree in the backyard and have always loved cherries prepared many ways.  My husband came home with a huge bag of beautiful cherries this week and I thought something a little different from a cherry pie or cobbler might be nice.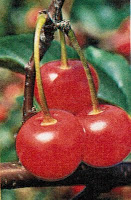 CHERRY NUT BREAD WITH CREAM CHEESE FILLING
1 package (3 ounces) cream cheese, softened
2 Tablespoons granulated sugar
1 Tablespoon all purpose flour
1 egg yolk
2 cups all purpose flour
1/2 cup granulated sugar
1/2 cup packed brown sugar
1 Tablespoon grated orange peel
1-1/2 teaspoons baking powder
1/2 teaspoon salt
1/4 cup vegetable shortening
1/2 cup orange juice
1 egg, slightly beaten
2 cups pitted fresh, tart cherries, cut in half
1/2 cup chopped walnuts
1.  Heat oven to 350 degrees. In a small bowl, beat together the cream cheese, 2 Tablespoons granulated sugar, 1 Tablespoon flour, and the egg yolk until smooth; set aside.
2.  In a large bowl, mix 2 cups flour, 1/2 cup granulated sugar, the brown sugar, orange peel, baking powder, and salt.  Cut in the shortening until mixture resembles coarse crumbs.  Stir in orange juice and 1 egg until flour is moistened.  Fold in cherries and nuts.
3.  Spoon 2/3 of the cherry batter into greased loaf pan.  Pour reserved cream cheese mixture over batter.  Top with remaining cherry batter.  Bake until wooden pick inserted in center comes out clean, about 1-1/4 to 1-1/2 hours.  Cool in pan 10 minutes; remove from pan.  Cool completely on wire rack.