Believe it or not, there was a day when school cafeterias made at least some of the school fare from scratch.  Such was the case in 1969 at my high school, Putnam City West in Oklahoma City, Oklahoma.  Now, I didn't say it was healthy food, but it wasn't prepared as most meals are now, which is re-heating packaged food.  The cafeteria ladies made from-scratch cookies, desserts, and the biggest (about the size of softballs!), fluffiest white dinner rolls you have ever seen.  As I said, not healthy, but they certainly were good.  At least that's how I recall, or maybe they just tasted good because I was a teenager.  And also because I was a teenager with a faster metabolism, along with being a cheerleader and athlete, I was able to burn it all off after school at practices or athletic meets.  Yeah, that was a long time ago.
During our seemingly endless deep freezes around here in the Chicago area lately, making it difficult to get out much, I resort to my favorite pastime –  going through cookbooks and recipes.  My husband loves this because he knows he is going to feast.  While looking through some recipes, I came across one that made me smile.  It was a 3-by-5 index card in my 16-year-old handwriting, for a cherry cobbler.  Ah, yes, the cobbler.  It was one of those desserts the cafeteria ladies made.  I ate it. Often. One day after lunch hour, I decided I had to get the recipe and poked my head into the kitchen and asked one of the ladies if I could ask them a question.  When I told her how much I loved her giant rolls and cookies, but my favorite was the cherry cobbler, her face lit up.  Oh – she said- I am the one who  makes that!  But when I asked her if I could have the recipe, she laughed and said – are you cooking for about 100 people at a time?  She told me how she made it, but she had no recipe, and just mixed things until it "felt right."  Probing further, I learned that she made a buttery, sugar cookie-like crust on top and bottom, a cherry pie filling from a can, except she added extras to it, and she said the extra crunch on top was from sprinkling it with lots of sugar.  My heart sank that she couldn't give me an exact recipe, but she encouraged me to figure it out and said it wouldn't be too hard, and to start with a basic sugar cookie dough.  After several attempts using my Grandmother's sugar cookie recipe, I finally got very close to what I thought at the time was the world's best cherry cobbler.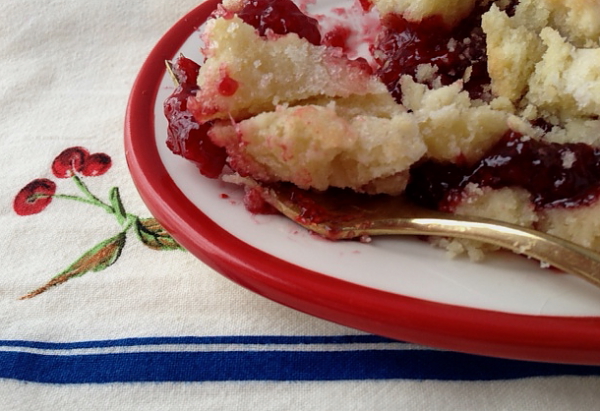 I don't make desserts with this much butter and sugar very often, but I had all the ingredients and my husband's puppy dog eyes pleaded with me.  Okay… but I'm freezing most of it in small containers to have as a special treat now and then, I told him.  I probably haven't made the cobbler in thirty years, but it all came back to me as I was putting it together, along with an array of high school memories.  After it was baked and cooled slightly, I scooped some up for the photo shoot before even tasting it.  It looked the same; the topping was crunchy and sugary, the filling not runny, and it smelled great.  So far, so good.  Now for the test.  I called Bill to come and taste, he took a bite and gave me a kiss, so I guess he liked it, but then I knew it was time to package it up in containers so he wouldn't eat it all at once.  I scooped up about half of it, and liked how it looked in the pan, so I took another photo.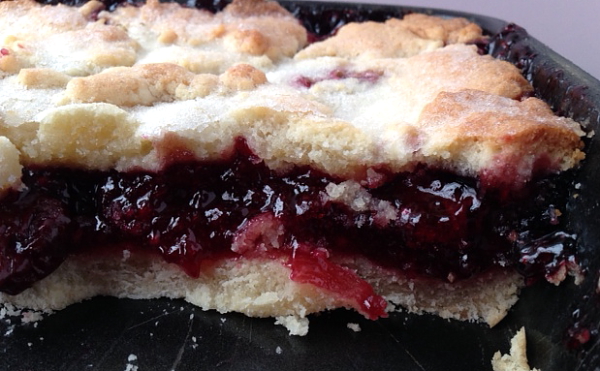 Sometimes our minds trick us and we can't go home again, but this time the cobbler tasted just as good as it did back in 1969.  However, I don't have cheerleading practice anymore or jump hurdles, so one bite had to suffice.  It was a good bite.  Sweet, but good.  Like memories.
Cafeteria Lady Cherry Cobbler
Cookie Crust and Topping:
1-1/4 cups butter, softened
1/2 cup sugar
2 eggs
2-3/4 cups all-purpose flour
1/4 teaspoon salt
Cherry Filling:
1 can (21 ounce) cherry pie filling
1/3 cup sugar
1/3 cup packed brown sugar
3 Tablespoons quick-cooking tapioca
1/8 teaspoon almond extract
1 Tablespoon sugar, for sprinkling on top
Vanilla ice cream or whipped cream, optional
Heat oven to 400 degrees.  For crust:  In bowl of electric mixer, cream together butter, sugar, and eggs until well mixed.  It doesn't matter if it looks a little lumpy.  Add the flour and salt; mix until a soft dough forms.  Pat half the dough evenly onto the bottom of a 9-inch square pan; set aside.
For Cherry Filling:  In a small bowl, stir together pie filling, both sugars, tapioca, and extract.  Spoon on top of crust in pan.  Pick up small pieces of remaining crust mixture and flatten with your fingers and scatter around on top of cherry filling, using about a tablespoon at a time, and covering the filling.  Sprinkle the top crust evenly with the 1 Tablespoon of sugar.
Bake for 30 to 35 minutes, or until the top crust is a deep golden brown and cooked through.  Remove from oven and place pan on a wire rack to cool slightly.  The cobbler can be served by itself, or with a scoop of vanilla ice cream, or whipped cream, if desired.  Refrigerate any leftovers.  (it's good cold, too)