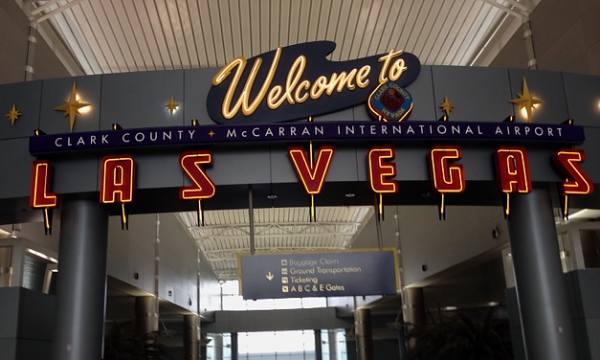 Winning a million dollars is an experience in itself, but add the glitter and non-stop merriment of Las Vegas, and you have all the makings of a lively Pillsbury Bake-Off contest.  The iconic contest was held last November at the Aria Hotel.  My daughter Kristina and I, both former Bake-Off contestants, now attend the contest as media.  We can't decide which is more fun.  Pillsbury certainly knows how to throw a party!  Kristina and I agreed that this contest was probably the most energetic and glitzy contest to date.  How could it not be in Vegas, right?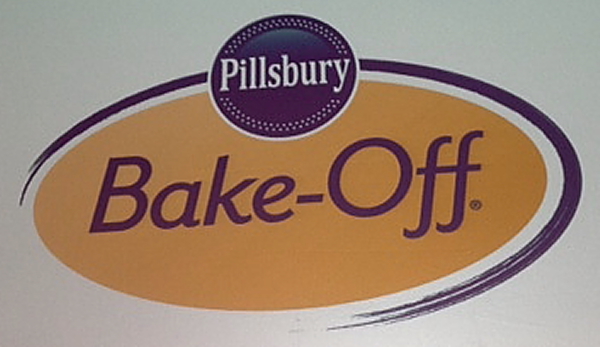 As I exited the plane and entered the airport to baggage claim, there were Pillsbury representatives everywhere holding up a Bake-Off sign.  Right from the start, one knows that Pillsbury has it all figured out to a science, which makes sense after hosting forty-six contests beginning in 1949.  The drivers were ready to take contestants and media to the Aria.  As I was chatting with the driver, a woman walked up with the look of anticipation as only a contestant could have.  Imagine being a contestant and knowing you have a one in one hundred chance of winning a million dollars in the next few days.  I swear, the energy of  the contestants almost emits an electricity in the air.  I recognized this particular contestant right away, as I have seen her photo and read of her accomplishments in the cooking contest world many times on the Cooking Contest Central site, which is the premier website to learn about all the cooking contests available, and is a huge supporter of the Bake-Off.  I was looking at the friendly face of contestant Helen Fields of Paradise, Texas.  A world traveler, Helen has visited 49 states and 26 countries, but I am guessing Las Vegas is at the top of her memory list at this moment!  As we were chatting on the bus to the hotel, Helen showed me her fingernails, which were painted as, what else, the Pillsbury Doughboy.  Sorry…. the bus was bumpy, so the photo is blurry –  but they were so cute!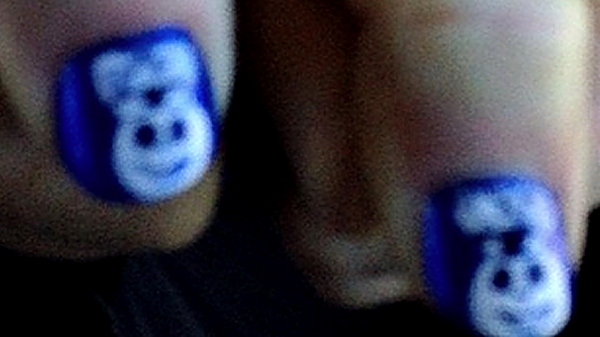 The festivities didn't officially begin for contestants until the next day, but for the media, Pillsbury planned a dinner at Sage in the Aria.  We sat with one of the Bake-Off judges and other interesting people at our table and had a grand time.  In addition to the enjoyable conversation, the delicious meal was a sight to behold, courtesy of executive chef and James Beard Award winner, Shawn McClain.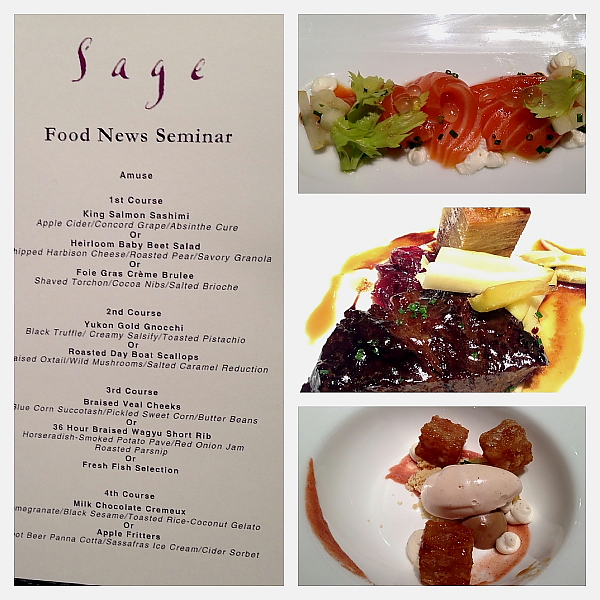 After good-byes to our table mates, Kristina and I returned to our lovely room for a relaxing evening.  We had a spectacular view with all the sparkling lights of Vegas.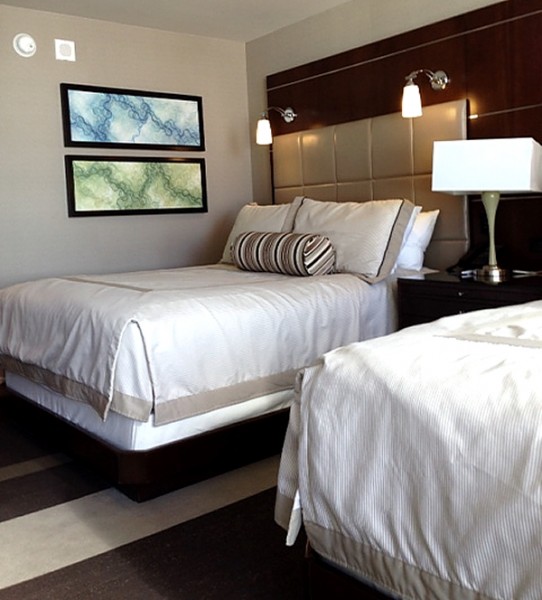 The next morning, we enjoyed the Pillsbury tradition for the media –  breakfast-in-bed!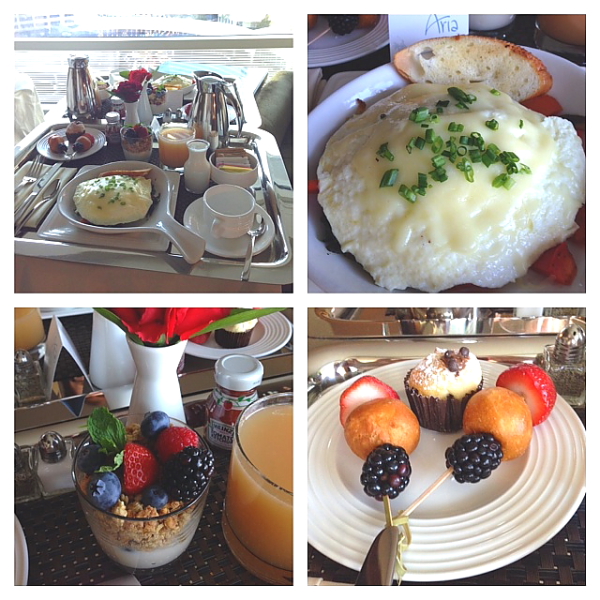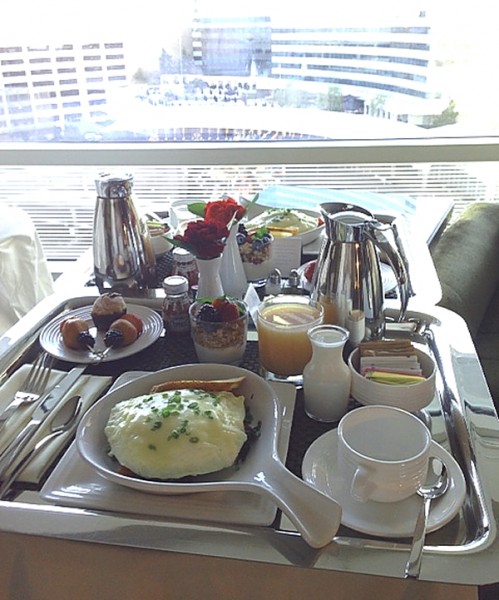 The breakfast was a great way to start our busy day, which was a variety of  informative media sessions and a pizza lunch featuring the Pillsbury Pizza Crusts.  In the evening, we boarded buses to Vintner Grill, overlooking the famous Las Vegas Strip with a meal created by executive chef Matthew Silverman.  The menu featured American infused dishes with flavors from Spain, France, and Italy.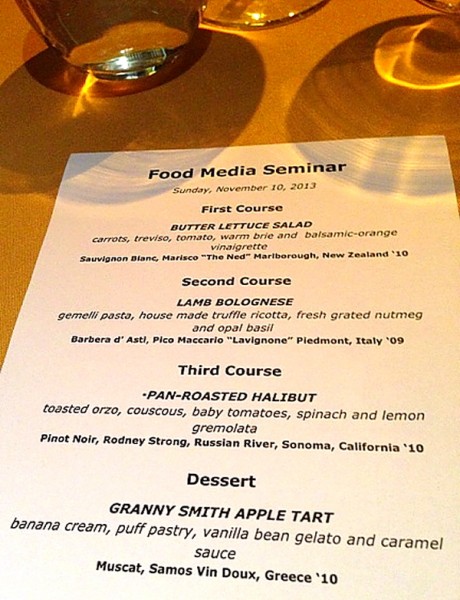 Now it was time to get to bed since the festivities were to begin at 6:30 the next morning starting with a breakfast buffet and the Grand March of contestants into the ballroom, where 100 ovens and the Pillsbury helpers were waiting to start helping the contestants.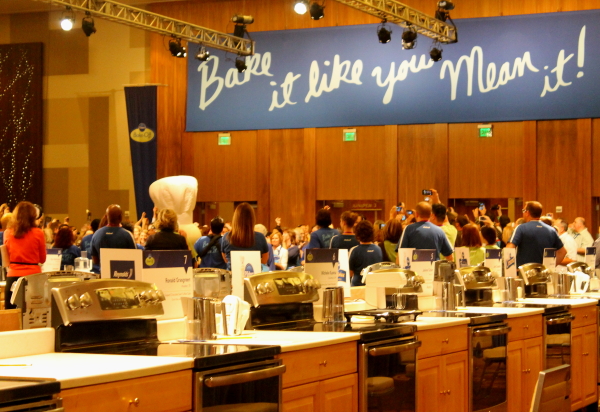 The Grand March was led by the Doughboy and million dollar winner from the last contest, Tina Verrelli.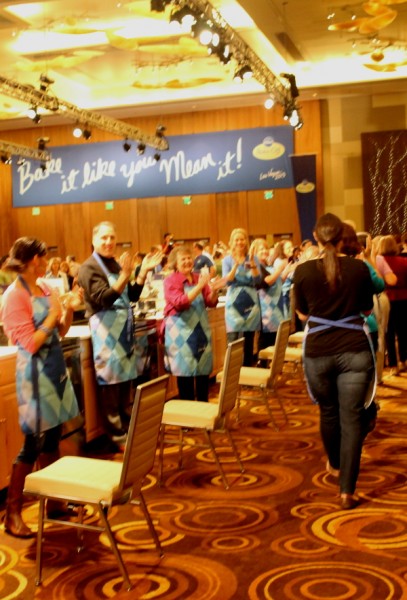 The contestants entered and found their ovens, then cheered on the others as they came in and headed for their cooking area.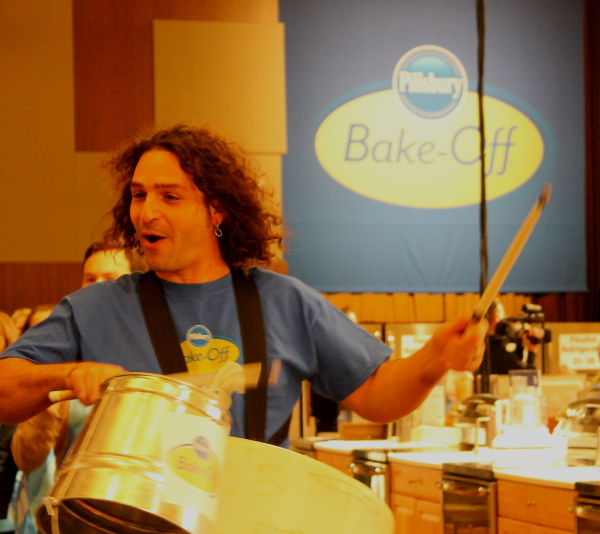 The band was incredible and so energetic!  They really got the crowd going.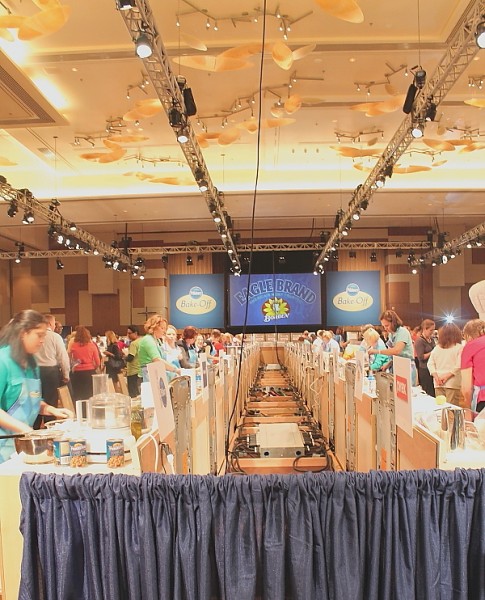 Okay, now things get serious!  The cooking and baking begin and the contestants are fully aware that one million dollars is at stake.  Even with that in their heads, the contestants were clearly having a grand time.  Almost immediately, enticing aromas started filling the room.  It was like being in a giant restaurant with an extensive menu. Coming out of the ovens were creative pizzas, breads, desserts, and appetizers.  Helpers were running around doing dishes for contestants.  The Bake-Off was in full swing.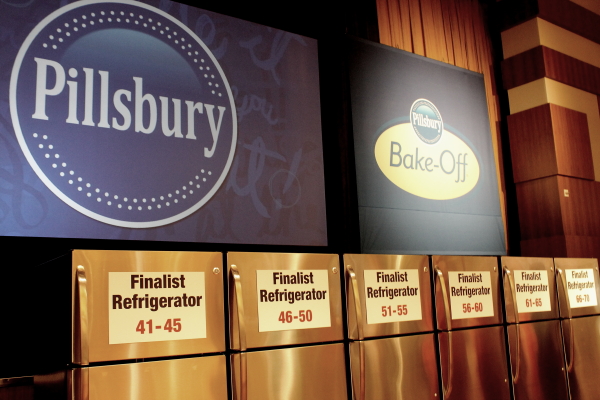 The refrigerators for all the perishables.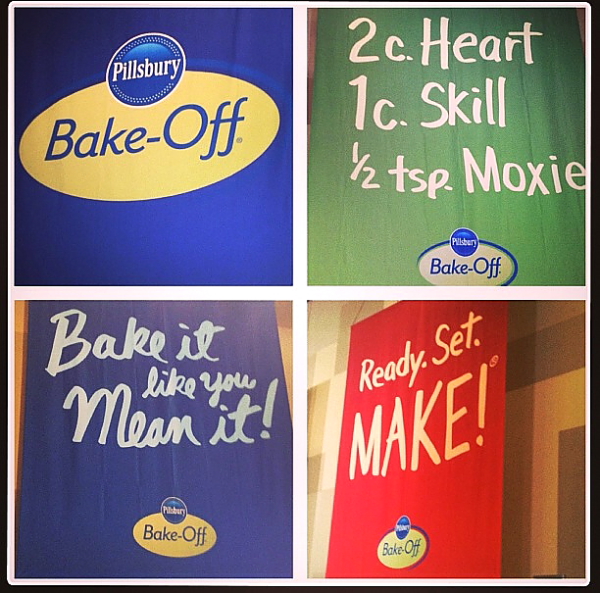 Words of wisdom on huge banners so you won't forget where you are and what's at stake!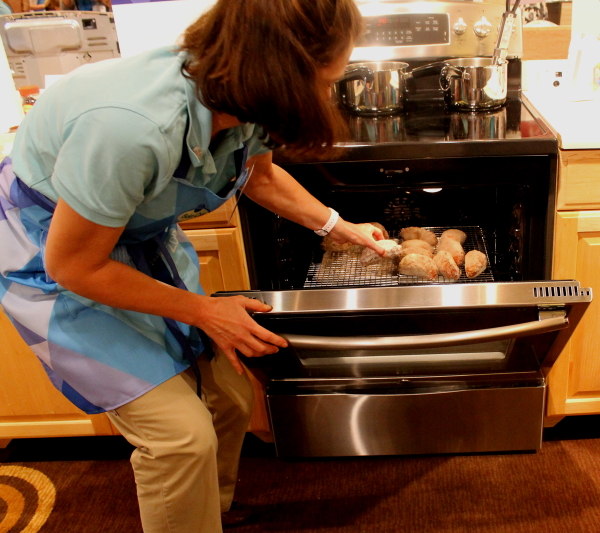 A contestant checking her entry.  This is Karyn Hentz from Virginia who made "Espresso Hazelnut Beignets."  I got to sample them, and they were amazing!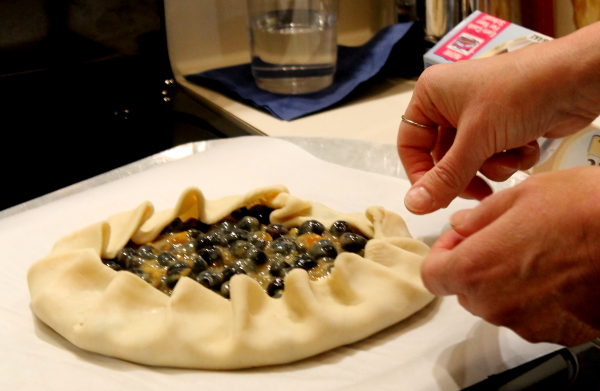 Contestant Cathy Weichert from Mound, Minnesota making her beautiful "Orange Cardamom Blueberry Crostata."  You had me at cardamom, Cathy!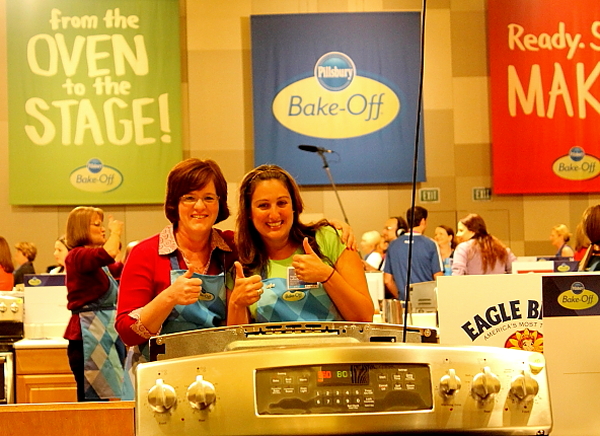 And sometimes it's nice to have a buddy at the stove right next to you, as did Julie Beckwith from Illinois and Naylet LaRochelle from Florida.  This photo represents all that is good about the Bake-Off-  making new friends and seeing old friends.   I'd call this a million dollar memory.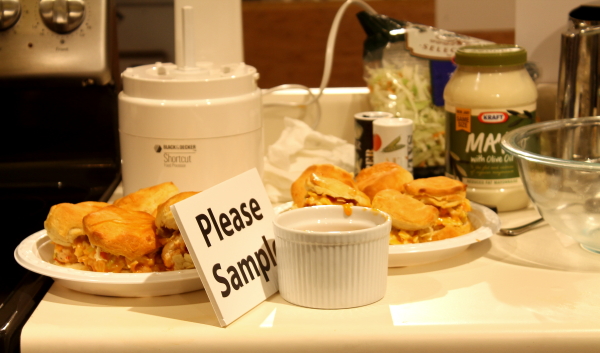 Sometimes the media can sample…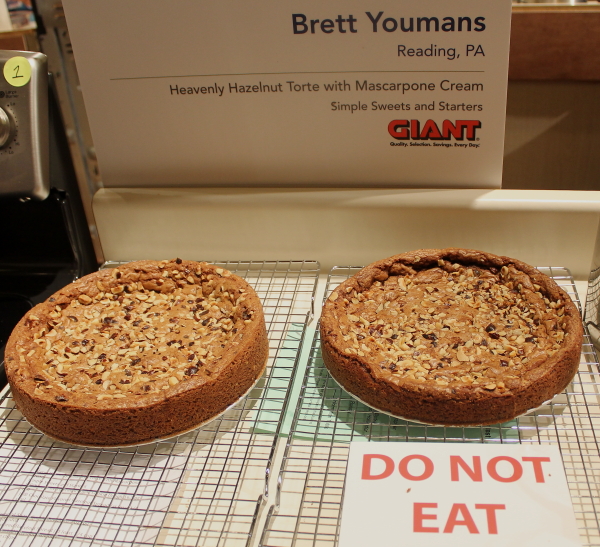 …And sometimes they can't!
(By the way, I tasted the above tart from my friend Brett and it was fabulous!!)
One person who was able to sample all kinds of dishes was the Bake-Off host, Padma Lakshmi from Top Chef.   Padma made the rounds around the Bake-Off floor with the Doughboy, and yes, she is just as beautiful in person as she is on television!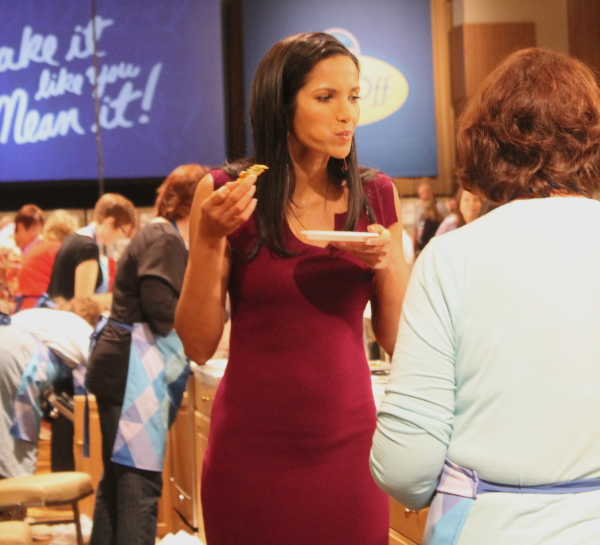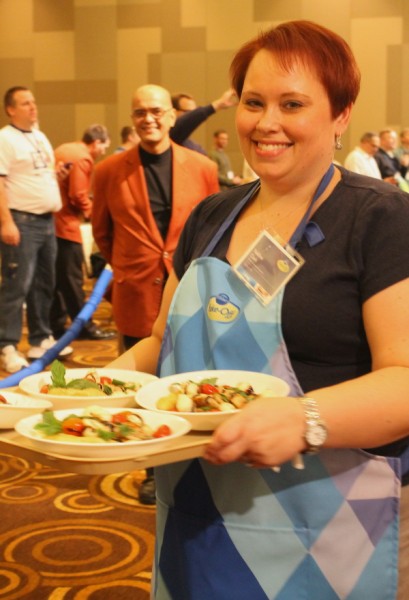 Contestant Nadine Clark from Telford, Pennsylvania takes her entry "Chicken Caprese Focaccia" to the judges.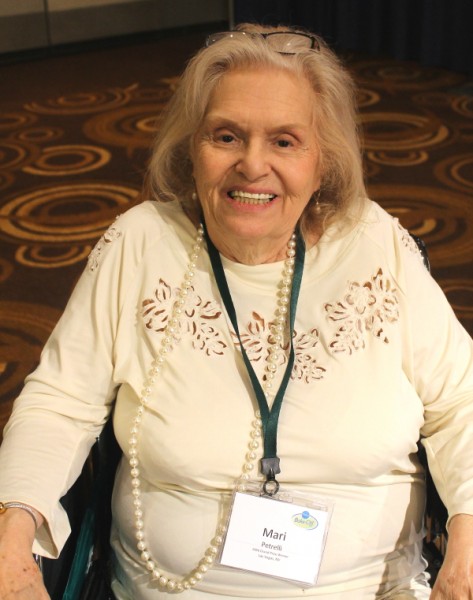 One of the highlights of the morning for me was meeting Mari Petrelli, the grand prize winner from the 17th Bake-Off contest in 1966, held in San Francisco.  Mari won for her "Golden Gate Snack Bread."  It felt surreal for me to actually meet Mari because I had written about her in my blog.  Mari had her son with her and heard me say to Mari that I had written about her, and all the Bake-Off winners, in my blog.  Mari asked me about it and I told her the name was "The Culinary Cellar."  Her son looked at me and said – "We know the Culinary Cellar!  We read about what you wrote about mom!"  I was thrilled beyond anything to know that one of the contestants from decades ago had read my blog – and liked it!  It was a joy and honor to meet Mari, and to see how she was enjoying herself as the Queen for the Day.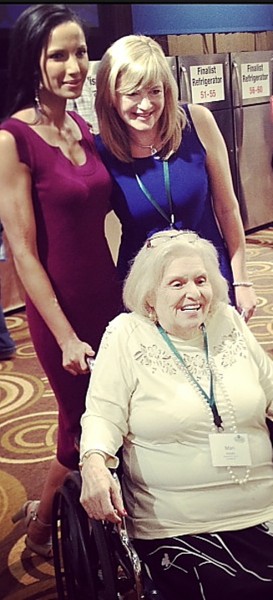 Mari with Padma and last year's winner, Tina Verrelli
After cooking all morning, from 8:00 to 11:30, the contestants are finally finished.  It's over, everyone did their best, and now the decision for the million dollars is in the hands of the judges.  The announcement of winners will be in the evening at the Awards Show and celebration dinner.  The afternoon is time for rest (yeah, right!) before the chance to walk the "Blue Carpet," a new addition to the Bake-Off, and a photo-op with the also new "Golden Doughboy."  Pillsbury, you did this one right!  I believe now that the Golden Doughboy will be as coveted as the million dollars!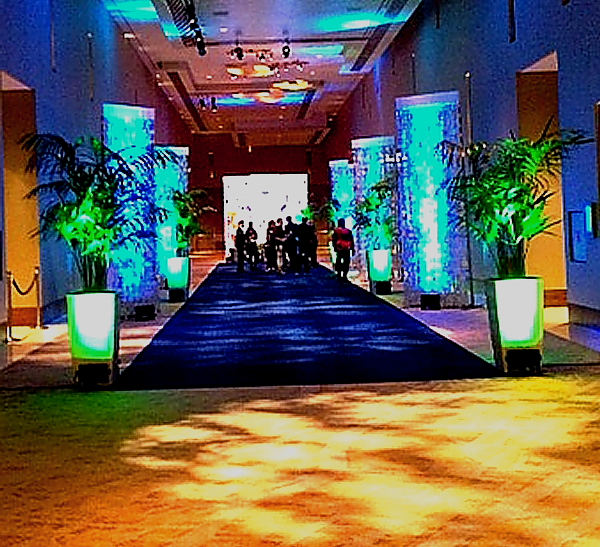 When we arrived for the Awards Show, contestants were already lining up to walk the Blue Carpet and see the Golden Doughboy.  He was waiting at the end of the Blue Carpet.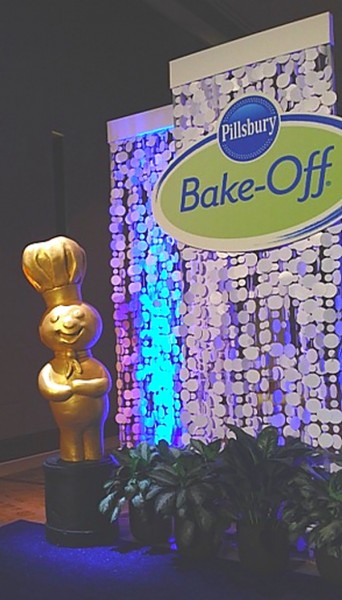 There is no describing the ballroom of the Awards Show.  It looked like the set for a television show.  Everyone took their assigned seats and breathlessly awaited the results.  Someone in that room was going to be America's newest millionaire and hold a permanent place in culinary history.  But first up was dinner.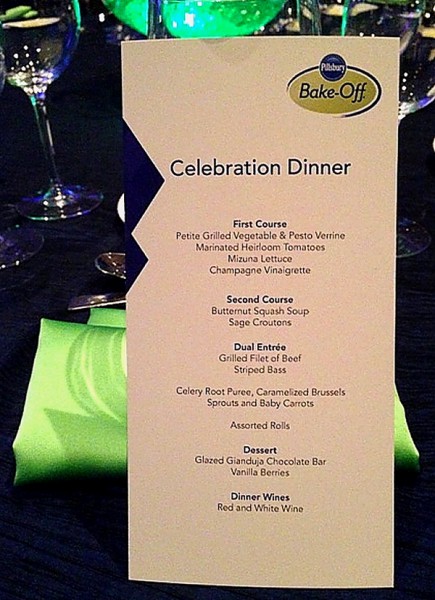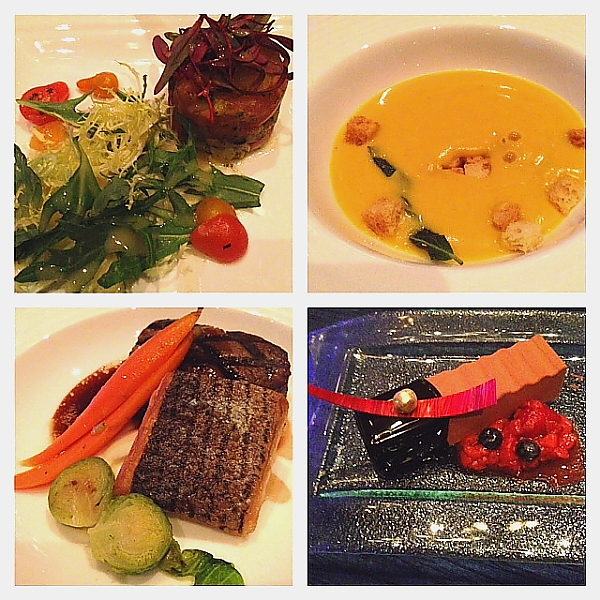 After enjoying the delicious meal, it was showtime.  The drum group from the Grand March performed once again, not just for entertainment, but to also announce where the next Bake-Off would be held.  The stage lit up with the words "NASHVILLE" in giant sparkling letters as the crowd cheered with excitement.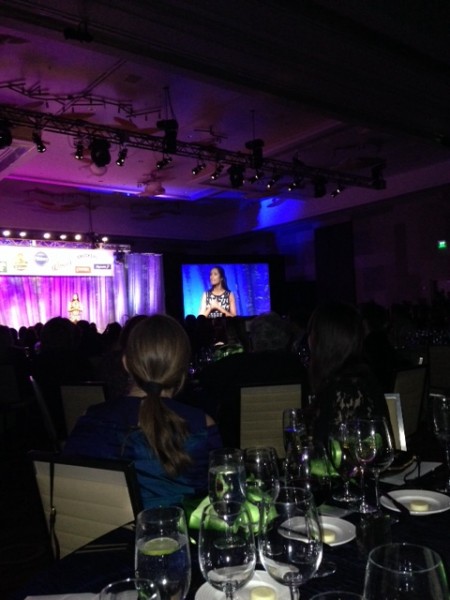 And now it begins.  Padma entered the stage to announce the special awards from sponsors General Electric, Jif, Crisco, and Eagle Brand.  The "GE Imagination at Work Award" went to Kellie White from Valley Park, Missouri for her "Honey Sesame Bagels."  Kellie won $5,000 in GE kitchen appliances.  The "Jif Peanut Butter Award"  and a $5,000 cash prize went to Kim Doyle Willie from Carbondale, Colorado for her "Thai Shrimp Pizza."  The "Crisco is Cooking Award" of $5,000 cash was won by Julie Beckwith from Crete, Illinois for her "Upside Down Tomato Basil and Chicken Tartlets."  The "Eagle Brand Signature Recipe Award" and $5,000 cash was awarded to Karen Harris from Castle Pines, Colorado for her "Bacon Corncakes with Warm Maple Cream."  The room exploded with elation at each announcement.  Karen Harris happened to be seated at the table next to us, so Kristina and I went over and snapped a photo of the Golden Doughboy statue.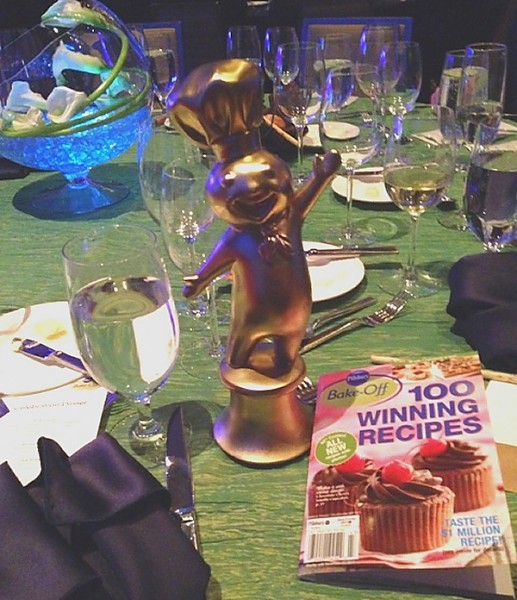 There are now three contestants who were called up to the stage:  Glori Spriggs from right down the road in Las Vegas with her recipe called "Loaded Potato Pinwheels."  Shelia Suhan from Scottsdale, Arizona had a recipe called "Easy Caprese Pizza Bake," and Antoinette Leal from Ridgefield, Connecticut baked a beautiful tart called "Cherry Almond Brunch Tart."  I can't imagine what was going through the minds of these three women.  One of them was about to win a million dollars.
You could feel the tension in the air.  Padma appeared with the envelope in hand.  The third place winner was Antoinette Leal.  That left Shelia and Glori on stage.  Padma slowly opened the envelope.  And the winner of the 46th Pillsbury Bake-Off contest is…

Glori Spriggs for her "Loaded Potato Pinwheels!"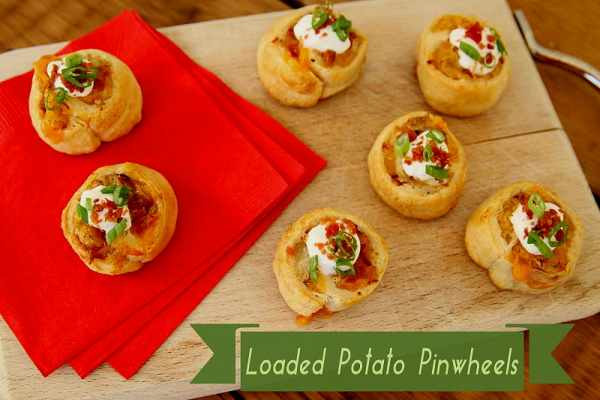 When the exhilarant crowd finally calmed down, it was time for the press conference.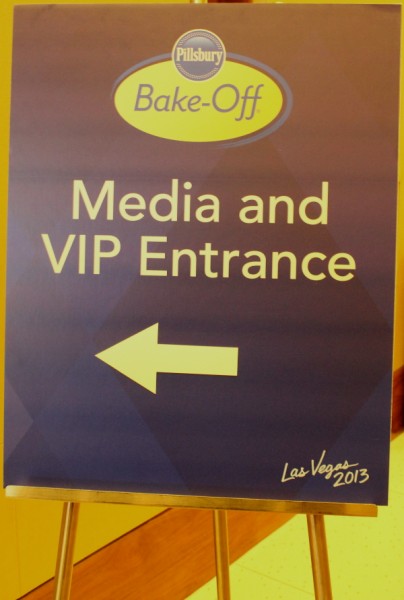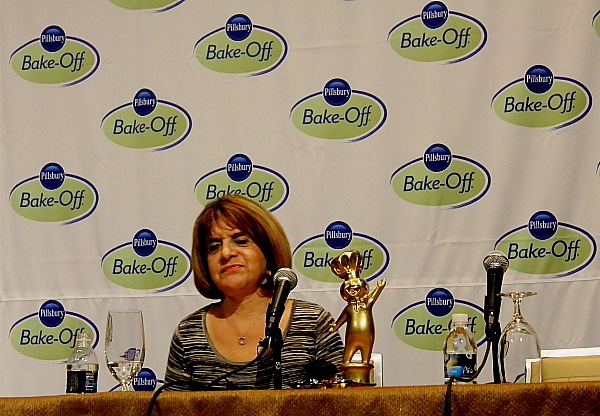 Glori took her seat in the press room, and I think she was still in shock!  Her best friend was sitting right behind us and beaming with joy for her lifelong friend.  Glori was asked what she was going to do with her newfound wealth, and she replied, "I want to help out my daughter, take my mom on a riverboat cruise, and buy a car with a back-up camera."  After the question and answers, Glori was whisked off on a private jet to Los Angeles where she would appear the next morning on the Queen Latifah Show demonstrating her million dollar appetizer.  Glori's recipe will make perfect Super Bowl food, or so says my husband.
It was now very late and we had to head back to our room, get some much-needed sleep, and fly back home the next morning.  I am guessing we got more sleep than Glori.
You can find Glori's recipe and recipes from all the contestants at www.bakeoff.com or even better, buy the 46th Pillsbury Bake-Off contest book, available now at supermarkets and book stores.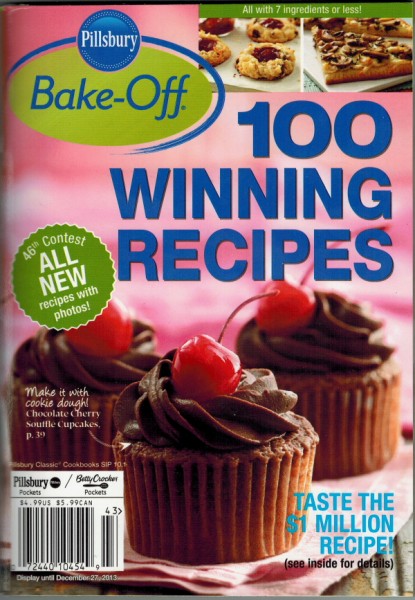 Watch my blog for news about the 47th Bake-Off to be held in Nashville in the fall.  As soon as the information posts on the Pillsbury site, I will let you know how to enter and maybe even offer some tips on coming up with a recipe using the sponsor products.  Don't forget – you could be the next millionaire.  Get those creative juices flowing!
In the meantime, you can read about every single Bake-Off since the first in 1949 on my blog.  Maybe reading them will get you excited about entering the contest.  Good luck, and I hope to see you in Nashville!
To read all my previous Bake-Off blogs:
Bake-Off #1: http://su.pr/7gmylO
Bake-Off #2: http://su.pr/2zgjZn
Bake-Off #3: http://su.pr/7VZzZS
Bake-Off #4: http://su.pr/292acQ
Bake-Off #5: http://su.pr/2yOSvP
Bake-Off #6: http://su.pr/28VYBh
Bake-Off #7: http://su.pr/1hk3nb
Bake-Off #8: http://su.pr/22JMGd
Bake-Off #9: http://su.pr/2KkA2E
Bake-Off #10: http://su.pr/8awD1k
Bake-Off #11: http://su.pr/1CmPvD
Bake-Off #12: http://su.pr/3ogo5M
Bake-Off #13: http://su.pr/1a4HYQ
Bake-Off #14: http://su.pr/3tgiV5
Bake-Off #15: http://su.pr/7tQXBu
Bake-Off #16: http://su.pr/9nPW7c
Bake-Off #17: http://su.pr/9WIaqm
Bake-Off #18: http://su.pr/6MMS45
Bake-Off #19: http://su.pr/2A7GIX
Bake-Off #20: http://su.pr/2MwjlD
Bake-Off #21: http://su.pr/1nIgIJ
Bake-Off #22: http://su.pr/1nkUgJ
Bake-Off #23 http://su.pr/20jQDK
Bake-Off #24 http://su.pr/AMfFSj
Bake-Off #25 http://su.pr/4btzLZ
Bake-Off #26 http://su.pr/2sJrvp
Bake-Off #27 http://su.pr/9cG4B1
Bake-Off #28 http://su.pr/24CMm0
Bake-Off #29 http://su.pr/8th5eg
Bake-Off #30 http://su.pr/AUUGkZ
Bake-Off #31 http://su.pr/9j9TQ6
Bake-Off #32 http://su.pr/76Fl0s
Bake-Off #33 http://su.pr/26Q4KJ
Bake-Off #34 (part 1) http://su.pr/3TlcV
Bake-Off #34 (part 2) http://su.pr/7suCub
Bake-Off #35 http://su.pr/1lZC8X
Bake-Off #36 http://su.pr/1Ogl7Q
Bake-Off #37 http://goo.gl/39Fh0
Bake-Off #38 http://goo.gl/5xrPz
Bake-Off #39 http://goo.gl/ca52t
Bake-Off #40 http://goo.gl/Kj0NQ
Bake-Off #41 http://goo.gl/SlRCz
Bake-Off #42 http://goo.gl/cw1Rs
Bake-Off #43 http://goo.gl/PMLlz
Bake-Off #44 (part 1) http://goo.gl/QDDwK
Bake-Off #44 (part 2) http://goo.gl/yhncc
Bake-Off #45 https://theculinarycellar.com/pillsbury-bake-off-45-pumpkin-ravioli-with-salted-caramel-whipped-cream /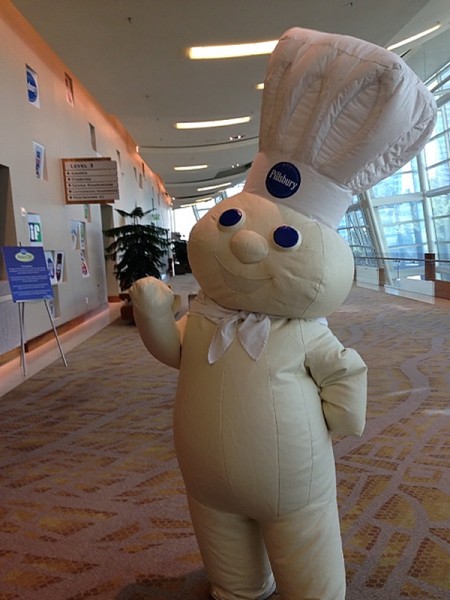 Bye for now, Doughboy!  See you in Nashville!