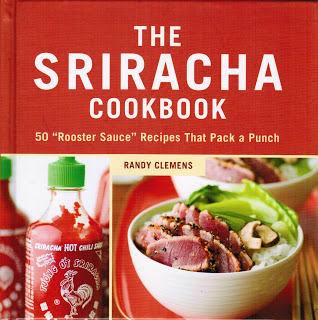 In the Chonburi Province of Thailand is the seaside city of Sri Racha, where hot chile paste reigns supreme.   Thai cuisine is focused on four sensations: spicy, salty, sour, and sweet, which is combined in this celebrated sauce.  My brain has been on overdrive with Thai food ever since we celebrated my daughter's birthday last weekend at "Next," which is chef Grant Achatz's restaurant in Chicago that has the current theme of "Tour of Thailand." (Yes!  There will be a blog on the experience soon). 
I found this great little cookbook at the Embarcadero ferry building in San Francisco where they have one of the best Farmer's Markets in the country.  My husband and I were waiting for our old friends Cathy and Michael to meet up for dinner, so I decided to check out all the cookbooks until they arrived.  Since I love Sriracha sauce, I quickly grabbed this one.  Many people call this "rooster sauce" as that is what is pictured on the bottle.  This brand of sauce was developed by David Tran, who came to our country in the late 1970's as a refugee seeking asylum from the post-war regime.  The rooster represents the year of Tran's birth on the Chinese zodiac.  To make a living, Tran decided to start his chili sauce business which he named "Huy Fong Foods" after the name of the ship that carried him out of Vietnam.  He first sold his sauce to local restaurants and markets in Los Angeles.  Tran's sauce is bolder and thicker than other spicy Thai sauces and is contained in plastic squeeze bottles.  Americans took to it right away as a nice change from other condiments such as ketchup, mustard, and mayo.  Word of mouth spread and now Tran's sriracha sauce exceeds 14 million bottles a year in sales.
Strangely enough, the first recipe of the book is how to make your own sriracha sauce, when the book is all about using Tran's rooster sauce.  It's actually cheaper to buy it than it is to make it, so I think I will stick with the bottled.  Why mess with perfection, right?  It may be a small book, but it's loaded with incredible recipes.  Included in the first chapter of sauces is how to jazz up ketchup and mayo, which once you try them,  both will become staples!   The mayo is just sriracha, mayo, and lime juice, and the ketchup has sriracha and fish sauce added.  Try dipping fries into those sauces and your family will think you are genius.
Other chapters include starters and snacks, salads and sides, soups and stews, breakfast, main dishes, drinks, and desserts.  In the desserts there is a sriracha truffle with dark chocolate, cream, cocoa powder, orange zest, and a hint of cinnamon.  If you try the sriracha burger, the author warns to get a defibrillator ready because it will knock your socks off.  There is sriracha in the burger and in the blue cheese dressing, but it also has bacon and caramelized onions – all on a sesame bun with Swiss cheese and beefsteak tomatoes.  I am a huge fan of tuna tartare and the "Turned-up" tartare sounds like a dream.  The tuna is cubed and tossed with olive oil, sesame oil, soy sauce, wasabi powder, sriracha, grapefruit zest and juice, shallots, jalapeno, and green onion.  Every one of the fifty recipes sound incredible. 
I have some jalapeno peppers in my garden that I must use for the "Jalapeno Poppers."  The author even says, "I cannot tell a lie.  These peppers are hot."  Get the fire extinguisher ready.