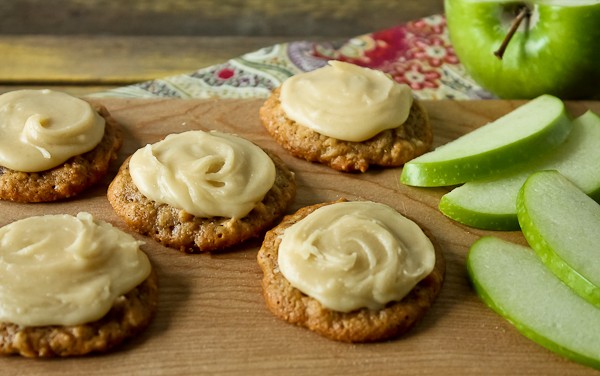 Freshly grated apple, golden raisins, apple juice, walnuts, and lots of fragrant spices make these cookies easy and delicious for autumn baking.  The cookies are spread with a rich brown sugar icing that hardens a little as it sits but is still luscious and creamy.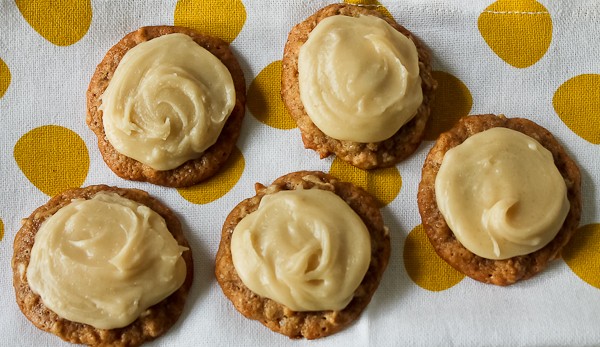 I like the simplicity of the cookie, but you could sprinkle more chopped walnuts on top if you like, or sprinkle them with a little extra nutmeg.  Or if you like sandwich cookies, you could even make them that way.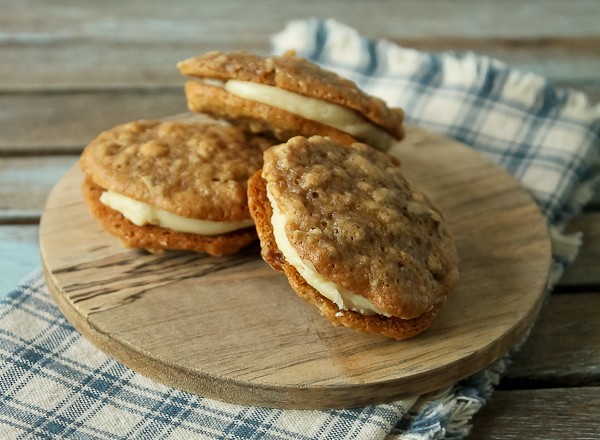 The cookies baking will fill your kitchen with the aroma of cinnamon and apples.  Who could resist?

Caramel Apple Cookies
Ingredients
Cookies:
½ cup solid shortening (use plain Crisco sticks, not the butter flavor)
1-1/3 cups packed light brown sugar
1 egg
2-1/4 cups all-purpose flour
1 teaspoon baking soda
1 teaspoon ground cinnamon
1 teaspoon ground cloves
½ teaspoon ground nutmeg
¼ teaspoon salt
1 cup grated pared apple
1 cup golden raisins
1 cup chopped walnuts
½ cup apple juice or apple cider
Caramel Icing:
¼ cup unsalted butter
¼ cup packed brown sugar
1-1/2 cups powdered sugar
¼ teaspoon salt
2 Tablespoons Half-and-Half
Instructions
Heat oven to 350 degrees F. Line baking sheets with parchment paper or lightly grease; set aside.
For cookies: Place shortening, brown sugar, and egg into large bowl of electric mixer. Beat until light and fluffy. Stir in flour, baking soda, spices, and salt. Stir in remaining cookie ingredients and mix well. Drop dough by teaspoonfuls 2 inches apart on prepared baking sheets. Bake until cookies are light brown, about 12 minutes. Let cookies rest on cookie sheet for a minute before removing to wire racks to cool completely. Frost with icing. Makes about 6 dozen cookies.
For Icing:
Place butter and brown sugar in a saucepan over medium heat, stirring until sugar dissolves, about 3 minutes. Stir in powdered sugar, salt, and half-and-half. Beat until smooth and immediately spread on top of cookies. If the icing starts to harden up slightly, return to low heat for a minute and stir, adding tiny drops of half-and-half if needed.
Note: If you like a thin layer of icing, the recipe as is will be enough. If you have family members who love more icing (like my husband!) then make another batch. I would not recommend doubling the icing recipe because it hardens too quickly. Just make one batch at a time.