Doesn't slab pie just sound like a party?  If someone places a big pan of apple pie on a table, everyone seems to gravitate to it.  Apple pie and autumn just go together.  This one has a couple of fun twists from other apple slab pie recipes.  The apples are tossed with cinnamon, nutmeg, sugar, lemon juice, raisins and walnuts, then after the bottom crust is placed in a jelly roll pan, cornflakes are scattered on the bottom before spooning on the apple filling.  The whole thing is dotted with butter, then a top crust is added.  Next, an egg white is beaten until stiff, and a little bit more of cinnamon and sugar is folded in and brushed over the top crust and baked.  After it comes out of the oven, it is drizzled with a confectioner's sugar glaze.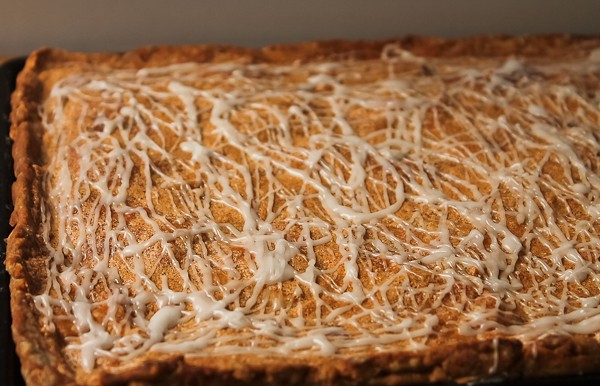 Of course you can drizzle in perfect lines, but I prefer the Jackson Pollock look!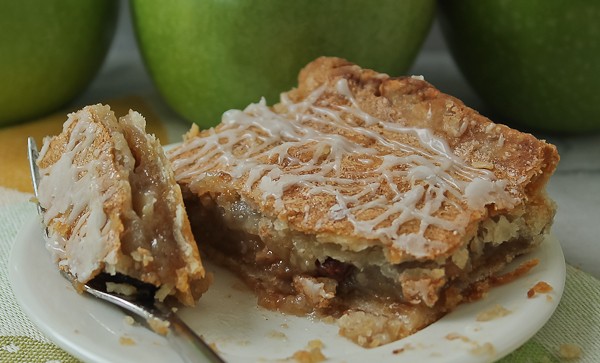 Let the pie cool before cutting in squares.  It can be eaten on its own or served with a dollop of whipped cream or a scoop of ice cream.  It can serve from 16 to 20 people.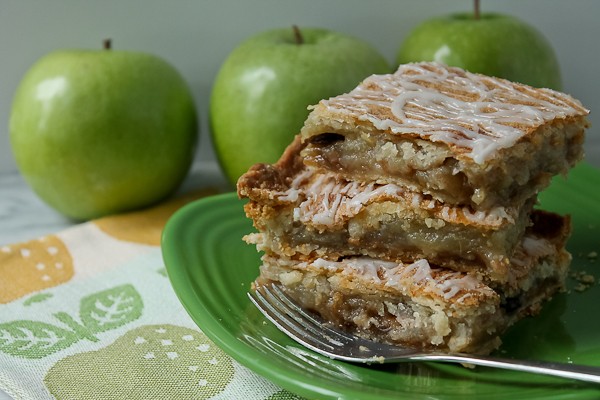 Or you can be like my husband and take three pieces at a time…
However it is enjoyed, it will disappear quickly!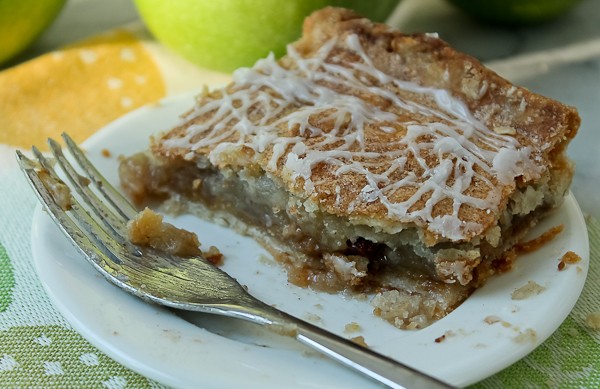 Okay, party time!
Apple Strudel Slab Pie
Ingredients
Filling:
10 cups pared, cored, and thinly sliced apples (about 10 medium apples; I like to use Granny Smith)
1-1/4 cups sugar
¾ cup dark raisins
½ cup chopped walnuts
3 Tablespoons all-purpose flour
2 Tablespoons lemon juice
1 teaspoon cinnamon
½ teaspoon nutmeg
½ teaspoon salt
1-1/2 cup cornflakes (for sprinkling on crust)
¼ cup cold butter, cut into bits
Crust:
1 cup solid vegetable shortening
3 cups all-purpose flour
2 Tablespoons sugar
1 teaspoon salt
1 egg yolk
½ cup milk
Topping:
1 egg white, stiffly beaten
1 Tablespoon sugar
¼ teaspoon cinnamon
Glaze:
½ cup powdered sugar
2 teaspoons milk
Instructions
Heat oven to 375 degrees F. Have ready a jelly roll pan, 10-by-15-inches.
For filling:
Prepare apples and place in a large bowl. Add all filling ingredients except for cornflakes and butter; toss well and set aside.
For crust:
In a mixing bowl, cut shortening into flour, sugar, and salt. Beat the egg yolk with the milk and stir into flour mixture, mixing until it forms a ball. Divide dough in half. Roll one part to fit into the jelly roll pan. Sprinkle the cornflakes over the bottom crust. Spoon on the apple mixture. Dot with the butter. Roll out remaining dough to fit over the top and seal edges. (don't be concerned if the dough breaks; just pinch together. It won't show)
For Topping:
Combine the stiffly beaten egg white (use a mixer or hand mixer) with the sugar mixed with the cinnamon and brush evenly over top of pie. Bake for about 45 minutes or until pie is deeply golden brown. Remove from oven and place on wire rack.
For Glaze:
While pie is still warm, stir together glaze ingredients and drizzle over top of pie.
This will serve 16 to 20 people!