Here is a Meatless Monday meal you will want to have over and over if you love zucchini. This recipe is one of my all-time favorite ways to use this prolific squash.  A crumbly crust is made with Swiss cheese, whole wheat flour, oatmeal, Parmesan, and butter.  Some is saved for the topping and the rest is pressed into a springform pan.  The filling is a mixture of sautéed zucchini, onions, red bell pepper, garlic, sour cream, eggs, more Swiss and Parmesan, and some fresh basil.  It is spooned into the crust, topped with reserved crumble mixture and baked.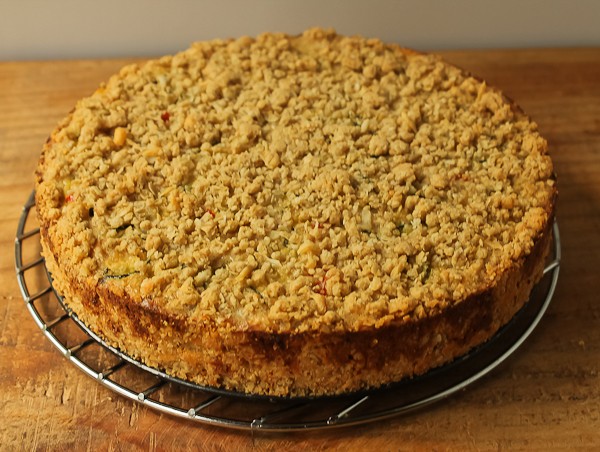 The torte must rest for 25 minutes before cutting, which gives you time to toss together a salad.  I love the golden crumble topping!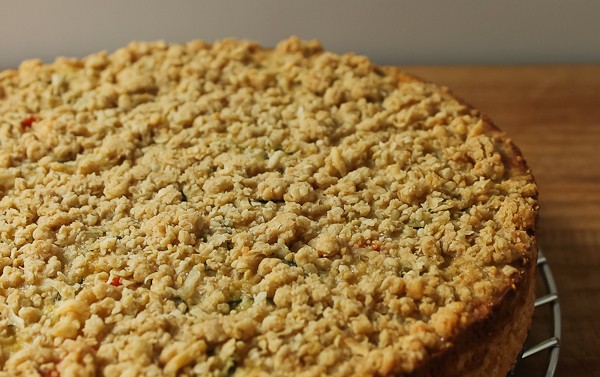 The torte cuts like a dream and the filling looks like a beautiful mosaic.  Not to mention it tastes heavenly!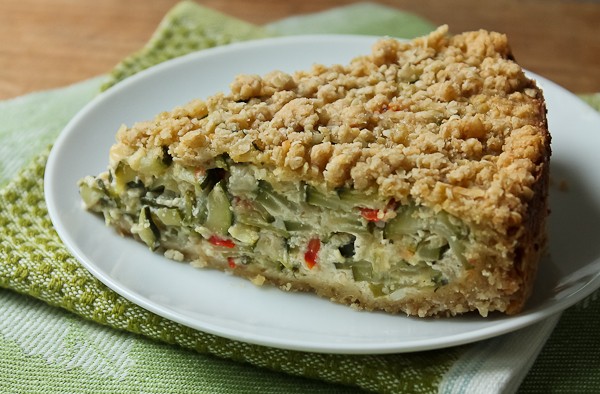 Warm Zucchini Custard Torte
Ingredients
For crust and topping:
¾ cup shredded Swiss cheese
1 cup whole wheat flour
1 cup quick-cooking rolled oats
¼ cup freshly grated Parmesan cheese
½ cup (1 stick) cold butter, cut into small pieces
For filling:
5 medium zucchini (about 2-1/4 pounds)
2 Tablespoons butter
1 medium onion, chopped
1 small red bell pepper, chopped
2 cloves garlic, minced
4 large eggs
1 cup sour cream
½ cup grated Swiss cheese
½ cup freshly grated Parmesan cheese
2 Tablespoons chopped fresh basil or 1 teaspoon dried basil
1 teaspoon salt, or to taste
¼ teaspoon freshly ground black pepper
¼ teaspoon crushed red pepper flakes (optional)
Instructions
Heat oven to 375 degrees F. Grease a 9-inch springform pan.
For crust and topping: In a mixing bowl, combine the ¾ cup Swiss cheese, flour, oats, and ¼ cup grated Parmesan. Using a pastry blender or your fingers, work in the ½ cup of cold butter until mixture forms even crumbs. Remove 1 cup of the mixture and set aside for topping. Press the remaining mixture over the bottom and 2 inches up the sides of the prepared springform pan. Set aside.
For filling: Slice the zucchini into ⅛-inch pieces. In a large skillet over medium-high heat, melt the 2 Tablespoons butter. Add zucchini, onion, bell pepper, and garlic. Cook, stirring, until zucchini is limp, about 12-15 minutes. Remove from heat and set aside.
In a mixing bowl, beat together the eggs, sour cream, ½ cup grated Swiss and Parmesan, basil, salt, pepper, and red pepper flakes. Stir in zucchini mixture and mix well. Spoon into crumb-lined springform pan, then evenly sprinkle on the reserved 1 cup of crumb mixture. Place pan on a baking sheet and place in oven. Bake for 40-45 minutes or until the torte is golden and puffy, and no longer jiggles in the middle when gently shaken.
Cool on wire rack for 25 minutes. Run a knife around the edge, then carefully remove pan sides. Cut into wedges and serve warm. Serves 6-8.