My friend Jean called recently and said, "Debbie, I'm giving you first pick.  Would you like 5 pounds of Concord grapes?" How could I possibly say no.  I had visions of making pie filling and freezing it for a Thanksgiving pie. My daughter Kristina loves a particular recipe for a Concord grape and Champagne cocktail.  And I have a recipe for a Concord Grape Kuchen that I clipped from an old Gourmet magazine that I have always wanted to try.  So it really wasn't a hard decision, although I must say I was not looking forward to purple fingernails after a couple hours of slipping the pulp from the skins.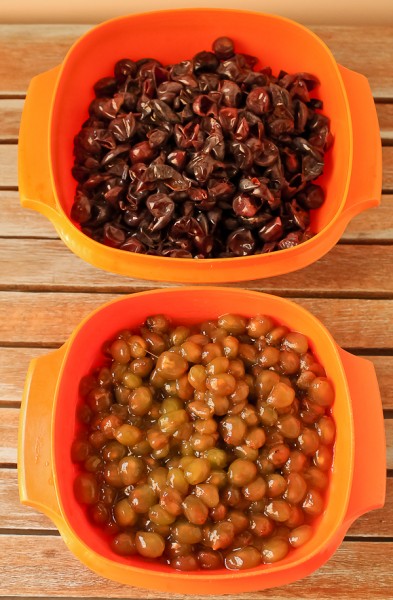 Here are the skins and pulp all ready to go for the pie filling.  It took a full hour to do this!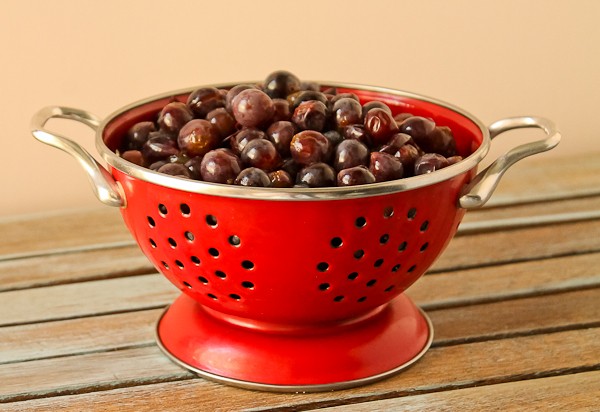 This is how many are needed for a double version of the base for Kristina's grape and Champagne cocktail.  I'll make the base and freeze it.  That recipe will be on a blog sometime in December, or maybe for New Year's!
Now I was ready to try the old Gourmet magazine recipe for the kuchen.  I had to prepare the grapes as for a pie, separating the skins and pulp, and placing it in a cookie-type crust.  It is partially baked, then removed and covered with a topping of sour cream mixed with egg yolks and baked again.  It is served at room temperature.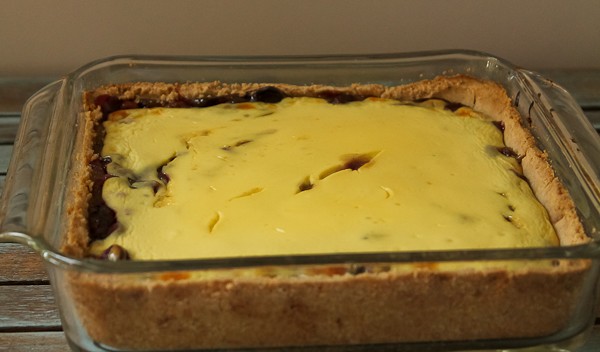 Don't worry about the cracks; it's just some of the grapes popping through.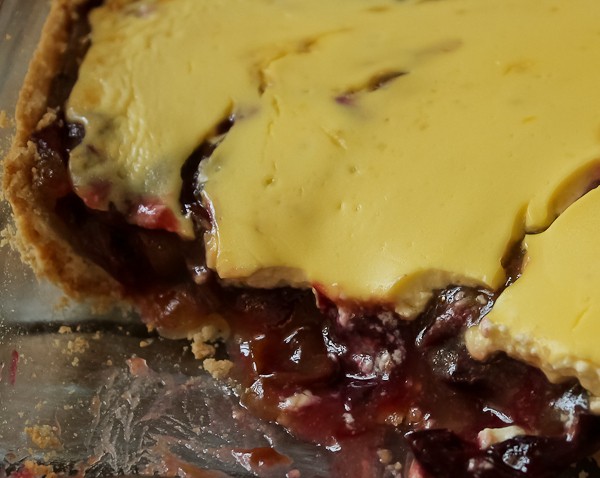 When it has cooled, scoop it up and spoon into dessert dishes.  It doesn't really need any whipped cream or ice cream because the sour cream topping is very rich and creamy.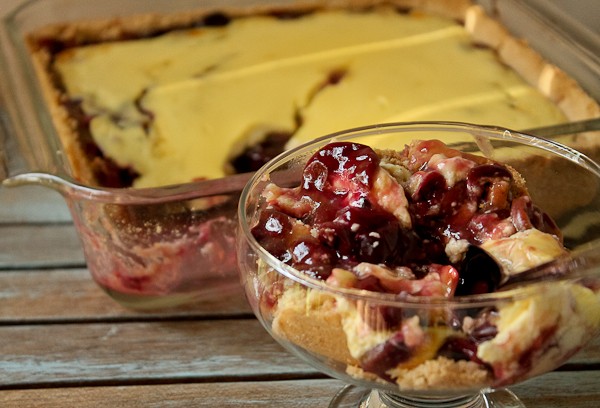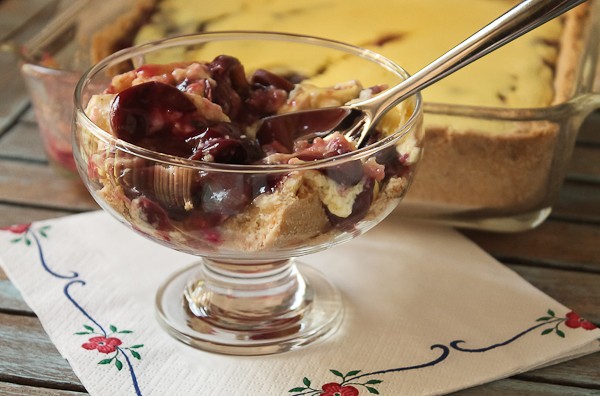 Oh, my, this is so good.  You have to hurry and make it though, because Concord grapes are not available for a very long time.  Just be prepared for the dreaded purple fingernails.

Concord Grape Kuchen
Author:
Gourmet Magazine - not sure what year!
Ingredients
Crust:
2 cups flour
2 Tablespoons sugar
¼ teaspoon baking powder
¼ teaspoon salt
½ cup unsalted butter, cold and cut into small pieces
Filling:
4 cups Concord grapes
¾ cup sugar
3 Tablespoons all-purpose flour
1 Tablespoon lemon juice
Topping:
1 cup sour cream
2 egg yolks
Instructions
Sift the flour, sugar, baking powder, and salt into a bowl. Using a pastry blender, work in butter until mealy. Transfer mixture to an 8-inch square pan and press an even layer over the bottom and about two-thirds up the sides. Chill while preparing filling. Preheat oven to 400 degrees F.
For filling, wash and drain the grapes. Pinch off skins, putting the pulp into a saucepan and the skins into a bowl. Cook the pulp over low heat for 5-7 minutes or until softened, then work it through a sieve to remove the seeds. Mix together the grape puree, the grape skins, ¾ cup sugar, 3 Tablespoons flour, and the lemon juice. Pour the mixture into the prepared chilled pastry shell and bake for 15 minutes. Whisk together the sour cream and egg yolks. Pour over the grape filling and return to oven. Bake an additional 25-30 minutes. Remove and cool on wire rack. Serve the kuchen at room temperature.