Just hearing the name Clementine Paddleford conjures up all kinds of thoughts of what she would be like, and it's probably pretty close as what you would imagine.  Clementine was born in Kansas in 1898.  She lived on a 260-acre farm and rode a horse to school.  Clementine may have been born and raised on a farm, but she grew up to explore the world, and fortunately for us, specifically the culinary world.  She studied journalism at Kansas State and New York University, and moved into the writer's life in 1936 at the New York Herald Tribune.  Clementine quickly became a household name with her intensively researched food articles.  She was well ahead of her time, reporting on regional cuisine, traveling over 50,000 miles a year in search of stories and recipes.  Clementine went to sea in the submarine Skipjack just to see what sailors ate, and flew to London to attend a luncheon in honor of Queen Elizabeth II's coronation.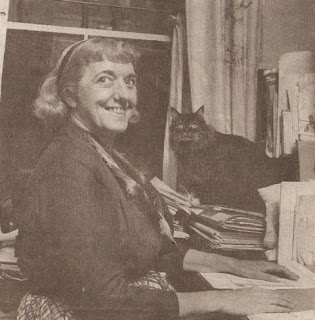 Clementine actually didn't cook much herself and left the testing of recipes up to test kitchens.  Her preference was to report on foods, describing their origins and flavors.  As a writer for Gourmet magazine in her column, "Food Flashes," she would report on new products, shop openings, and seasonal foods.   With her writings and travel, Clementine gave a view of regional cooking in 1950's America.  She would describe then unfamiliar foods to most Americans,  such as enchiladas, cioppino, and fresh clam chowder.  Many of these recipes can be found in two of the cookbooks I have, "The Best in American Cooking," and "Clementine Paddleford's Cook Young Cookbook."  The American Cooking book features recipes from well-known restaurants and everyday people across the country.  The Cook Young book is about how to use more convenient foods for making quick meals.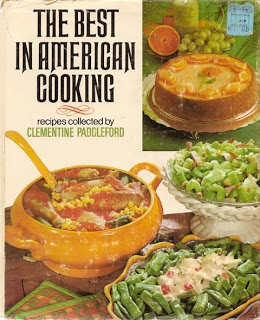 Sadly, as other chefs grew in popularity such as James Beard and Julia Child, Clementine's reputation began to fade.  When Clementine passed away in 1967, she left behind her books and papers to Kansas State University, where they sat untouched for more than three decades.  Clementine was a pack rat and saved everything from the matchbook covers of restaurants she visited, to her pilot's license, to endless numbers of menus.  Finally, in 2001, the university received funding to inventory and organize Clementine's treasures.  The Paddleford Collection includes more than 1,900 books, including some valuable first editions, but also has recipes from grandmothers and teenagers.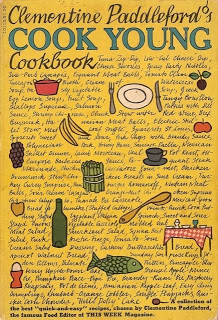 Not only do I just love the name, Clementine Paddleford, I have such admiration for her travels and passion for everything culinary.  Do you think if I clicked my heels three times, I could be transported to Kansas to view her treasures?  One can only wish.