I wasn't going to post something today, but I decided to do something sweet for my husband.  As I was coming down the stairs to the kitchen, I heard him scramble up from his chair.  When he saw me, he gave me a big smile and his usual loving greeting, then went upstairs to do something on his computer.  It was then that I noticed why he jumped up from his chair.  When he heard me coming down the stairs, he rushed over to turn on the Keurig machine for me and even placed a coffee cup underneath, all ready to go.  So how could I not make something for him, right?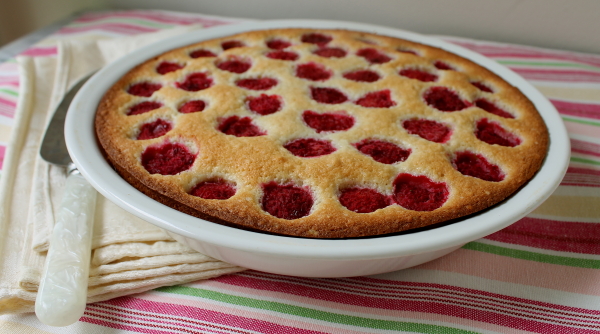 Since I had some raspberries left from a fruit salad the night before, I decided on this wonderful cake.  I didn't have enough berries to cover the entire top, but then decided I liked the cake showing through anyway.  It has a beautiful, moist crumb and an interesting batter.  It's made with beaten egg whites, melted butter, and vanilla, with a separate flour mixture of sugar, slivered almonds, and a little lemon zest, all made in a food processor and folded into the whites.  It's so easy and ready to put in the oven before it even has time to pre-heat.  Add a dollop of whipped cream and maybe scatter around a few extra berries and you'll have an easy summertime dessert.  With a cup of coffee, of course.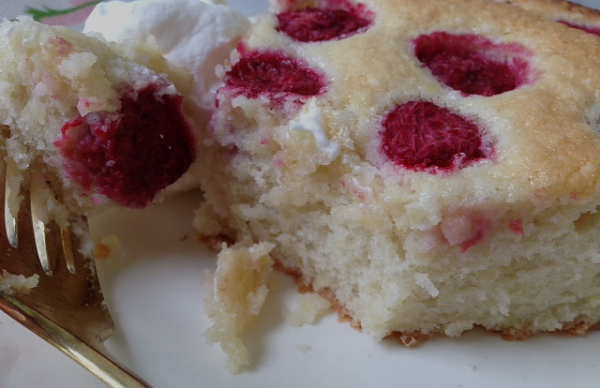 Raspberry-Almond-Lemon Bake
1/2 cup unsalted butter
1 teaspoon vanilla extract
3/4 cup granulated sugar
3/4 cup blanched slivered almonds
2/3 cup flour
Grated zest of 1 medium lemon
6 egg whites
1/4 teaspoon salt
About 3 cups fresh red raspberries, or a mixture of red and golden
Whipped cream and extra berries for serving
Coat a 10-inch shallow baking pan or pie plate with non-stick spray.  Heat oven to 375 degrees.  While oven is heating, melt butter and stir in vanilla; set aside to cool.  In a food processor, place sugar, almonds, flour, and lemon zest.  Process until ground; set aside.  In a mixing bowl, beat the egg whites and salt until stiff.  Using a hand whisk, stir in the flour-almond mixture, then the butter and vanilla mixture, just until blended.  The egg whites will reduce in volume.  Spoon the batter into the prepared pan.  Sprinkle the top with the raspberries and bake for 25-30 minutes or until golden and the center is set.  Can be served warm or cooled.  Serves 8.