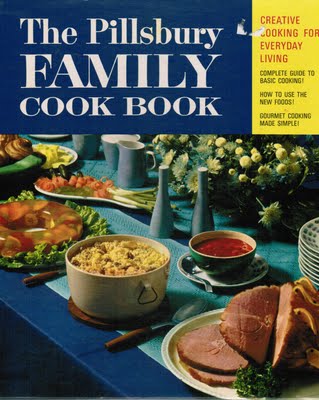 While reading through all the early '50's and '60's Bake-Off books for my Wednesday blogs about the Bake-Off contest, I started seeing ads for this cookbook.  It is a huge and heavy spiral-bound book for "Creative Cooking for Everyday Living."  There are many from-scratch recipes, but also recipes for all of the new products Pillsbury started to market.  One quote states:  "Like Mother Used to Make is a cherished memory but no longer a standard for family cookery.  Not even Mother herself does it that way anymore.  With instant, semi-prepared and ready-made products no further away than the nearest supermarket, your meals wear an air of glamour that would have left Grandma speechless with envy."  The book was published when items like refrigerated dough products, dessert mixes, baking mixes, canned and frozen goods, aerosol products, and new flavors in refrigerated products became popular with the home cook.  They wanted to present traditional recipes for family favorites but with simple ideas using convenience products with a "gourmet" feel.
It has many recipes for basic cooking besides using convenience products, but does contain a few amusing statements about how "a well-filled cookie jar is the center of attraction in almost any home," or "Many a man who considers kitchen detail beneath his dignity is proud to display his talents over an outdoor grill.  As the lady of the house, you can get quickly into the party spirit when the meal-getting routine moves outdoors to patio, park, beach, or campsite."  But, hey, it was the early '60's so let's just grin and consider it a part of the times! 
The book has a full page at the back of the book acknowledging the recipes from Bake-Off contestants.  Included in the cookbook are some of the familiar recipes such as Ring-A-Lings, Chunk 'O Cheese Bread, Dilly Casserole Bread, "My Inspiration" Cake, Mardi Gras Party Cake, Peanut Blossoms, California Casserole, and French Silk Chocolate Pie. 
No matter if you cook from scratch or use convenience products, you will find them all in this cookbook.  However, I don't know if I will ever feel that a filled cookie jar is the center of attraction in my kitchen, but it might be my collection of old Bake-Off books!