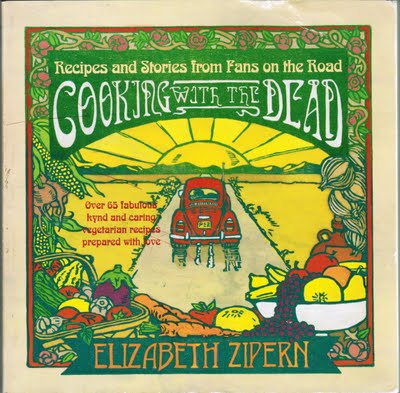 This book is about "Deadheads," fans of the Grateful Dead.  It's a culinary journey into the world of one of America's most enduring bands.  Author Elizabeth Zipern spent five years following the Dead on the road.  The general population may not know that another world exists within the confines of the parking lots surrounding Dead shows.  Never having attended a Grateful Dead concert, I had no idea.  But since this was a book I found at a cookbook sale, it suddenly intrigued me.  What do people cook at the concerts?  Is it one big tailgating party?  I hardly imagined the fare being French wine and foie gras, but the Deadheads managed to create beautiful dishes.  I  got a crash course in parking lot cuisine.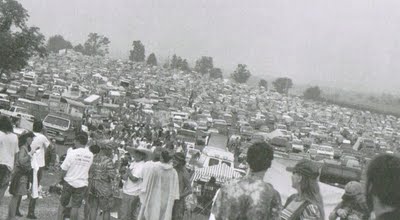 These recipes on the road are a reflection of the thousands of fans who not only follow the band, but of what they find at the marketplace of each location and the society around them.  The parking lot cooking is a huge contribution to the scene and lifestyle around them.  There is even a "Main Street" known as the "Shakedown" formed in the lot itself where most of the food is made and sold to each other.  There may be an aroma of burning sage and incense, but you will also inhale the sweet smell of onions and garlic sauteing, or cinnamon-scented banana bread.  Many of the dedicated fans spend all their money traveling from show to show, and selling their food gives them enough cash for gas to make it to the next venue. 
The most interesting people can be found in the parking lot.  One of the favorite items Deadheads looked for around the early '90's was "Fatty Egg Rolls" made with love from a fan who holds a degree in biology with a specialty in molecular genetics.  He developed a "formula" for the biggest vegetarian egg roll that had a secret of using cinnamon in the filling.  In another part of the parking lot you will find a Krishna follower making samosas- and lots of them; sometimes up to 2,000 of them per show.  Of course, along with the delicious samosas you would also be given small booklets on Krishna consciousness.  Some fans bring along their kids, dogs, and cats.  Their cooking consisted of tuna melts and grilled cheese sandwiches.  Other items offered could be burritos, lentil soup, vegan sushi,  pizza, cookies, Navajo fry bread, smoothies, "Good Karma" curries," and even dog food for those who brought them along. 
When one fan was asked why they followed the band, he replied that most Deadheads want the freedom, the timelessness, and the minute-to-minute living a life on the road.  He says that if he were not at the concerts, he would just be sitting home watching television, but chose to have the feeling of community found at the concerts, plus it's just a good party with good food.
Peace and love.