Don't you love photos that capture a moment in time that can never be reproduced?  Like a baby's first smile, or a bride and groom reciting their vows, or…. the look on the face of someone who just won the Pillsbury Bake-Off!
This is Mrs. Eunice Surles of Lake Charles, Louisiana at the moment her name was announced as the winner of the 11th  Pillsbury Bake-Off in 1959.  I love this photo, which is on the back of the Bake-Off book.  Mrs. Surles was known for her baking skills at church suppers, but never had a triumph such as this.  The Bake-Off book describes it as a recipe "from the long ago days of the South, rich in glamour as well as taste,"  which describes the cake perfectly.  The cake is made with butterscotch morsels and buttermilk, making it flavorful, rich, and moist.  The filling contains more butterscotch morsels along with coconut and pecans.  It's topped with a cooked sea foam frosting made with an egg white, brown sugar, and corn syrup, which is whipped while warm and spread over the cake sides and part of the top.  It's a real beauty!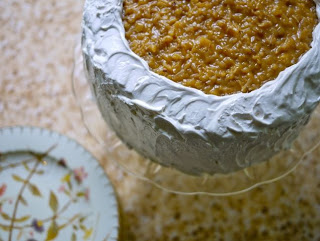 After the flurry of excitement, Mrs. Surles was presented a check for $25,000 by popular movie star Greer Garson, and Mrs. Eleanor Pillsbury.  Mrs. Surles was the first Southern woman to win the Bake-Off contest.  In later years, her memorabilia from the contest was donated to the Southern Food and Beverage Museum with items such as her original blue ribbon, the photograph above, a plaque given to her by the City of Lake Charles, and news reel footage of her win.  The museum is a nonprofit history organization dedicated to the discovery, understanding, and celebration of the food, drink, and related culture of the South.  They host special exhibits, cooking demonstrations, lectures, and tastings.  It is located at the Riverwalk Marketplace in New Orleans, Louisiana.  You can read more about the museum at their website http://www.southernfood.org/  where you will also find lots of cookbooks for sale.  Speaking of cookbooks,  I found one on Amazon called "The $25,000 Mardi Gras Cake and Other Prize-Winning Recipes of Mrs. Eunice Surles of Lake Charles, Louisiana" by Ethel Dunn published in 1975.  Would I ever love to get my hands on that one!!
This cookbook and I go way back.  I may have been just a little girl when Mrs. Surles won, but years later the book showed up in my 7th grade Home Economics class.  My teacher was a huge fan of the Bake-Off and had all the books in her classroom.  One day she pulled out the cookbook with Mrs. Surles' wonderful face on the back and announced we were going to make a winning recipe, one of her personal favorites.  It was called "Strips-of-Beef Casserole" and was the second grand prize winner.  It was a casserole with strips of round steak cooked with tomatoes, tomato paste, Worcestershire sauce, mushrooms, and sour cream.  It was baked with "sour cream puffs" on top which were homemade biscuits brushed with cream and sprinkled with sesame seeds.  This was the first Bake-Off recipe I ever made!  I haven't made it in a long time, but think I will have to try it again soon, along with the winning third place recipe, "Golden Onion Rolls" which I made years later and loved them.  I wish I could find my Home Ec teacher and tell her what an influence she had on my love of the Bake-Off at a very young age.
And last, imagine you are a teenage boy in this 1959 Bake-Off, cooking away at your stove and who should walk up to taste your food but one of Hollywood's most beautiful stars, Tuesday Weld!  She starred with Dwayne Hickman, who was also present,  in the popular television series, "The Many Loves of Dobie Gillis."  Can you imagine the stories young Thomas Herbert of Gnadenhutten, Ohio told his friends?  He was probably the envy of every boy in his school!
Here are the other prize-winning recipes from Bake-Off #11:
-Second grand prize winner "Strips-of-Beef Casserole" by Mrs. J. Allan Anderson of Orchard Park, New York
-Junior first prize winner "Egg Salad Foldovers" by Jeanne Barbasiewicz of Los Angeles, California
-Senior first prize winner "Lemon Cloud Pie" by Shirley Ordiway of Jamesville, New York
-Senior second prize winner "Taffy Treats" by Mrs. Henry Siers of La Grange, Illinois
-Junior second prize winner "Praline Cookies" by Cheryl Dean Matthews of Charlotte, North Carolina  (Cheryl's mother was a finalist in the 4th Bake-Off!)
-Best of Class winner "Coffee Toffee Bars" by Mrs. G.H. Atwood of Spring Valley, Minnesota
-Senior third prize winner "Golden Onion Rolls" by Julie Ann Gorfkle of Bellevue, Washington
-Best of Class winner "Orange Blossom Coffee Cake" by Hilder Sturgeon of Indianapolis, Indiana
-Best of Class winner "Pineapple Lattice Shortcake" by Donald J. Warren of Scranton, Pennsylvania
-Best of Class winner "As You Like It" Cake" by Pauline Nutz of St. Louis, Missouri
To learn more about the Pillsbury Bake-Off go to:  http://www.bakeoff.com/
To find the Mardi Gras Party Cake recipe go to: 
To read my previous Bake-Off Blogs go to: