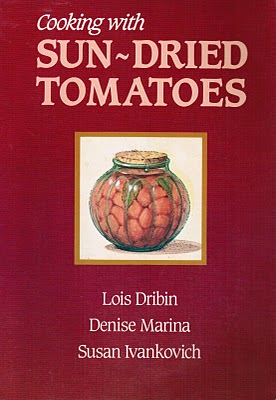 I go on a complete tomato kick in the summer.   We plant at least 50 tomato plants in our backyard garden.  In a few months, my freezer will be stacked high with marinara sauce, pizza sauce, and fresh tomato soup.  On a day when the wind chill hits minus fifty degrees in Chicago, I will be enjoying a taste of my garden.  Another tomato product I love is sun-dried tomatoes.  They have such a distinctive flavor and appearance and add a whole new dimension to meals.  Before modern technology, our ancestors relied on the heat of the sun and fresh air to dry many of their foods, but now plum tomatoes may be slowly dried in the oven with spectacular results – and much less expensive than buying them ready-made.  When this book was first published in 1990, sun-dried tomatoes were not readily available in every grocery store as they are now.  The authors discovered them at an Italian market in South Philadelphia on a cold winters' day.  They made such an impression on their taste buds that a cookbook was born.
I have made many recipes from this book, but probably my favorites are the most simple.  The authors make a version of pesto using sun-dried tomatoes which they call "Sesto."  Probably my favorite is an appetizer sandwich using a baguette with mascarpone, sun-dried tomatoes, roasted red peppers, arugula, olive oil, and balsamic vinegar.  I also add a good grind of black pepper, and sometimes add a little prosciutto.  One recipe that I haven't tried yet is for rigatoni with a portobello mushroom sauce, sun-dried tomatoes, and some fresh flat leaf parsley from my garden.  Sounds good for tonight.
I grow much more than tomatoes and I don't really have a rabbit or deer problem, but the squirrels seem to like only the green plum tomatoes at the end of the season.  It is highly amusing to watch them try and carry them to their nest.  I wish I had a video camera one day when one of the smaller squirrels decided to carry a rather large green tomato.  It was in his mouth, but it hung down so far that every time he attempted to hop with it, he fell over.  He never gave up and would hop, fall, hop, fall, over and over.  It probably took him 15 minutes to cross the yard.  But I understand his determination.  Tomatoes are worth it.