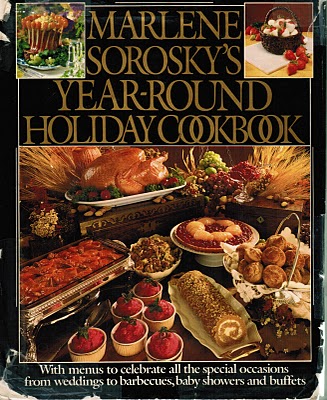 What first attracted me to this cookbook over twenty-five years ago was that it was for holiday cooking of all kinds, which I love, and the fact that the author lets the cook know in detail how each item can be prepared ahead of time, or how long it could be frozen.  My girls were both very young and I needed all the extra help I could get at the time.  As you can see in the photo, the cover has been taped together on all the corners and sides.  It was a very well-used book, and I still have many favorites.  The recipes are always reliable and comforting. Even the fancy-looking dishes are not difficult or intimidating.  In fact, the whole idea of the book is to allow the cook to create truly memorable meals and still be relaxed enough to enjoy the celebrations. 
Case in point is the delectable chocolate basket with white chocolate-dipped strawberries.  I have made this numerous times and it turns out perfect every time.  The step-by-step instructions are so clear, that it is hard to make a mistake.
The chapters include many holidays starting with New Year's, Valentine's Day, St. Patrick's Day, Easter, Passover, Mother's Day, Father's Day, Graduations, Sweet Sixteen, Baby Showers, as well as Halloween, Thanksgiving, and Christmas.  The caramel nut corn from the Halloween chapter is the best I have ever tasted.  I have prepared almost every recipe from the Thanksgiving and Christmas chapters many times over.  This is one of those cookbooks where you go back again and again for good comfort food made with style.
The following recipe has been made so many times, I could probably make it in my sleep.  Literally every time I make it, someone wants the recipe.  Just be sure and put it in a glass serving bowl to show all the beautiful colors. 
SAUCY SHRIMP  (from page 194)
1/4 cup salad oil
2 cloves garlic, crushed
1 Tablespoon dry mustard
1 Tablespoon salt
1/2 cup lemon juice
1 Tablespoon red wine vinegar
1 bay leaf, crumbled
Dash of cayenne pepper
1 lemon, thinly sliced
1 medium red onion, thinly sliced
1 cup pitted black or Kalamata olives, drained
2 Tablespoons chopped pimiento
2 Tablespoons chopped flat leaf parsley
2 pounds cooked large shrimp
In a medium glass or plastic bowl, whisk together oil, garlic, dry mustard, salt, lemon juice, vinegar, bay leaf, and cayenne pepper.  Stir in all remaining ingredients until well-coated.  Refrigerate, covered, for one hour, or up to 4 hours.  Do not marinate longer than 4 hours, or the flavors become too overpowering.   Before serving, transfer in a decorative glass serving dish.  Serve with frilly toothpicks.  Serves 8-10.