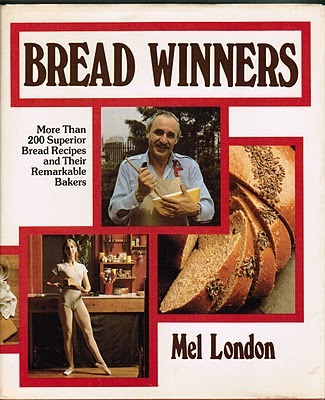 Author Mel London is, by profession, an internationally respected filmmaker and an Academy Award nominee for his 1963 Short Subject film, "To Live Again."  With all of his travels making documentaries, Mel has gathered recipes from avid bakers across the globe and compiled them into this fascinating cookbook.
This wonderful bread book has been a favorite of mine since 1979, the year it was published.  If you are one of my loyal readers, then you know I love cookbooks with a personal touch along with the recipes.  The book has over 200 recipes, each with a story about the bakers.  You will meet a flight attendant who gave the author her recipe for "747 Sourdough Banana Bread" aboard a jumbo jet bound for Guatemala.  Not only that, she raised the sourdough in her hotel room the night before and actually baked the bread on the plane the next day and handed it out to passengers!  Sadly, that would never happen in these times, but what a delightful story. 
Prizewinners from the Minnesota State Fair share their blue ribbon breads such as honey-orange rye bread, high protein soy bread, pesto bread, Swedish Limpa bread, and an apple, raisin, and honey "munchy" bread.  One baker has all kinds of breads you can make while camping and backpacking.  Another baker has breads popular in the South, while another uses only triticale flour.  All together, you can read about 45 bakers dedicated to the art of bread-making. 
The book begins with all the basics needed to start baking –  pans, types of flour, yeast, kneading, baking, utensils, along with a chapter called "What if…"  where Mel will help you with any problems in the bread baking process.  Problems such as why the dough doesn't rise, high altitude baking, heavy breads, or breads with air bubbles.  It's like having a teacher in your kitchen.
The next best thing to finding cookbooks with stories, is finding cookbooks with personal treasures tucked inside.  I have found party invitations, photos, grocery lists, and of course – recipes.  I especially loved the hand-written ones such as this one that fell out of the book.  At first I thought it said "luccini" bread and I was so excited that it was some new bread I had never heard of before.  But, alas, I soon realized it was "zucchini bread."  But no matter; it is a lovingly hand-written recipe from someone who thought it was good enough to write down.  I bet Mel would love having it, too.