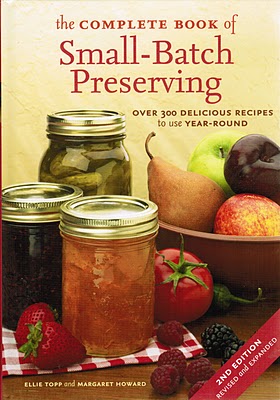 It's always a little sad when my backyard garden stops producing, and our local Farmer's Market ends in a few weeks.   I am not unhappy about the drastic heat of this summer finally making an exit, but I will miss walking out back and literally picking our meals.  But there is a little hope with the help of this cookbook.  Small batch preserving is the answer.  Preserving is usually done in large quantities, but when the produce dictates that it is not possible, you will find some wonderful recipes in the book for preserving in small batches.
It doesn't even have to be fresh produce; it can be a package of frozen cranberries and frozen strawberries to make "Festive Cranstrawberry Jam" for the holidays.  Jellies can be made from juices; make a conserve from dried fruit and nuts; or make a wine jelly with your favorite wine and some honey.  You can make small amounts without taking up a lot of freezer or shelf space, but still have something homemade and wonderful for your family or to give as hostess gifts or holiday gift-giving.  If you are craving peaches in January, make some peach jelly with amaretto and peach nectar. 
This book has you covered whether you are using the end-of-the-garden produce or frozen items over the winter.  Some recipes will take as little as 10 minutes of processing time.  It's the best source of recipes and tips for anyone who loves homemade preserves, but doesn't have all day to spend in the kitchen.  Gifts from your kitchen are always gifts from the heart –  no matter how small a batch.