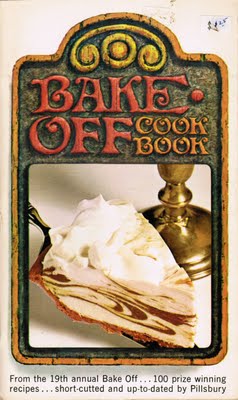 Phyllis Lidert did for poppy seeds what the 6th Bake-Off contest winner did for sesame seeds.  After Phyllis's winning recipe Buttercream Pound Cake won the 19th Bake-Off contest, cooks across the country couldn't wait to make her show-stopping cake with huge swirls of poppy seed.  The cake was moist and beautiful and captured the attention of the judges,.  After the contest, grocers scrambled to keep poppy seeds stocked on their shelves.  The cake used Pillsbury's buttercream frosting mix in the cake batter.  The frosting mixes are no longer available, but Pillsbury offers an updated version of the recipe.  The frosting mix was a very popular item.  I found it used in eleven other recipes at this Bake-Off alone!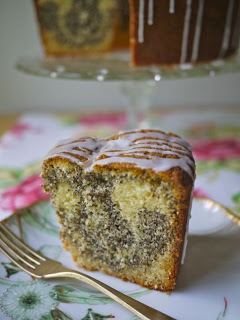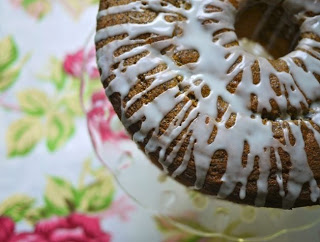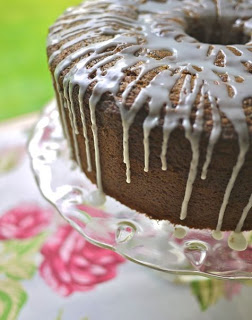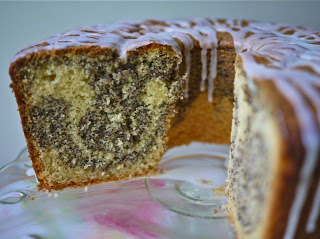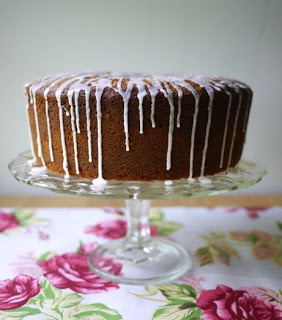 Such a beauty, isn't it?
I was thrilled to find this treasure on YouTube.  It's Phyllis at the moment of her win with host Art Linkletter! It's a 2-minute video that I'm sure you will enjoy, along with viewing the clothes and hairstyles of 1968!
There was also another treasure in this contest – Gloria Piantek. Gloria was a first time Bake-Off contestant at the 19th Bake-Off and would go onto be a finalist two more times in future Bake-Off's.  Gloria and I met years ago and she impressed me with her kind and sweet nature, and her infectious love of the Bake-Off.  When I saw Gloria's name in this book, I couldn't wait to hear all about her first impressions. 
Gloria says the 19th Bake-Off changed her life, although she didn't know it at the time.  In 1968,  Pillsbury's milk shake mix was all the rage, and Gloria's daughter wanted a milk shake cookie.  It was that request that led to her recipe, "Berry Patch Cookies."  As a base to start, Gloria used her grandmother's cookie recipe, but figured out a creative way to incorporate two packages of Pillsbury's "Strawberry Moo Juice Milk Shake Mix" into the cookies.  The delicious result landed Gloria a spot at her first Bake-Off experience in a way that would make contestants nowadays shake in their aprons –  they paid a personal visit to her home!  The surprising event started with a request from Pillsbury to prepare her recipe for them.  Gloria filled her entire kitchen table with cookies, thinking that "the judging was going to happen in my kitchen!"  When they appeared, they announced that she was a finalist and proceeded to snap dozens of photos.  Gloria still remembers after the excitement, one thing that she never forgot was some misplaced piece of her hair that showed up in the all photos! 
Gloria left for the contest in Dallas and found it hard to believe she was traveling first class and treated to Champagne brunch.  She received so many flowers there was not room for them all.  The sponsors showered the contestants with gifts.  All Gloria could think was "this couldn't be happening to me!"  One of the highlights of the contest was meeting Mr. Pillsbury himself, as Gloria didn't know he actually existed.  But there he was on the Bake-Off floor, using his little Brownie camera to take photos of each contestant, which he even mailed to Gloria upon her return home, along with a personal note.  Gloria also remembers one of the oldest contestants in the contest telling everyone that the only way she could test the oven was by putting her arm in it!
In this Bake-Off, contestants shopped for their own ingredients.  The colorfully decorated grocery store was filled with goodies for the contestants to eat while shopping, and hanging up in the middle of the store "in proportions that no one should ever experience seeing themselves," was a picture of each contestant.  After shopping for their precious ingredients, contestants returned to the hotel and geared themselves up for the cooking competition.  Gloria met fantastic people from all over the country, each supportive, caring, and willing to help out, some of whom are still close friends.  She found that these friends made at Pillsbury were special people who continue to be part of her life, as I also found out when I became a contestant years later.  Cooking people with a love of food just seem to mesh in so many ways, and the Bake-Off invites this sort of camaraderie to happen.  The Bake-Off has changed countless lives, not just with helping contestants to grow as creative cooks, but making it possible to find lifelong friends.  And Gloria, I am so happy that we met.
To learn more about the Pillsbury Bake-Off go to:  http://www.bakeoff.com/
To find Phyllis's updated winning cake recipe:  http://su.pr/6MMS45
Photos of the Buttercream Pound Cake are by my daughter, Kristina Vanni. Visit her blog at: http://www.betterrecipes.com/blogs/daily-dish
To read the previous Bake-Off blogs:
Bake-Off #1: http://su.pr/7gmylO
Bake-Off #2: http://su.pr/2zgjZn
Bake-Off #3: http://su.pr/7VZzZS
Bake-Off #4: http://su.pr/292acQ
Bake-Off #5: http://su.pr/2yOSvP
Bake-Off #6: http://su.pr/28VYBh
Bake-Off #7: http://su.pr/1hk3nb
Bake-Off #8: http://su.pr/22JMGd
Bake-Off #9: http://su.pr/2KkA2E
Bake-Off #10: http://su.pr/8awD1k
Bake-Off #11: http://su.pr/1CmPvD
Bake-Off #12: http://su.pr/3ogo5M
Bake-Off #11: http://su.pr/1CmPvD
Bake-Off #12 http://su.pr/3ogo5M
Bake-Off #13: http://su.pr/1a4HYQ
Bake-Off #14: http://su.pr/3tgiV5
Bake-Off #15: http://su.pr/7tQXBu
Bake-Off #16: http://su.pr/9nPW7c
Bake-Off #17: http://su.pr/9WIaqm
Bake-Off #18: http://su.pr/6MMS45