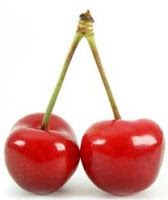 Since yesterday's blog was all about the Cherry Blossom Festival in Washington, DC, I thought a recipe for cherry pie would be in order.  Here is one of my favorite recipes:
Favorite Cherry Pie
Prepared pie crust dough for a 2-crust pie (your favorite)
2 cups pitted tart cherries
1/3 cup cherry juice*
1/3 cup granulated sugar
1/3 cup brown sugar
3 Tablespoons quick-cooking tapioca
1/8 teaspoon almond extract
1 Tablespoon butter, cut into bits
Heavy cream, for brushing on crust
Additional granulated sugar for sprinkling on crust
Sweetened whipped cream or vanilla ice cream, optional
1.  Heat oven to 450 degrees.  Roll out half of pie crust dough and fit into an 8 or 9-inch shallow pie pan; set aside.
2.  In a mixing bowl, stir together cherries, cherry juice, granulated sugar, brown sugar, tapioca, and almond extract.  Let stand for 15 minutes.
3.  Spoon filling into pastry-lined pie pan.  Dot the filling with butter.  Roll out remaining pie crust dough and fit onto top of pie and flute edges to seal.  Brush the top crust with heavy cream, then sprinkle with sugar.  Using a sharp knife, cut several slits in crust to allow steam to escape.
4.  Bake for 10 minutes at 450 degrees, then reduce heat to 350 degrees and bake another 30-35 minutes, or until crust is deep golden brown.  Remove pie to a wire rack to cool completely.  I like to cool the pie, cover, and refrigerate, as it makes cutting easier, and filling is not runny.  Serve pie with sweetened whipped cream or vanilla ice cream, if desired.
*When you pit the cherries, place them in a colander over a dish and save juices for the needed 1/3 cup juice.  If you do not accumulate 1/3 cup, use bottled cherry juice to reach the amount needed.