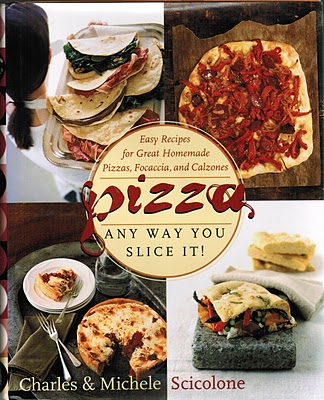 Baseball Hall of Famer Yogi Berra was once asked if he wanted his favorite whole pizza cut into four or eight slices, to which he replied, "Four; I don't think I can eat eight."  Another lover of pizza, actor and comedian Jackie Gleason would order two large pizzas every time he dined at his favorite restaurant.  He would then order veal parmigiana with a side of spaghetti, followed by yet another pizza.  Americans are certainly passionate about their pizzas.  But who can blame them?  Not many people can resist a warm slice of homemade pizza. 
You can become an expert pizza maker yourself using this cookbook.  The techniques are not difficult and you have over 100 recipes from which to choose for making authentic pizza in your own kitchen.  The husband-and-wife authors, Charles and Michele Scicolone, were inspired by a trip to Naples, the birthplace of pizza, and wanted to duplicate their favorite dishes.  Upon return, Charles wondered where they could get pizza like they made in Naples, to which Michele replied jokingly, "Make it yourself!"  There was only one problem – Charles had never made so much as a pot of coffee or even a scrambled egg in his life.  He didn't even know the difference between a teaspoon and a tablespoon.  But he was determined.  Michele gave him some cookbooks and he not only made pizza after pizza, but began to hang out in pizza parlors, and asked the experts question after question.  Soon Charles and Michele became the experts and they began to write pizza articles for Gourmet, McCall's, and others; and also taught pizza-making classes. 
As their pizza repertoire grew, this book began to take shape.  In the cookbook you will learn all the basics about making many kinds of pizza.  Not just Neapolitan-style, but American-style like Chicago deep dish, filled pizza, along with calzones and focaccia.  The back of the book has a wine list of what to serve with pizzas, such as which white wines pair with vegetable and seafood pizzas, and which red wines to serve with cheese and meat pizzas.  They even list their favorite pizzerias and restaurants around the USA and Italy. 
This pizza-passionate cookbook will keep you happily in the kitchen for weeks at a time.  You are just one slice away from perfect pizza at home.
"The pizza is a moon on your plate, and no matter how deep may be the night of your appetite, it will always light up the way." 
Giuseppe Moratta