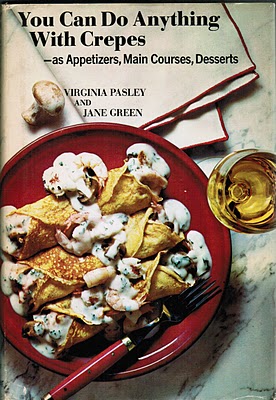 My first introduction to crepes was at one of the old "Magic Pan" restaurants in the '70's.  If I am not mistaken, I'm pretty sure the first one I tried was a chicken divan crepe.  At the time, three French items invaded the American palate – crepes, fondue, and quiche- and quickly became the "in" foods of the decade.  Crepe pans sold by the millions.  Fondue restaurants popped up everywhere.  In fact, I remember going to one in particular with my boyfriend, who later became my husband.  Anyone who got married in the '70's probably received either a fondue pot, crepe maker, or quiche dish for a shower or wedding gift, or all three.  Me included; and I still have them.
I loved using my crepe maker back then.  It's one of those that you plugged in and heated up, then dipped the top side into crepe batter, then placed back on the hot pan, but right side up.  I could whip them out, stack between waxed paper and freeze.  I thought I was quite the French chef.  Truth is, crepes are so easy to make and you can put almost anything in them.  Even leftovers seem somehow more elegant if they are wrapped in a crepe.  I think their simplicity is why they are still popular.  Just about any kitchen has eggs, milk, and flour.  If you have those ingredients and even a halfway decent pan, you can have dinner in minutes.  For breakfast, just brush on a little melted butter and jam, and sprinkle with powdered sugar.  They can be made sweet or savory; wrap around something as modest as cheese or scrambled eggs, or with a more substantial filling, they can be a satisfying and fun dinner. 
Crepes started out as peasant food, but eventually rose to the level of haute cuisine with the creation of Crepes Suzette, which are crepes covered in caramelized sugar, butter, and orange juice, then covered in some orange liqueur and set aflame at the table to the delight of the diners.  Crepes suffered by their own reputation of being exotic and flaming, and when most people thought of crepes, it was crepes Suzette.  But the truth is that they are literally easier than pie to make. They can be made ahead and frozen, used as the base for party dishes, and fit into any occasion from breakfasts, lunches, brunches, snacks, main dishes and desserts.  When making crepes at home, use the freshest eggs available, and make the batter a little ahead of time, because as it sits, it becomes more silky and makes thinner crepes.  Crepe-making just takes a little practice.  Some may think of a crepe as just a thin pancake, but the basic difference is that crepes use eggs instead of other leavening, and also uses more liquid in proportion to the amount of flour used.  A crepe is thin and delicate, and a pancake thicker, using baking powder or yeast as a leavening agent. 
Once you get the hang of making crepes, try some of the recipes in this book.  For an appetizer, try crepe egg rolls or blini.  For main dishes, fill crepes with beef and blue cheese, veal paprikash, moussaka, curried chicken, lobster Newberg, shrimp creole, and even pizza crepes.  Almost any vegetable can be wrapped in a crepe. Desserts such as chocolate mousse can be filled in a crepe.  Use your imagination.
By the end of the '70's, crepes, fondue, and quiche began to fade, and we entered the era of dim sum, fettuccine Alfredo, and Moo Shu pork.  In fact, the quiche began to fade even faster after the publication of the book, "Real Men Don't Eat Quiche."  But now retro food is back in vogue and real men will probably enjoy a good slice of quiche.  So how about it?  Dust off the old disco ball, put on some bell bottoms, and cook up some crepes  in the kitchen while listening to KC and the Sunshine Band.  As the book title says, you can do anything with crepes. Try some of the Magic Pan chicken divan crepes and have some fun.  Maybe it will be so enjoyable, you will also dust off your old fondue pot and quiche pan, too.  Real men won't mind.