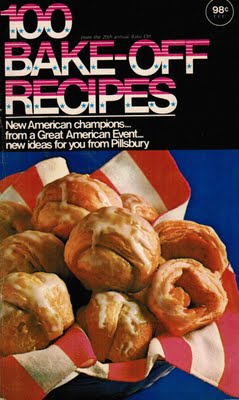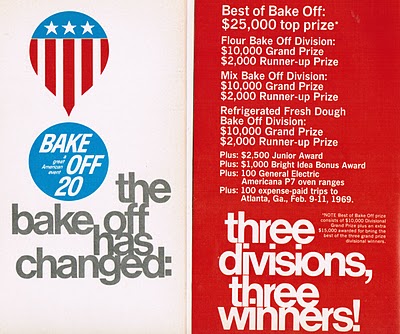 Yes, there were some changes in Bake-Off # 20!  It was the first time a category winner of $10,000 was awarded the extra $15,000, instead of just picking one $25,000 winner.  The three divisions had three winners, one each from flour, mixes, and fresh dough.  It was the first Bake-Off where wine, beer, and spirits were allowed to be used in recipes. This 1969 contest marked the first time a recipe made with refrigerated dough won the grand prize.  And what a classic that recipe has become!  Magic Marshmallow Crescent Puffs are now part of the Pillsbury Hall of Fame.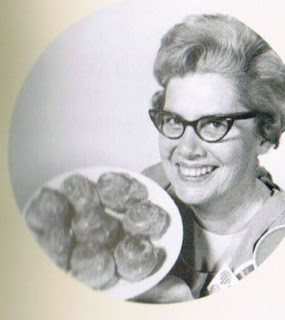 This happy winner is Edna (Holmgren) Walker who at the time was from Hopkins, Minnesota. With her prize money, Edna bought some new furniture and invested the rest.  The earnings from the contest later allowed Edna to take a cruise and a trip to Israel.  Her initial investment of saving her Bake-Off remained untouched for more than three decades!  This wise investing may have come about because Edna was first employed as a city clerk and then as a bookkeeper.  When Edna was 88 years old she said, "I still have the balance of those winnings in a CD and have taken numerous trips with the interest."  Definitely a wise woman!  Edna was still working on her 90th birthday, though she modesty said, "but it was only part-time."  Edna died in 2007 at the age of 96, and in her obituary it was mentioned that she was the 1969 Pillsbury Bake-Off winner, showing that after all those years, it was still felt as a grand achievement in her life.  I would like to think that Edna's longevity was also due to eating her winning recipe!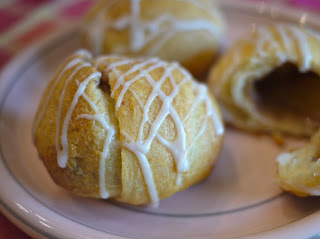 Magic Marshmallow Crescent Puffs are made by dipping marshmallows into melted butter, then rolling in a cinnamon-sugar mixture, encased within the crescent rolls and baked.  The marshmallows melt during baking leaving a hollow, puffy sweet center.  Here's what I would love to ask Edna:  did she know when she came up with the recipe idea, if she thought the marshmallow would melt, or did she think it might have a gooey center?!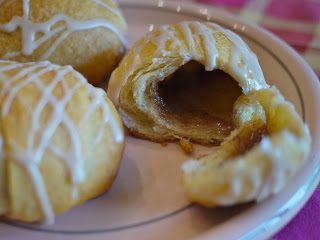 This contest also marked the first Bake-Off for my friend Shirley, from Bethlehem, Pennsylvania.  Shirley and members of her family are legends in Bake-Off history, and I will be writing a lot more about her in future blogs.  Even though Shirley has been to many Bake-Off's, she claims this one as her favorite.  Her first story was about Edna, the winner.  It seems that when Edna was called by Pillsbury to inform her that she was to be a finalist, Edna hung up on them because she thought it was someone in her office playing a joke on her!  At the Bake-Off, which was held in Atlanta, the contestants were treated to a breakfast on Stone Mountain, and a memorable tour and dinner at the Atlanta High Museum of Art.  But for Shirley, the highlight was another dinner where entertainers came in and performed a song/dance/skit routine written especially for the contestants, with amusing songs about the Bake-Off itself.  Shirley says she wishes she had a copy of the words, as contestants now would probably enjoy it.  Later, at the awards ceremony,  host Art Linkletter warmed up the group before the cameras rolled for the Bake-Off telecast.  One of his comments, meant to make the group laugh and be at ease, was to warn the ladies not to "pull on their girdles" once the cameras turned on! 
This was Shirley's entry:  Gourmet Chicken Wrap-Ups!
As I was browsing through the Bake-Off book, I encountered some bittersweet nostalgia.  I had forgotten that this was the first Bake-Off book where I had made many of the recipes while in high school.  My best friend Missie and I were having a party with our friends, and decided we were going to make all the food ourselves.  Missie picked out the first recipe because she liked the title- "Great Caesar's Toast."  I liked the "Mint Bon Bon Cake" because it was made with my favorite,  peppermint ice cream.  Next Missie selected the "Peanut Butter Cookie Pizza," because she said we needed a pizza for a party.  Somehow, we never got around to have an actual main dish, and we probably all had stomach aches that night.  I remember making all these recipes with Missie and how much fun we had, but at the same time have tears running down my face because Missie tragically died years later and I still miss her so much.  I think  I will make some of the "Great Caesar's Toast" in her honor, but this time add some spaghetti to go with it.  Missie loved spaghetti.
Here are the three category winners:
-$10,000 Refrigerated Dough:  Edna's Marshmallow Puffs, which were awarded the extra $15,000
-$10,000 Flour Category:  "One Step Chocolate Roll-Up" by Mrs. Martin Senne from Thompson, Iowa (Shirley said this was delicious!)
-$10,000 Mix Division Category: "Very Berry Lemon Cake," by Mrs. Earl Wyman from Pembina, North Dakota
Runner-up winners:
-$2,000 refrigerated dough:  "Cookie Crust Pecan Pie," by Mrs. Donaphin Schlinkert, Jr., from China City, California
-$2,000 flour category: "Quickie Sticky Buns," by Mrs. Kenneth McGrath from Salisbury, Maryland
-$2,000 mix category:  "Cheesy Garlic Hot Roll Braid," by Mrs. William Bradfield from Overland Park, Kansas
Other winners:
$2,500 Junior winner: "Nutty Cookie Rings," by Vicki Belschner from Amherst, Nebraska
$1,000 "Bright Idea" award: "Streamlined Apple Strudel," by Angela Wencel from LaGrange Park, Illinois
To read my previous Bake-Off blogs:
Bake-Off #2: http://su.pr/2zgjZn
Bake-Off #3: http://su.pr/7VZzZS
Bake-Off #4: http://su.pr/292acQ
Bake-Off #5: http://su.pr/2yOSvP
Bake-Off #6: http://su.pr/28VYBh
Bake-Off #7: http://su.pr/1hk3nb
Bake-Off #8: http://su.pr/22JMGd
Bake-Off #9: http://su.pr/2KkA2E
Bake-Off #10: http://su.pr/8awD1k
Bake-Off #11: http://su.pr/1CmPvD
Bake-Off #12: http://su.pr/3ogo5M
Bake-Off #13: http://su.pr/1a4HYQ
Bake-Off #14: http://su.pr/3tgiV5
Bake-Off #15: http://su.pr/7tQXBu
Bake-Off #16: http://su.pr/9nPW7c
Bake-Off #17: http://su.pr/9WIaqm
Bake-Off #18: http://su.pr/6MMS45
"Great Caesar's Toast"
For Missie.