I asked my fellow blogger, Mary (yentamary) from Foodfloozie to be my guest blogger and tell us about Rosh Hashanah. Take it away, Mary- and thank you!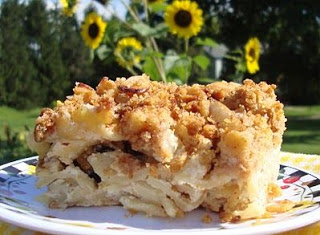 The Jewish new year, Rosh Hashanah (literally translated as "the head of the year"), began at sundown last night. It is a time for celebration, of course, with grand hopes for joy and blessings!
It is also a time to assess the past year's accomplishments and transgressions. Although we should engage in this self-assessment each day, always striving to improve ourselves, it is in these ten days before Yom Kippur – the Day of Atonement on October 8 – that we particularly devote ourselves to teshuvah [teh-SHOO-vuh], which means "repentance."
The Jewish year 5771 has been a very difficult one for me, and I can only hope that 5772 will be a significant improvement. Queen Elizabeth II's "Annus Horribilis" – 1992, in which Windsor Castle suffered fire damage and three of her children's marriages fell apart – cannot compare with the year I've had. I'll refrain from elaborating, but it's involved multiple moves, break-ups and reunitings, the death of a dear family friend, another loved one's hospitalization and other health complications, crises in the lives of my two dearest friends … join me in an "oy!"
But tonight, an entirely new year begins. Tonight, all things are possible. All hopes, all dreams … anything I imagine can become a reality.
Of course, I bear responsibility for some of this – I cannot simply sit on my tuckus and expect the universe to deliver to my doorstep like Domino's pizza. I must work hard, both towards my goals and on my own character.
And this makes me think of the song "Galileo" by the Indigo Girls:
"How long 'til my soul gets it right?
Can any human being ever reach the highest light?"
As I look back upon the past year, there have been moments when I feel in my heart that I have really shone, when I have been the very best person I can be and have contributed positively to the universe and in meaningful ways to individuals. For this I get a reward – kugel.
There have also been moments when I know in my heart that I have hurt others – often those I'm closest to, which seems to be an unfortunate consequence of human nature. I have been frail, fragile and fallible. And the scars of those wounds – even when faded with time – will always be a reminder of my failings. For that guilt and shame, I need comfort – kugel.
And that is where both the High Holidays (as Rosh Hashanah and Yom Kippur are referred to) and today's recipe intersect, as I will be serving kugel at my holiday meal. There had to be a way to connect all this introspection to the food, after all!
Kugel – a creamy, sweet noodle pudding from the Ashkenazic (European) Jewish tradition – is consummate comfort food. Warm, fragrant with cinnamon, rich, delicious … kugel offers sustenance even more for the soul than for the body (though it's hearty enough that there are no concerns for the latter!).
The new year offers 354 days (on the Jewish calendar) of opportunities for me to be the person I choose to be. It offers me 354 chances to aim for the highest light. And the very first day of this new year – this new life – begins tonight, at sundown.
Each year, I come back to services with great hopes and also with significant regrets. My soul hasn't gotten it right yet … I know this.
But I keep trying. Because as The Psychedelic Furs sing in the beautifully poignant "Angels Don't Cry": "Yesterday's faded away, now there's only tomorrow …."
May you have a joyous, blessed, and sweet new year, radiant with light!
Shana Tovah!!! [shah-NAH toh-VAH]
Apple Almond Kugel
Noodle Layer:
12 ounce package wide noodles
4 ounces chopped dried apples, cherries, raisins (or some combination thereof)
1 cup apple cider or juice
1 cup ricotta cheese
3/4 cup cottage cheese
3/4 cup sour cream
1 teaspoon almond extract
1 teaspoon vanilla extract
12.5-ounce can Solo almond filling
3/4 cup sugar
2 eggs
Topping:
1/4 cup butter, melted
1 cup cookie crumbs (from Nilla wafers or graham crackers)
1/2 ounce sliced almonds
1/8 cup brown sugar
1/4 teaspoon cinnamon
Preheat oven to 400F. Grease a 9″x13″ baking dish.
Cook the noodles according to package directions.
Put the dried fruit into a medium microwave-safe bowl; cover with cider/juice. Heat for 1 minute in a microwave, 'til warmed, then let rest.
Meanwhile, in large bowl combine ricotta, cottage cheese, sour cream, almond extract, vanilla extract, Solo filling, sugar and eggs. Drain the dried fruit and stir into the mixture. Drain the noodles once they're cooked, and add to the bowl; combine well, then pour into the prepared baking dish.
Combine the topping ingredients; sprinkle over the noodles.
Bake for 45 minutes, 'til a knife inserted into the center comes out clean. Let rest for 15 minutes before serving.
Makes 16-24 servings, depending upon the generosity of the portions.
My blog — foodfloozie.blogspot.com
Facebook — www.facebook.com/FoodFloozie
Twitter — @foodfloozie
AnnArbor.com — "You Should Only Be Happy …."
"You can never win or lose, if you don't run the race."
Psychedelic Furs, "Love My Way"
"Not everything that is thought should be said."
Rabbi Israel Salanter