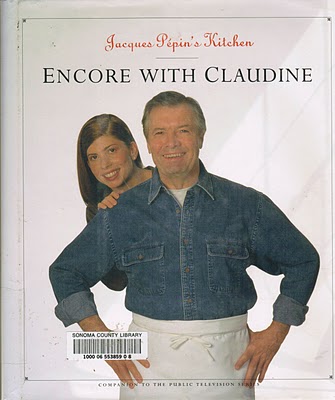 Claudine Pepin must enjoy cooking with her dad, the iconic chef Jacques Pepin, because she did a second series with him on the television show, "Jacques Pepin's Kitchen."  And why not?  If I had a famous French chef dad, I probably would never have left the kitchen!  I enjoyed watching this program back in the late '90's and learning all the wonderful dishes, but I think what I enjoyed more was watching the two of them work together.  It was obvious they simply liked being together.  Jacques called his daughter "an absolute joy to work with," and how she exhibited "real class" on the show. This is a father who loves his daughter and wants to share his joy of cooking with his favorite student.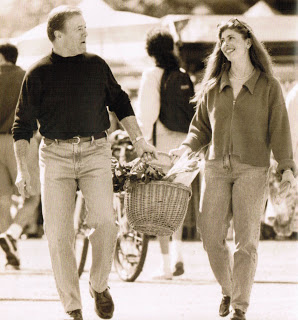 Claudine's dad does on camera what he has always done at home, which is encouraging his daughter to value cooking and family.  Jacques remembers lifting his daughter up to the stovetop so she could stir the pot, then she would turn to her mother and say, "I made dinner."  This is how kids learn.  Even if they are sitting at the kitchen table doing homework, the sounds and vibes of the kitchen are embedded in their minds.  Kids can smell the aromas and observe the actions of cooking, learn what tools are used, and of course reap the benefits of eating the meal together as a family.  This is what I loved about the series and the cookbook.  Both emphasize the importance of the nightly family meal. 
As he develops recipes for the show or a book, Chef Pepin has one thing in mind – teaching something that people can make at home.  He wants meals to be light and healthful, but something a bit different while not breaking the bank.  While walking through grocery stores and farmer's markets, the same places his readers and viewers would go, the chef hopes for inspiration in the seasonal offerings.  He does have some basic advice, however, to make us better and more efficient cooks.  "Sharpen your knives," he says, "and see what a whiz you become in the kitchen."  Read a recipe through before beginning to cook; get organized, and don't waste anything.  Stretch a rack of lamb by making timbales from the trimmings; transform stale bread into a puffy souffle.  Viewers of his cooking shows and readers of his book, can't help but absorb some of the chef's teachings, and of course benefit from the wonderful recipes.
Some of what you will find in this book and watching the cooking series can't be taught, it has to be lived.  Take pleasure in cooking and being with your family and friends.  It reminded me of cooking with my own daughters through the years.  If you asked them what times meant the most to them growing up, it would not be vacations or things; it would be the time spent together at the table.  And that lesson is easy to swallow.