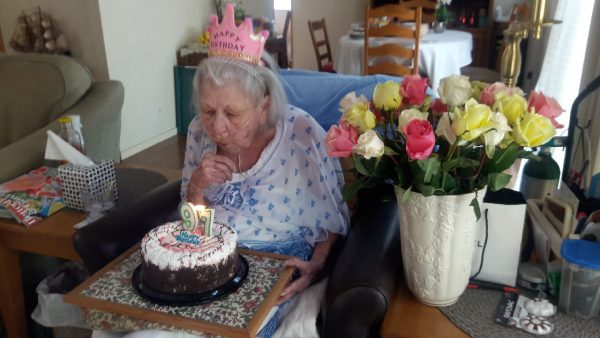 My mom is always saying, "How did I get to be 97?"  She finds it amazing, but no one in the family is surprised.  Mom's mother was 95 when she passed, there was an aunt who lived to 104, and mom's sister is an artist and still painting at age 95.  Not only is it in the genes, but the women in our family tend to be strong and independent, a trait that can lead to longevity according to some experts.
I thought I knew most everything about my mom until she recently told me a story I had never heard.  During World War II, she was the neighborhood "lights out" Civil Defense volunteer.  If anyone has seen the movie "It's a Wonderful Life" with Jimmy Stewart, there is a scene where he walks around his neighborhood and makes sure everyone has all their lights in the house turned off because of the wartime.  Mom said she enjoyed helping in war efforts, but did find it a little scary walking around in the dark of night alone.  She said she could sometimes hear footsteps, but could not see anyone.  Sort of like a scary Hitchcock movie.  This all took place on the South Side of Chicago where she grew up.  But that's my mom.
Today, she is not as mobile, but still an avid reader.  I've never known anyone who could read books as fast as my mom.  She loves books that take place in England, Ireland, or Scotland.  I learned to cook from my mom, and she says that is one thing she misses very much.  Mom's favorite meal is soup, and how she wishes she could stand in the kitchen, chopping vegetables and making a big pot of soup for the family.  She also has a big sweet tooth and would love to make a batch of cookies.  It's just too hard for her to stand and do these things now.
Our family has been so lucky to have mom for a role model in every way.  She has not always had an easy life along the way, but that's all part of life itself, and she always came out stronger through every challenge.  You are much-loved mom, and we celebrate you today.
I love you, Mom.
Love from your only daughter,
Debbie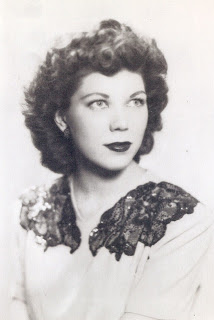 My very favorite photo of my mom.  Isn't she breath-taking?