My husband Bill's birthday was Friday and I'm a little late getting this post up.  Bill claims the 5th of July is the best birthday because all the fireworks are just the beginning of a birthday celebration the next day.  Everyone is in a festive and happy mood and there's lots of good food.  I never know what kind of cake Bill wants because it changes every year.  Sometimes it's not even cake;  it could be a pie, cobbler, or some other kind of dessert.  This year, he went retro.  All he wanted was a simple jello poke cake.  I could make him anything, and he wants a 4-ingredient cake that starts with a mix.  Go figure.  But it's his birthday and he gets to choose.  Hope you all had a happy 4th of July!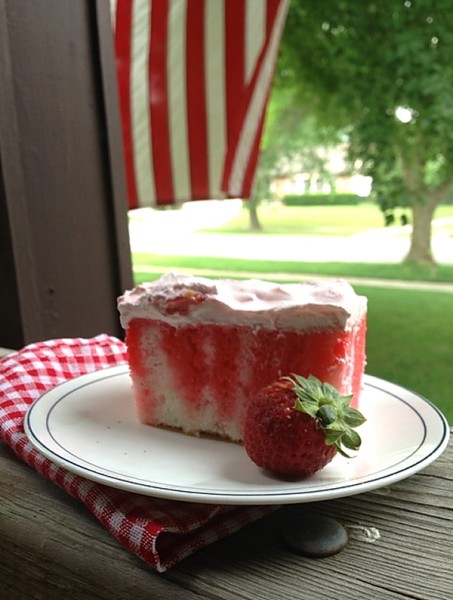 Strawberry Poke Cake
1 package classic white cake mix
1 large package strawberry jello
8 ounce container frozen whipped topping, thawed
10 ounce tub frozen sliced and sweetened strawberries, thawed
Prepare cake mix as directed on package for a 9-by-13-inch pan.  When cake is almost done, place jello in 2 cups boiling water and stir to dissolve.  Remove cake from oven and poke holes all over the cake using a fork or skewer, covering the entire surface.  Carefully spoon the hot jello evenly over the warm cake, letting it soak in thoroughly.  Let cake cool completely.  When cooled, place the whipped topping and strawberries (with juice) in a large bowl.  Fold gently until just combined and spread evenly over top of cake.  Refrigerate cake until ready to serve, tenting the top loosely with foil.  I find that the cake cuts much better when chilled at least 6 hours or overnight.  I also think that the regular whipped topping works better than the lite, and definitely don't use the fat-free.  It's too watery.