I just heard on the radio that most people think the time to diet is the day after New Year's, with everyone making their New Year's resolution to lose weight before summer. But statistics have shown that people will show up at the gym, work out for a few weeks, then forget about the resolution – that is, until March.  Suddenly, summer seems closer and then everyone panics and really starts to diet frantically.
Many people, when they hear the word diet, think it means deprivation; no more of your favorite comfort foods.  Well… have I got a cookbook for you!  It is called "Simple and Classic Homecooking" from Weight Watchers.  I have made just about every recipe in this book, and none of them taste "diet."  They are full of flavor and satisfy the need for comforting, real food.  All the nutritional data is given, although if you are a member of Weight Watchers, you may have to figure out the points again, as when the book was written in 2000, the fiber requirements for figuring out the point system were different.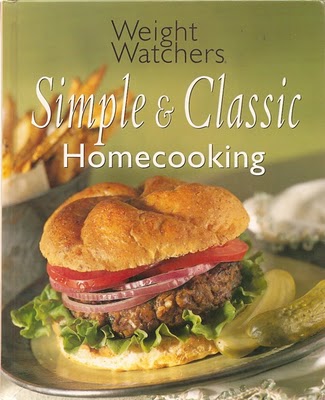 Among my favorite recipes are seafood paella, salisbury steaks with mushroom sauce, spinach-and-cheese stuffed shells, country-style pork chops, Coq Au Vin, chocolate cream pie, blackberry cobbler, banana pudding, sweet-sour shrimp, chicken piccata, and many, many other comforting, classic dishes.  I have used this book so much, it's amazing it's not falling apart.
Find this book and get cooking!  You just might be able to fit into that itsy-bitsy-teeny-weeny polka-dotted thing.