When they say on the commercials that "Happy cows come from California," they must mean the Holstein cows of Point Reyes Station, California.  Their grade A raw milk produces one of the best blue cheeses on earth.  I have read many an article about Point Reyes Blue over the years and how fabulous it is, but, unfortunately, it is not readily available at every grocery store around the country.  But you see, I am a lucky girl, because my youngest brother and his wife actually live in Point Reyes Station, and my mother is not far away.  Whenever I visit them, one of the first things I do is go out and the buy the blue cheese, or sometimes my mom will just have it there waiting for me. 
On my last visit to Point Reyes Station, I headed to the Cowgirl Creamery, where the cheese is sold.  I could sit happily and just slice off pieces of the cheese by itself, but when I saw a cookbook called "The Blue Course: Cooking With Point Reyes Original Blue Cheese" I couldn't wait to read it.  As I stood at the checkout stand to buy it along with the blue cheese, I commented to the cashier what a great cookbook it was.  She said, thank you – my husband wrote it!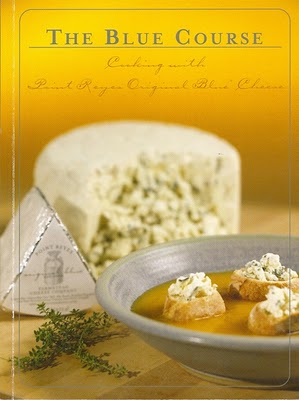 If you love blue cheese, you must find this book.  It's a small cookbook, only 60 pages, but loaded with the most divine blue cheese recipes you will ever find.  Imagine a Beef Wellington with a blue cheese layer; a cabernet-infused hamburger with rosemary, shallots, and crumbles of blue cheese on a ciabatta bun;  a refreshing blue cheese coleslaw with apples, lemon juice, and toasted walnuts, or creamy blue cheese scalloped potatoes with rutabagas.  The recipes just keep getting better as you turn the pages.  Go to http://www.pointreyescheese.com/ to find out more.
If you are ever visiting San Francisco, you must drive up to Point Reyes Station, which is about a 1-1/2 hour drive from the Golden Gate Bridge.  Not only will you find the marvelous cheese, but the town itself is like finding Brigadoon.  You drive up twisty, winding, foggy roads, surrounded by mountains, and suddenly you come upon this fascinating little town.   It's a tiny place, but is packed with several blocks of unique stores and restaurants.  Don't miss Toby's Feed Barn, which is not what you expect.  It's like Sur La Table in a barn!  It has gourmet foods galore and holds a Farmer's Market out in front every Saturday.  Prince Charles visited several years ago to study the organic products available around the area, and made a stop at Toby's.  The Bovine Bakery is really tiny, but has unbelievable pastries and other goodies.  The firehouse (where my oldest brother was once a firefighter) has a clock that moos like a cow at noon and 6:00.  But what you really can't miss is Point Reyes National Seashore.  It is 80 miles of heavenly shoreline.  You can whale-watch, listen to the seals, or just take a stroll down the beaches.  Back in the early 70's when I lived near Point Reyes, I used to drive there just to walk on the beach.  One time, as I was driving the winding mountain roads, I heard a roar of noise.  I looked in my mirror and saw a stream of motorcyclists behind me.  I pulled over so they could all pass, looked over, and saw each person was wearing a Hell's Angels jacket!  Okay – that was scary.  Actually, maybe I shouldn't have been afraid.  I bet they were just going to pick up some blue cheese.