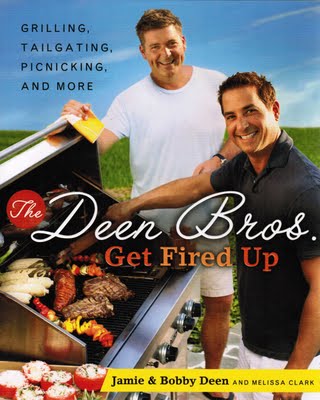 This is the just released cookbook from the sons of Paula, and they didn't need mama to help them write this one -it's a keeper, and just in time for summer fun.  There are recipes for grilling, tailgating, picnicking, and fun on the beach.  You will be able to use this book all summer long!  Whether it's chicken, steaks, flatbreads, pizza, burgers, or hot dogs you crave, you will find it here with recipes like balsamic cherry pork chops, pesto chicken, spicy sesame pork ribs, fajitas with smoky grilled guacamole,  lamb chops stuffed with feta and lemon, turkey burgers with hummus, or hot buffalo burgers with blue cheese.  One of my favorites so far is the grilled tuna steak with charred corn vinaigrette, seen below.  It went together in minutes.  Tuna is probably the easiest fish to grill.  It is ready in less than five minutes!  This dish was fabulous!  I will be making it all summer.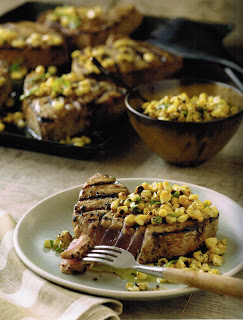 Jamie and Bobby are grilling experts, and were asked to be judges at a grilling contest sponsored by Beringer Wines last fall.  My daughter Kristina rode in the limo with the brothers from SFO to the wine country, which some of you may know is a long ride with plenty of time to chat.  Kristina said they are the sweetest, nicest guys you would ever want to meet.  And it also turned out that my darling, sweet, amazing girlfriend from Connecticut, Lisa, ended up winning the contest!  Kristina declared it one of the best times ever.
Find this great new cookbook online or at your local bookstore and have fun cooking from it this summer!  For lunch today, I will be making the peppery tuna macaroni salad for lunch.  Can you tell I love tuna?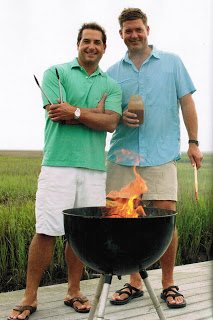 Yep, they cook and they're cute!