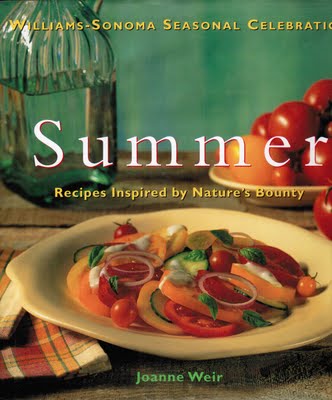 Did you know today is officially declared as the first day of summer?  It's been a long time coming for those of us in cold climates.  I love glancing out my window and seeing my garden plants getting blooms.  I can already see the cantaloupe, cucumber, and zucchini flowers.  The fruits and vegetables of summer are simply treasures, and blend so well together.  You would think Mother Nature knew what she was doing!  Tomatoes join with peppers and onions to make gazpacho; fresh basil into pesto; and fruits for pies and jams.  It's endless and inspirational.
Author Joanne Weir is one of my favorites.  I have many of her cookbooks and love using them often.  She worked at Alice Waters' Chez Panisse, so you know she knows a thing or two about working with the freshest of ingredients.  In this Williams-Sonoma book, you will find essential information on how to work with nature's bounty, such as selecting the best ingredients, illustrated step-by-step instructions, and techniques for preparing many of summer's signature ingredients. 
The starter recipes include a tomato and onion tart;  risotto with oven-dried tomatoes and fresh basil; flat bread with tomatoes, mozzarella, and basil salad; and stuffed zucchini flowers (yes! I can make these now!).  Some of the cold, refreshing soups of summer are gazpacho, cucumber, or a honeydew with fresh mint.  There are barbecue recipes for meat, chicken, fish, and sandwiches.  The desserts use the fruits of summer for pies, tarts, granitas, cobblers, sorbet, and shortcake toppings.
This book is a great way to celebrate summer, whether it be your own garden or produce from your local Farmer's Market.  Go out and capture the spirit of the season! 
Summer afternoon— summer afternoon….
the two most beautiful words in the English language.
–Henry James