The International Home and Housewares Show sign is not kidding when it says the world gathers here.  Companies and guests come from all over the world to showcase their new products, buyers want to find the latest trends, and then there are bloggers like me who want to drink it all in and report back to our readers.  It's impossible to see everything there is to see in a few short days, so I  have included some of my personal favorites.
Kristina and I start at one end and go up and down until we hit the other end.  And this is just one of three massive areas.  When we first arrive in the South area, one of the first large booths we see is Nordic Ware, one of our favorites because we love guessing what's going to gather the most attention.  It was two things this year, the popular pinata cake mold, and the cinnamon roll mold.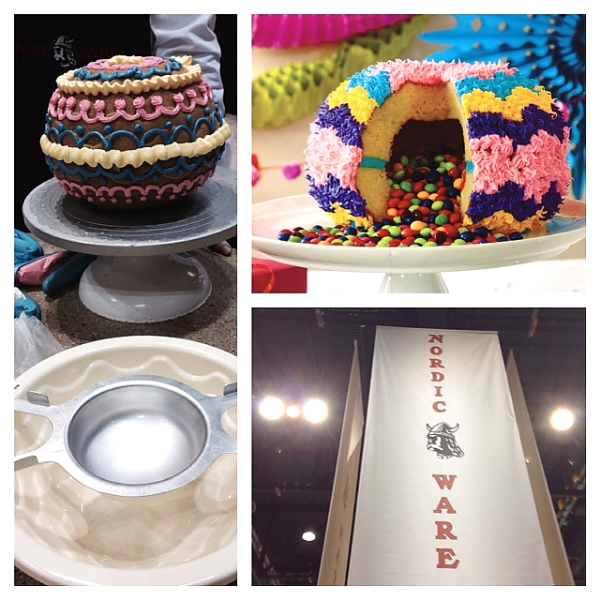 Every time we passed by the Nordic Ware area, people were gathered around the pinata cake.  Kids are fascinated with it.  I can see why – it's colorful, fun, and they get candy along with their cake!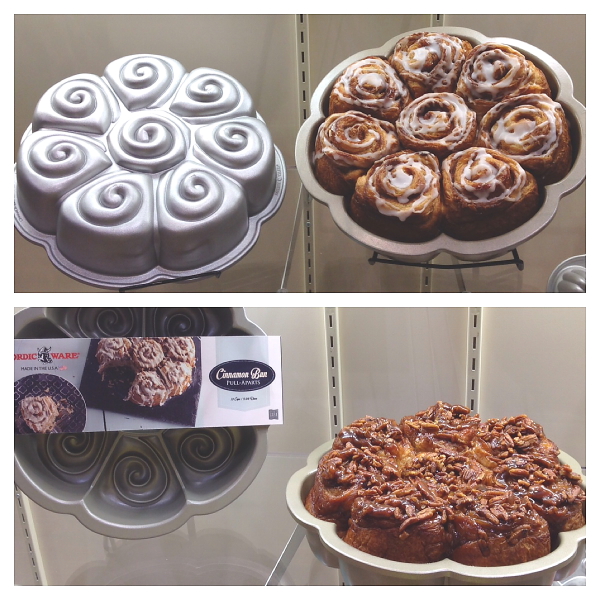 Are you a sticky bun type or cinnamon roll type?  Either way Nordic has you covered.  And don't forget that Nordic Ware is made in the USA, a fact of which they are very proud.
Another made in the USA product is Epicurean.  The beautiful cutting boards and other products are made from the same materials as skateboards which makes them extremely durable.  Think about it – could your cutting board be slammed around a skateboard park and survive?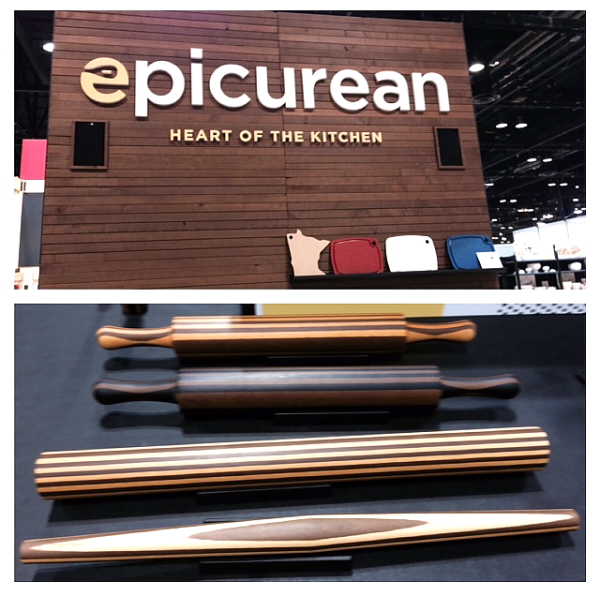 I fell in love with these rolling pins!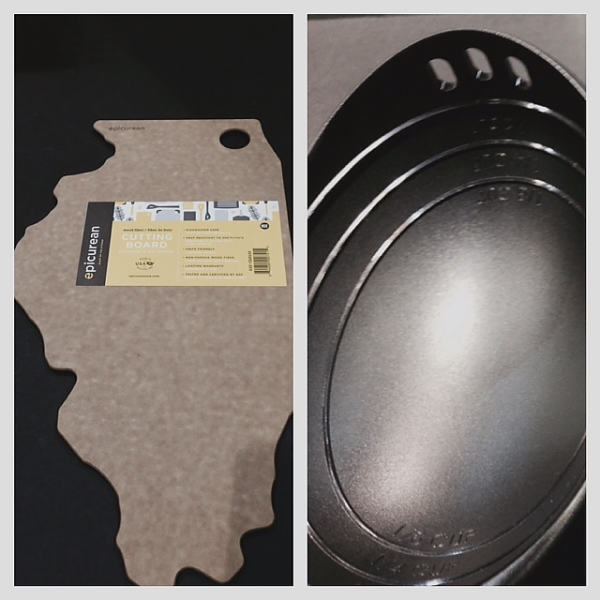 You can buy a cutting board in the shape of your home state like my beloved Illinois here.  I loved the measuring spoons that have the cup amounts embedded into the  rings on the spoon.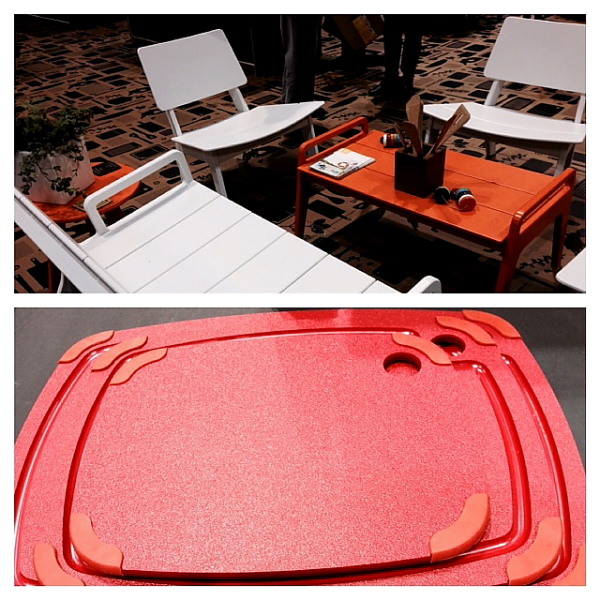 Epicurean also makes products recycled from plastic milk cartons, like the highly durable furniture and cutting boards, which are offered in a variety of colors.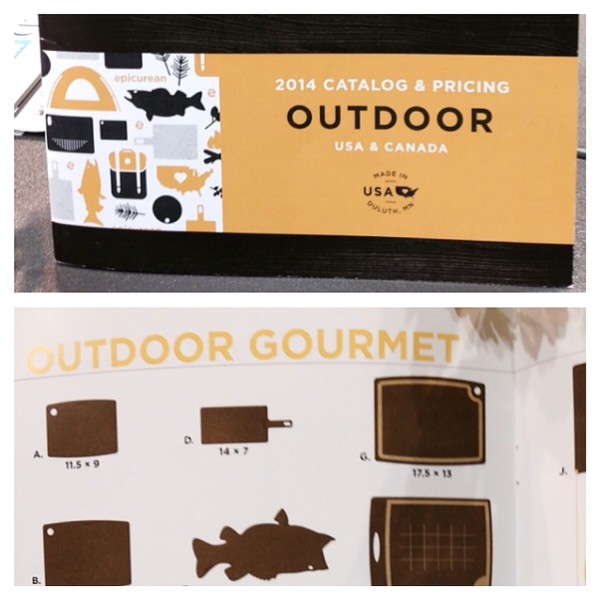 My husband Bill loves the outdoors, especially in the woods of Upper Michigan where we have some property on Lake Superior.  He and his cousin Benny love to hike, fish, and sit around a campfire cooking what they caught in the day.  They are both going to love these products.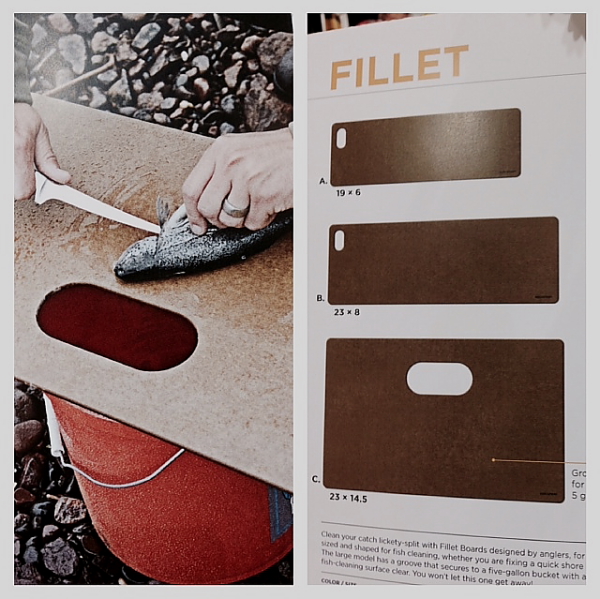 Fish can be skinned and gutted on the cutting board and the excess in scraped right into the bucket.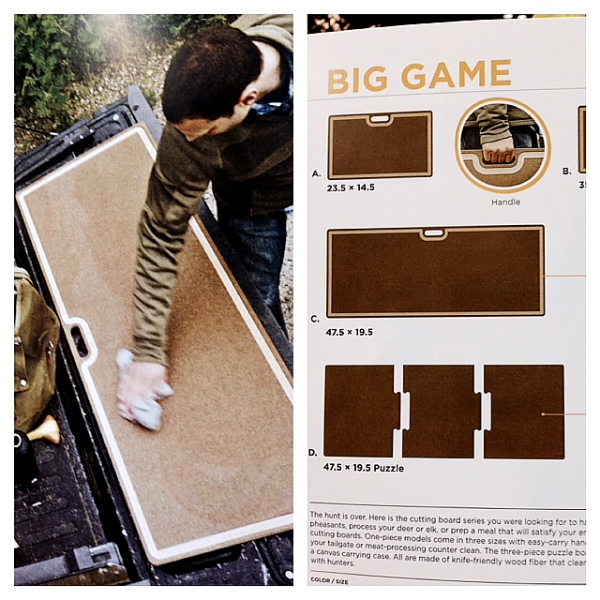 Larger game has a board that fits on the tail back of a pick-up truck.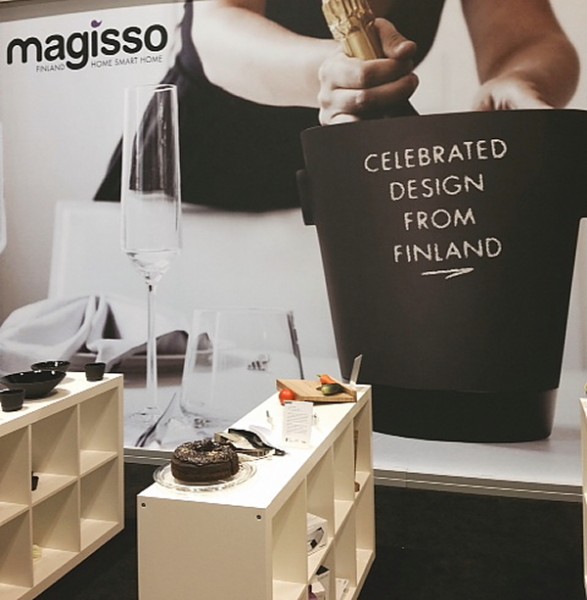 The Magisso sign caught our attention immediately because it was products from Finland.  And not  just because of my husband's Finnish heritage, but also because Finns are known for making unique and well-made products.  Case in point is this whisk.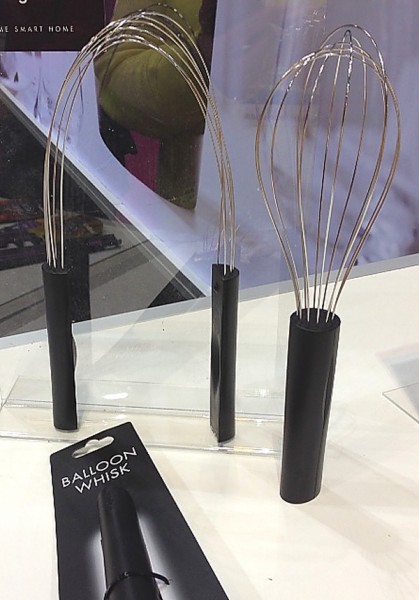 You know how after whisking eggs or whipped cream, there is excess stuck in the twisty top part?  This whisk has a handle that opens up and spreads out so clean-up is easy, and then snaps back into place.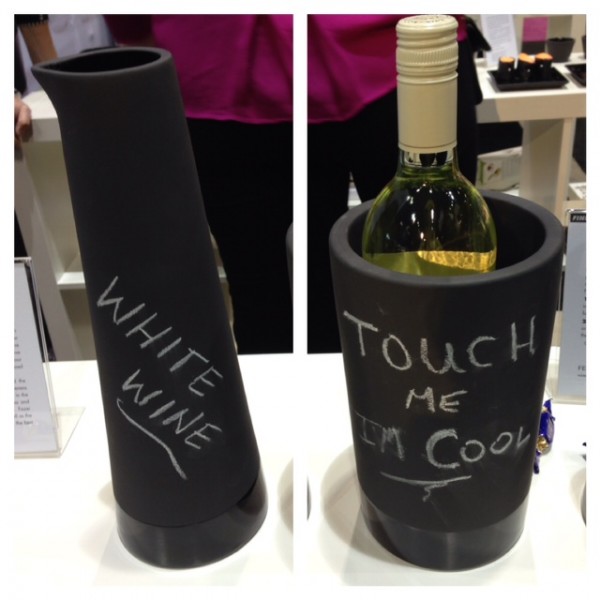 We loved these chalkboard coated wine coolers.  The wine will stay cool and you can write on the outside what wine is inside.  They are very sleek-looking, too.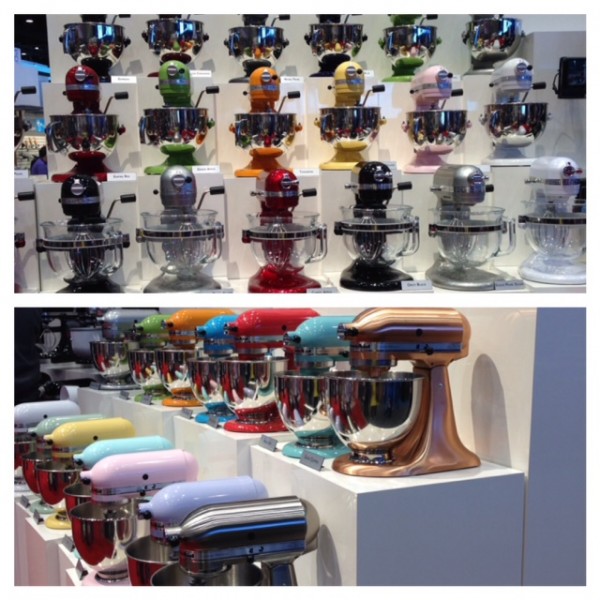 Kitchen Aid mixer anyone?  Pick a color, any color!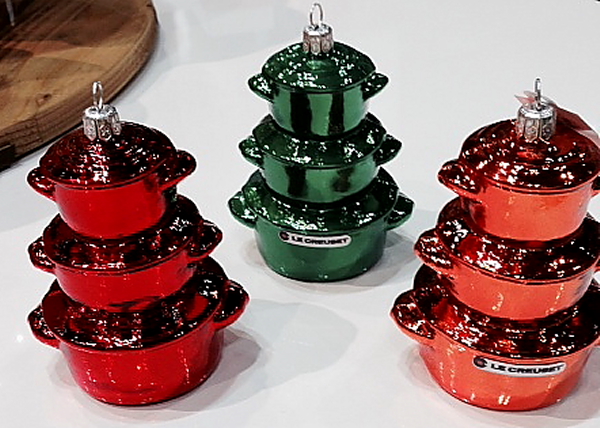 It's never too early to buy Christmas items, right?  Look at these darling stacked mini LeCreuset pots made into ornaments.  I can't get enough culinary-related ornaments for my tree.  These are on my list.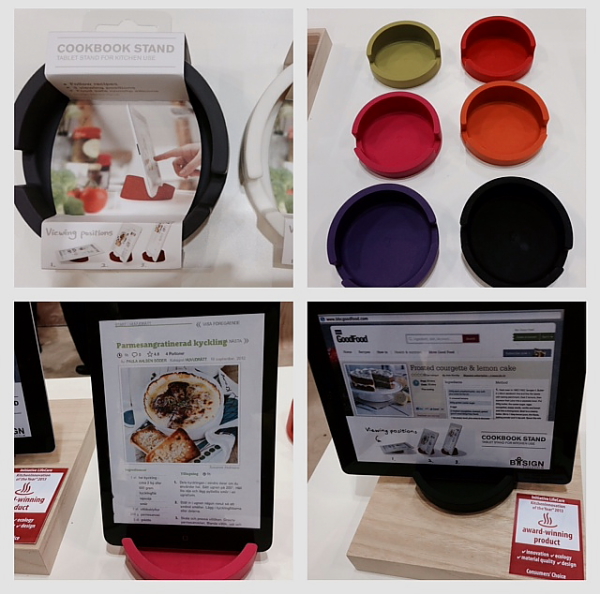 How about an award-winning cookbook stand from Sweden?  It not only will hold books, but also both sizes of iPads.  They come in a variety of colors to match your kitchen and keep everything steady and easy to read.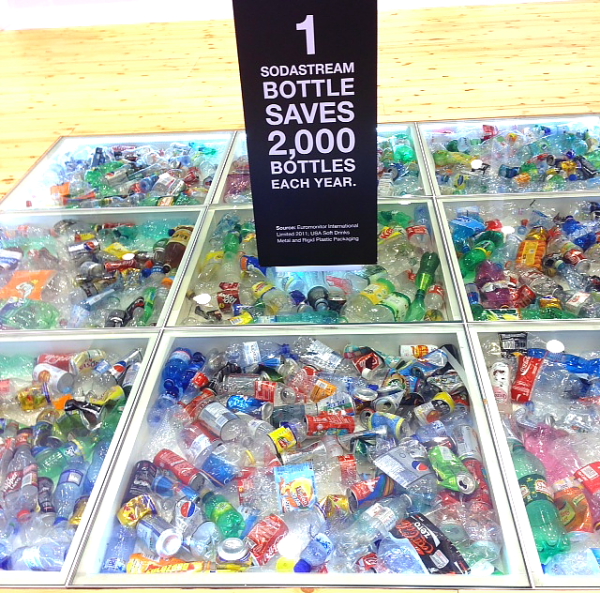 I love Soda Stream!  We use ours just to fizz water and add our own freshly squeezed juices.  Did you know that using just one Soda Stream bottle will keep 2,000 plastic bottles out of our environment?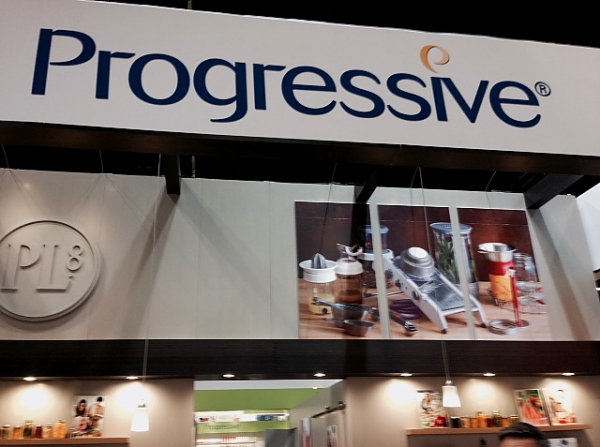 We loved the products at the Progressive booth.  If you love gadgets, this is the booth for you.  The mandoline is an easy-to-handle size and pieces are dishwasher safe.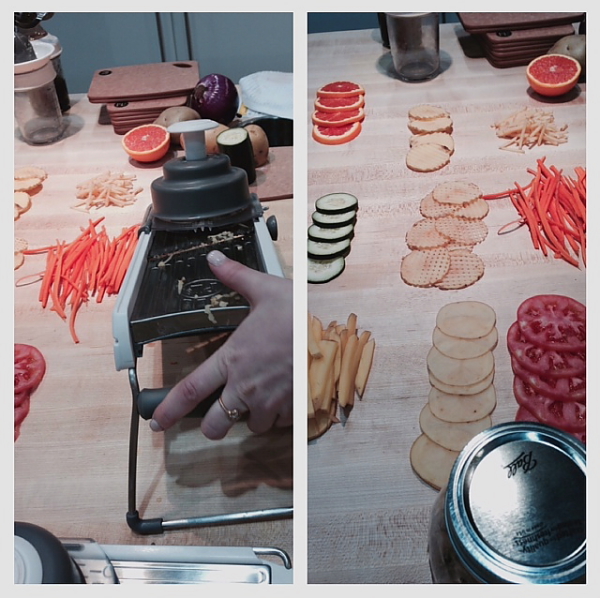 Kristina and I can't wait to buy these products, which fit on the lids of any wide-mouth Mason jar.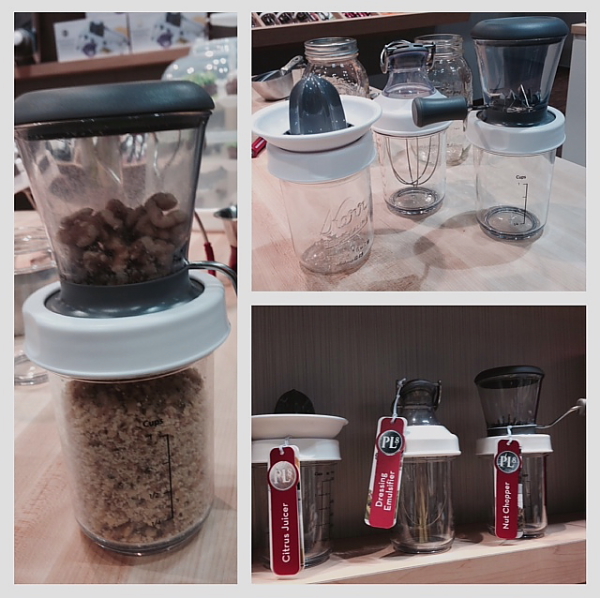 There is a nut chopper, juicer, and salad dressing whisk.  They are so handy and if you have a gazillion mason jars like I do, you will go crazy for these.  After using the attachments, just put on a Mason jar lid and store items in your pantry or refrigerator.  I think they will be available in retail stores in the fall.  I'll be first in line for these!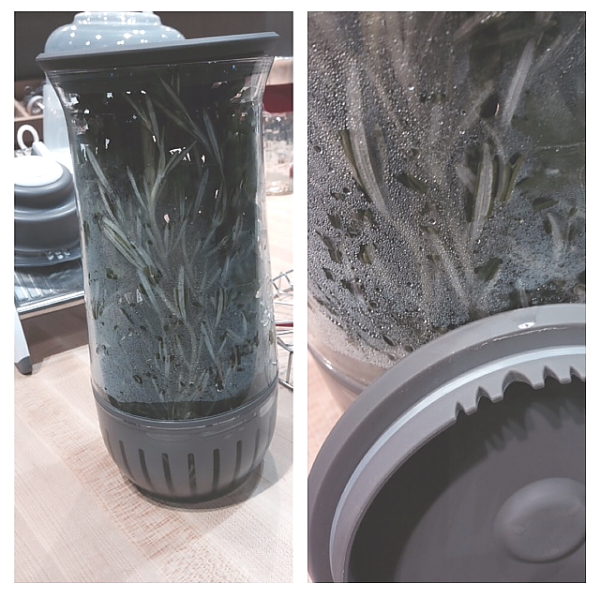 Another favorite Progressive product was the herb container.  Not only does it keep herbs fresh longer, but take a look at the lid.  Fresh herbs are placed in the little sectioned area, and then you just zip down the herbs quickly and the leaves are all separated for you.  There are spaces for larger herbs like rosemary, or delicate ones like thyme.
Our last stop of the last day was to say good-bye to our good friends at Cuisinart and see their new products.  Our favorite was this amazing beverage center.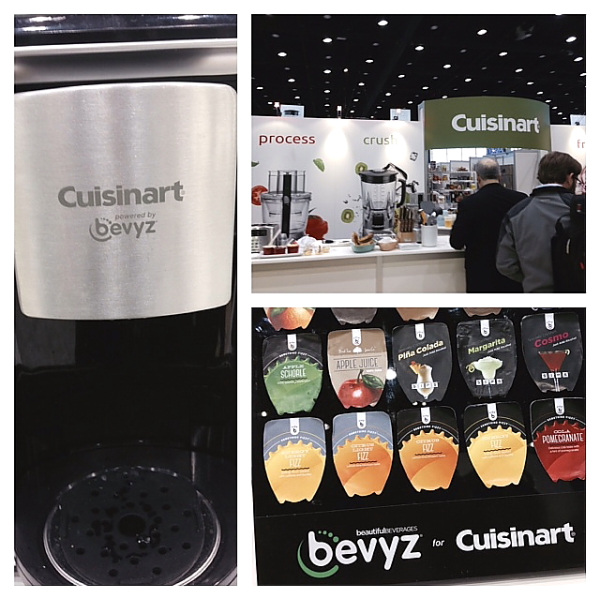 Not just for coffee, but tea, juices, and even for drinks like a Margarita or Cosmo!  Beverage centers for the kitchen are the latest hot item and no one makes a better one than Cuisinart.   Look at all those available flavors!
Another year, another show, and never enough space to show you everything.  This was one of the best shows that we can remember, but then again, it gets better every year.  Why don't you join us next time?