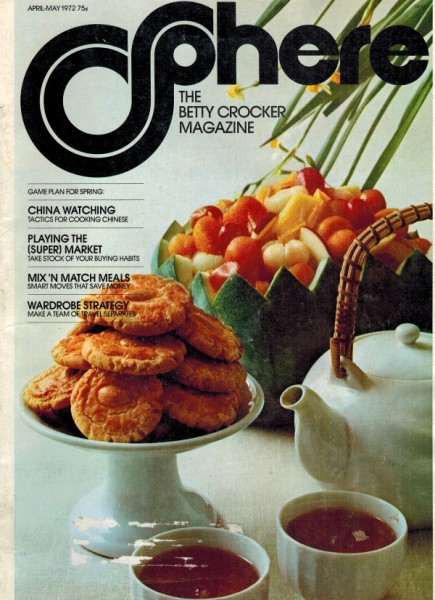 It's time for the next installment of the Sphere blogs!  This second issue from April-May 1972 is once again filled with 1970's food, fashion, and crafts, as was the Charter Issue from the first blog.   Chinese food was all the rage and there were ads to order items such as woks, bamboo steamers, rice cookers, and various utensils.  The fashion pages included Chinese clothing with actual patterns to order to sew your own.
The longest article was titled "Chinese Cooking for China Watchers," and featured a multi-course Chinese dinner with all the recipes and hints to make your party a success.  The menu included soy-honey spareribs, fragrant watercress soup, chicken almond with steamed rice, red cooked beef with sesame noodles, chilled shrimp with snow peas and bean curd, various dipping sauces, a fruit bowl, almond cakes, and teas.  None of the recipes are difficult, but the one that caught my eye was the chicken almond, as I remember it was a favorite of my mom's.  The recipe tastes exactly what take-out chicken almond tasted like as I remember it, with very simple ingredients, not spicy, and golden whole fried almonds.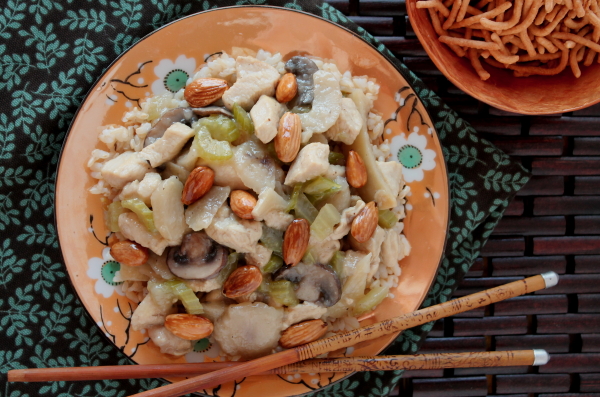 Each issue always featured recipes for children to make called "Kids Cook," which was sticky buns made from refrigerated biscuits.  The "His Dish" feature was from the publisher of an architecture magazine showcasing his chicken cacciatore, which he says he likes to serve with sautéed zucchini slices and crusty Italian bread.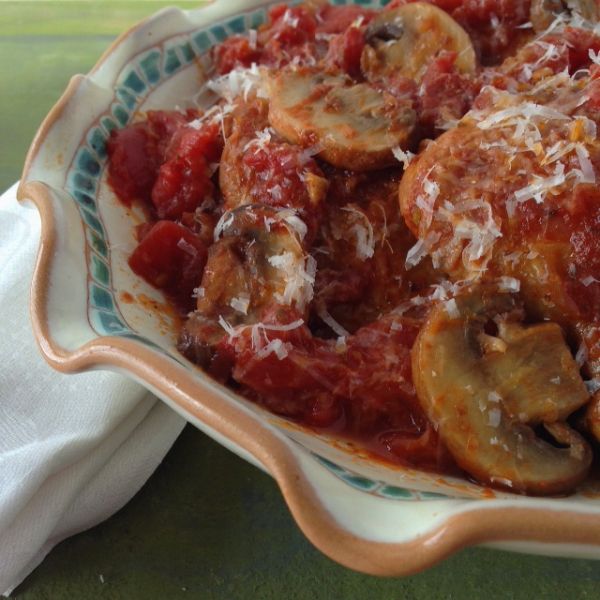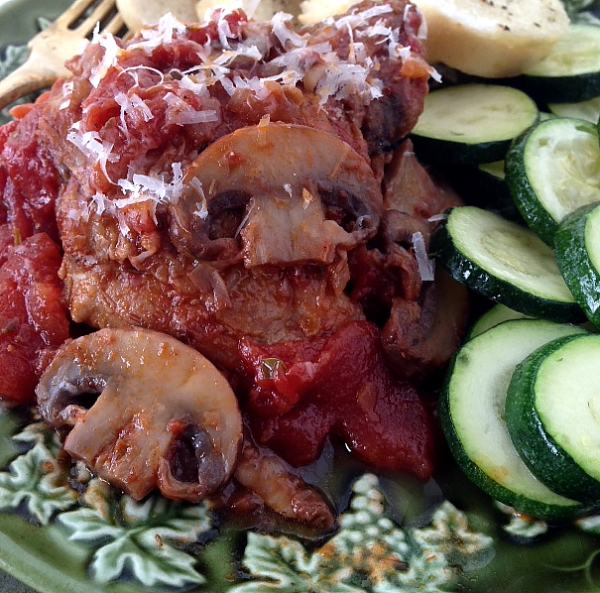 I always love looking at kitchens from the past and in most of the Sphere's from the '70's, everything looked either hippie or Peter Max.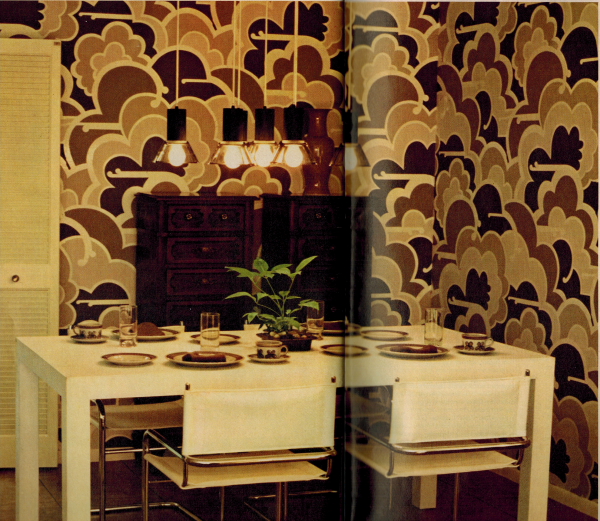 If you lived the '70's, then you remember when madras was in.  There were pages of madras clothing along with sketches of ideas of what to pack for vacations, along with hair tips from a very young Vidal Sassoon.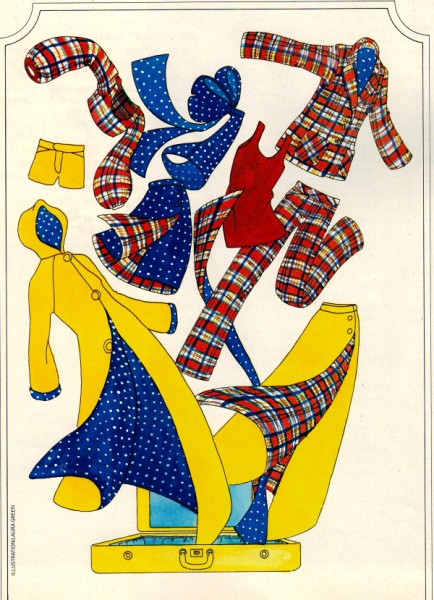 The crafts included patterns for crewel work featuring wild mushrooms to stitch (don't know if they were supposed to be psychedelic or not, but it was the '70's).  Another craft was how to make "Peaceful Paper Sculptures," to create  "a soft intriguing inner atmosphere that happens wherever paper sculpture sheds its light."  I think you should sit by the "inner atmosphere" while making the crewel mushrooms wearing a madras outfit and get the whole '70's experience…
Here's my favorite ad in this issue: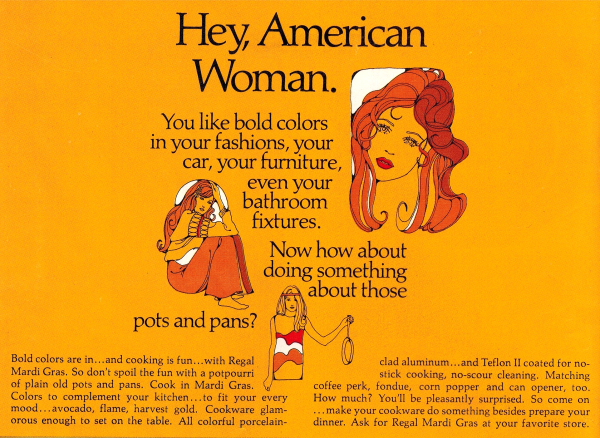 Yes, this was the era of Harvest Gold and Avocado!
There were other recipes featured like a lemon meringue pie with hints how to not have weepy meringue; a Lamb Wellington; country-baked ham;  and various ways to cook fish.  Here are the recipes for the Almond Chicken and the Chicken Cacciatore.  No worries, just regular mushrooms in the cacciatore.
Chicken Almond

3 Tablespoons peanut oil
1/2 teaspoon salt
1 pound skinless, boneless chicken breasts, cubed
1 can (about 8-1/2 ounces) whole water chestnuts, drained and halved
1 can (about 8 ounces) bamboo shoots, drained
3/4 cup sliced celery
3/4 cup sliced mushrooms
1/2 teaspoon MSG  (I know nobody uses this anymore, but it's listed!)
3/4 cup chicken broth
2 teaspoons soy sauce
2 Tablespoons cornstarch
2 Tablespoons water
1/2 cup whole blanched almonds, fried* (instructions and comments below.  Don't leave out – they make the dish!)
Steamed rice for serving
Heat a wok or large heavy skillet.  Add peanut oil and salt; heat until sizzling and very hot.  Add chicken and stir constantly over high heat until almost done, at least 5 minutes.  Reduce heat to medium; add vegetables and MSG if using.  Return heat to high and stir just until all ingredients are combined and heated.
Stir in chicken broth and soy sauce.  Reduce heat to low; cover and simmer for 6 minutes.  Blend cornstarch with water and slowly stir into chicken mixture.  Mix gently but rapidly until sauce thickens.  Taste for salt and pepper (I thought it needed it).  Place in serving bowl and garnish with fried almonds.   Serve with steamed rice.  Serves 6.
*To French Fry the whole almonds:  first of all, you must use whole blanched almonds.  No other kind will work like raw, sliced, or slivered.  These are really good and I probably had more like 2/3 cup than 1/2 cup.  Don't leave them out or not fry them, because it makes a big difference in the taste and appearance.  To fry, heat 2 inches of peanut oil in a 1-quart saucepan or skillet to 365 degrees.  Add almonds, about a 1/4 cup at a time, frying and stirring constantly until a deep golden color, which will take about 2-3 minutes.  Watch carefully, as they can burn quickly.  Repeat until all are fried.  They can be made ahead of time, cooled, and stored in a covered container for several days.
Chicken Cacciatore
About 3 pounds chicken pieces with skin (I used a large package each of thighs and legs, or you can use a couple packages of cut-up frying chickens)
2 Tablespoons olive oil
1 large onion, diced
4 cloves garlic, crushed
2 cups sliced fresh mushrooms
1/2 cup olive oil
8 ounce can tomato sauce
2 cans (15 or 16 ounces each) peeled tomatoes, chopped
2 bay leaves
2 Tablespoons dried oregano, crushed
1 teaspoon salt
1 teaspoon sugar
1/2 teaspoon black pepper
1 cup red wine
Rinse chicken pieces in cold water; dry thoroughly with paper towels; set aside.  Heat 2 Tablespoons olive oil in a deep heavy skillet or Dutch oven.  Add onion and garlic; stir until they start to soften and lightly brown.  Add the mushrooms and stir briefly.  Remove from pan and place in a bowl.
Heat the 1/2 cup olive oil in the same pan.  Brown the chicken, a few pieces at a time, adding more olive oil if necessary.  After chicken is browned, pour off any excess oil.  Place all the browned chicken pieces back in the pan. Add remaining ingredients except for the wine, and stir well.  Heat to boiling, reduce heat to simmer and cook, covered, for 40 minutes.  Stir in the wine and simmer uncovered for 5 minutes.  Taste for seasoning before serving.  (I thought it needed more salt and pepper).  Serves 4-6.