In the four years since I started this blog, emails and messages from every part of the globe have come in on a weekly basis about a few blogs I wrote about the old Betty Crocker magazine called Sphere.  It's unbelievable how many people from everywhere remember this great food magazine.  The most recent email I received was from a woman in Switzerland who wanted a cake recipe, "Apricot Upside Down Cake," from an October 1978 issue for her upcoming party.  Every Christmas, I get panicky emails from people who have lost their favorite Sphere Magazine cookie or dessert recipe.  There isn't a week that goes by that I don't hear from someone, somewhere.  I have even been lucky enough for a few people to write me and say they found old Sphere's in their attic, or in old boxes not opened for decades.  These lovely people, instead of throwing them out, offered them to me.  I now have accumulated every Sphere issue except for August, 1972.  Eventually, Sphere changed its name to Sphere's Cuisine in October 1978, and then to Cuisine in January 1979.   After it changed to Cuisine, the old Sphere was gone, but definitely not forgotten.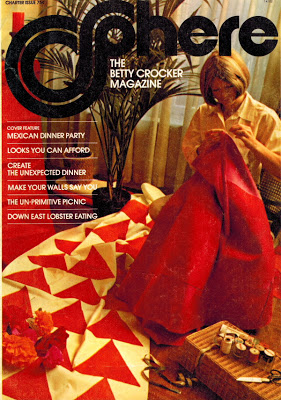 With the popularity of Sphere in mind, I have decided to write a monthly Sphere blog, starting with this charter issue of February/March 1972.  Not only are there wonderful recipes from many of your favorite food writers and authors, but the magazines are like a culinary history of the '70's.  The magazine was way ahead of its time, using ingredients that we now take for granted, but were almost impossible to find in the '70's.  The magazine also included original patterns for sewing clothes and craft items, monthly wine reviews, and helpful kitchen tips.  The recipes are for everything you can imagine, from Iowa farm food to an African feast.
This charter issue tells us that the name of the magazine has a two-fold meaning: "Sphere," because the magazine will reflect and hope to widen your world; "The Betty Crocker Magazine," because it is an extension of the spirit of Betty Crocker, begun fifty years ago and a General Mills symbol of service to America's homemakers."  They go on to say that although they salute other magazines devoted to women, they "intend to imitate none."  And they kept that promise.
Before the recipes and sewing articles begin, there is a page with the title "Looking Ahead."  Here is how it begins:  "As women, we're lucky to be alive right now.  Amid the universal tumult, it's more than ever a woman's world, with twentieth century reality located somewhere between the swooning vapors of Victorian forebears and the militant fervor of women's lib."  Does that sound 1972 or what?  It goes on to say that women need to step up while "discovering and doing your own thing is more than a catch phrase of the now generation.  It's an open sesame to self-fulfillment.  While we discard Shakespeare's seven ages, we'll go along with his comment on our destinies:  the fault… is not in our stars, but in ourselves, that we are underlings."  Yep, this is 1972.
In 1972, I was living in the San Francisco area, Larkspur in Marin County to be exact, at the time of Haight-Ashbury, peace marches, and all that encompasses.  I had schoolmates from high school who had already served in Vietnam, some never to return.  Janis Joplin herself even lived down the hill from us at one time.  A few miles away in Sausalito, macrame and anything "earthy" was all the rage in crafts and artistry.  This issue of Sphere had patterns to make some of the era's artwork.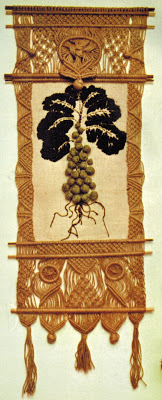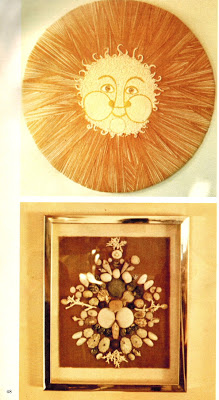 Macrame wall hangings, shadow boxes with things like seashells, and many works using yarn, all hand-dyed with natural colors, of course.  In my college dorm of 1972, I can't remember anyone who wasn't making or at least buying something with macrame, usually belts and purses.  Also in my dorm, the girls either had Paul Neuman/Robert Redford posters, or posters from the artist Peter Max.  What I wouldn't give to have my old Peter Max posters to frame now.  Max used intense bursts of bright colors and psychedelic shapes with his counter-culture imagery.  His look was copied by many, and even showed up in Sphere as a backdrop to recipes.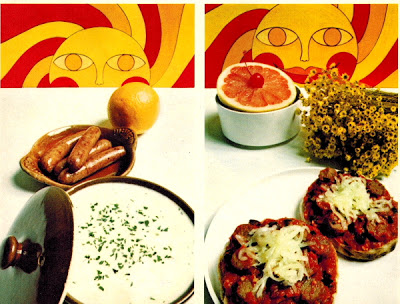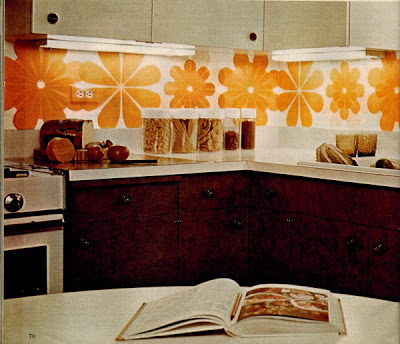 Despite the wild colors and psychedelic influences, Coco Chanel and high fashion was also still in vogue.  Sphere offered their own exclusive pattern to make your own classic Chanel suit at a fraction of the cost of an original Chanel.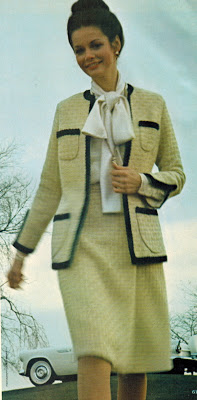 But now for the food, which was the main focus of the magazine.  A column about cookbook recommendations appeared monthly, which in this issue include Dishes from Indonesia by Yohanni Johns;  Meat, from the Lobel Brothers;  and House and Garden's Complete Guide to Creative Entertaining.  The recipe articles include a "special dinner" with a roast loin of pork with almond-stuffed onions; a guide to making homemade meatballs and then using them for various recipes including an Italian dinner, Cantonese dinner, and a Swedish supper, all using a basic meatball recipe.  There is a "picnic" idea held in the snow, scooping out the snow to make an indentation for a fire pit and picnicking outdoors.
There is a page of making rosettes, with all kinds of shapes and ideas for filling.  My rosette iron, that I still have from a purchase at the old Cost Plus in Fisherman's Wharf, has the same shapes.  I need to find that; I haven't made rosettes in years.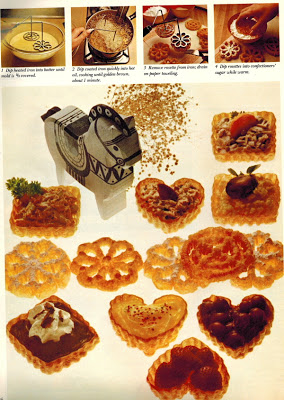 A special Mexican dinner party is next, complete with how to make giant paper flowers for decoration, and even the option to purchase a record of Mexican songs.  The article states that "going ethnic is a big passion across the country.  What is encouraging about ethnic cooking is that a blonde German living in Chicago, and married to a Norwegian, can produce a Mexican dinner party in her own home, and pull it off with stunning authenticity."  Really, it says that…
"Down East in Your Kitchen" describes step-by-step how to conquer a boiled lobster.  The children's page, which will be in each issue, features a young boy making "Slowpoke Cookies," a cookie using a brownie mix to make turtle cookies.  The instructions are even written in a child-like handwriting.
I decided to make the "Chile Con Queso" from the Mexican dinner party, mainly because it was the way it was made before Velveeta and Rotel tomatoes were microwaved for an instant dip.  I'm sure there are many people who will prefer the easy microwaved method, but I thought it would be interesting to make the longer scratch method.  It tastes similar, but definitely fresher tasting and not as orange!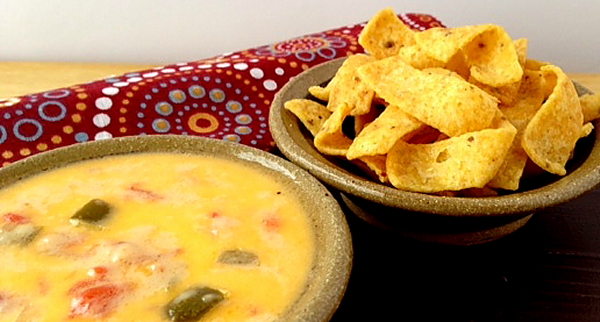 2 Tablespoons unsalted butter
1/2 cup minced onion
1 can (4 ounces) chopped green chiles
1 cup diced canned tomatoes, drained (or 1 cup whole tomatoes and chopped to desired size if you like bigger chunks)
1/2 teaspoon salt
pepper, to taste
1/2 pound Monterey Jack cheese, cubed (do not use pre-shredded)
1/2 to 3/4 cup half-and-half
Corn chips, for dipping
In a medium saucepan, melt butter and add onion.  Cook and stir over medium heat for about five minutes.  Stir in chiles, tomatoes, salt, and pepper.  Simmer over low heat for 15 minutes, stirring occasionally.
Stir in cheese and stir constantly until it is almost  melted.  Add 1/2 cup half-and-half and keep stirring until cheese is completely melted.  Keep heat on low and simmer gently for 10 minutes, not allowing to boil and stirring very frequently to make sure mixture does not curdle, and adding an extra 1/4 cup if mixture seems too thick.  Serve hot with corn chips.  Makes about 3 cups.
Sphere became an instant success and was beloved to many during its short life span.  Come back for the next issue, April/May 1972, at the beginning of April for some Spring recipes.  And, of course, more blasts from the past.