Back in my college days, I was not really a wild child.  Not that I didn't have fun and do a few dumb things here and there (you don't want to know, or rather, my mother reads this).  For the most part, you could find me at the library often, or cooking for either my roommate or a boyfriend, and every once in a while, take a cooking class outside of school.  I found out about an Italian cooking class somewhere off campus where an Italian woman would be demonstrating some of her family recipes.  Sounded like fun to me and a way to get away from studying for a few evenings.
There were about eight of us who showed up and we all instantly fell in love with our instructor.  Lela was funny, talked wildly with her hands, and had us in stitches with her family stories.  She was also a serious cook and loved teaching others her grandmother and mother's way of cooking.  She handed out mimeographed sheets (yes, those inky ones that smelled good), and there were four recipes we would be making that week.  Our first night was the longest because we were making those long beautiful loaves of Italian bread.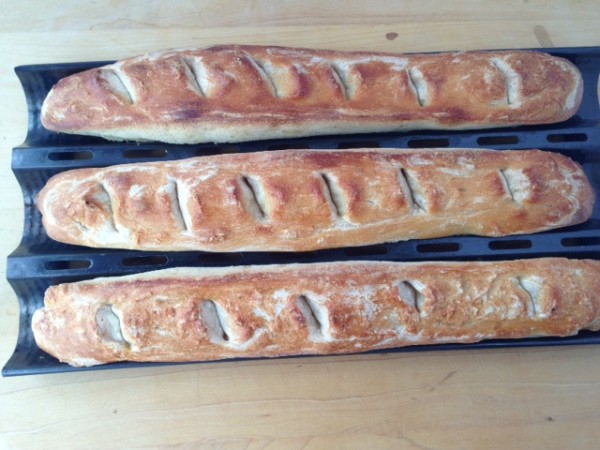 I came across Lela's recipe and the memories flooded back.  I can still smell the kitchen that night.  I retrieved my triple bread pan from my shelf of pans, which I actually bought after Lela's class since her recipe made three loaves. When we made them in class, we free-formed them on large baking sheets which worked fine, but I saw this pan somewhere and had to buy it, just for making Lela's bread.  I can still see Lela slashing those loaves with her knives so fast and furious that we all stood back as she did it.  I do it the easy way and use kitchen shears.
When I finished the loaves yesterday, I remembered the beautiful embroidered cloth bread basket that I bought in Tuscany on a wine-and-food trip-of-a-lifetime to Italy with the incredible Zonin group.  It would be perfect for Lela's bread.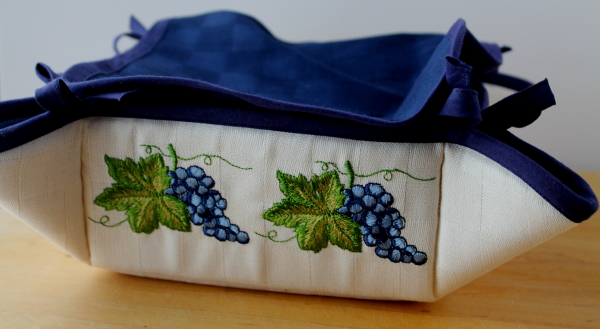 The basket ties at the ends with a flap over the top to keep the bread warm.  They are great because when untied, they lay flat in your suitcase.  I wish I had bought more in other colors.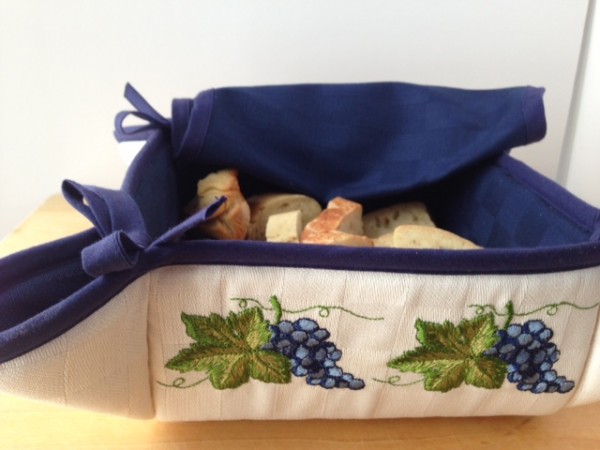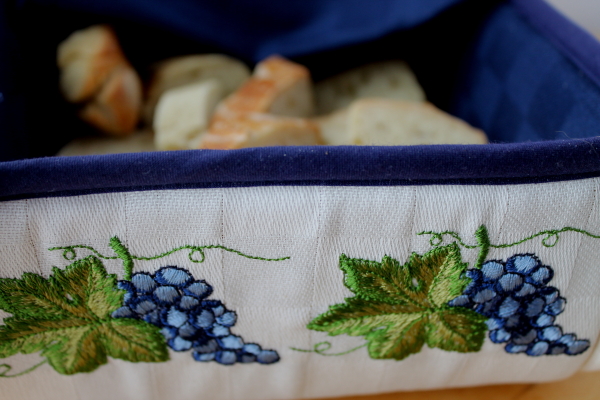 I also found a long bread basket that fit the loaves.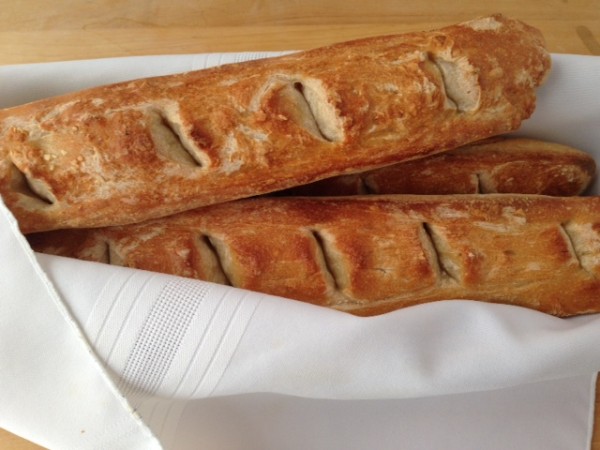 The bread freezes and reheats beautifully.  I love that the recipe makes three loaves and I always keep a couple stashed away.  I like to think that Lela would be happy to know that I am still making her family bread.  Next I need to make her Biscuit Tortoni.  Recipe for that one later.
Lela's Bread
2-1/2 cups warm water
1 package active dry yeast (not the quick-rising)
2 Tablespoons sugar
1 Tablespoon salt
About 6-1/2 cups unbleached white flour
Place the warm water in a large bowl and add yeast; stir to dissolve.  Let stand in a warm place for about 10 minutes or until it starts to bubble.  Stir in the sugar and salt.  Add 6 cups of the flour to the yeast mixture and stir until blended.  Scatter the remaining 1/2 cup flour on a work surface and scrape the dough out of the bowl onto the floured surface.  Knead the dough for 8-10 minutes until soft and pliable, using only enough of the flour to keep it from sticking; you don't want the dough too stiff.  Place kneaded dough in a greased bowl, turn over dough to coat both sides, then cover with a kitchen towel and place in a warm area until dough is doubled in size.  (I turn my oven on to 200 degrees and then set the covered bowl on the stove top).
After dough has risen, punch down and divide into three equal pieces.  Form into ropes (about 15-16 inches long) and place in greased long loaf pans or the dough can be placed on large greased baking sheets, being careful not to let the loaves touch each other.  Slash each loaf with a sharp knife, making slits about 2-inches apart.  Brush each loaf with beaten egg white.  Cover and let rise again until doubled, about 25 minutes.
Heat oven to 450 degrees.   Bake loaves for 15 minutes, then reduce heat to 350 degrees and bake another 25-30 minutes or until nicely browned.  Remove from pans on place on wire racks.  Serve bread warm.  Bread freezes well wrapped tightly in foil.  (I have never tried it, but you could probably make six smaller loaves if you don't have long loaf pans or a cookie sheets large enough).