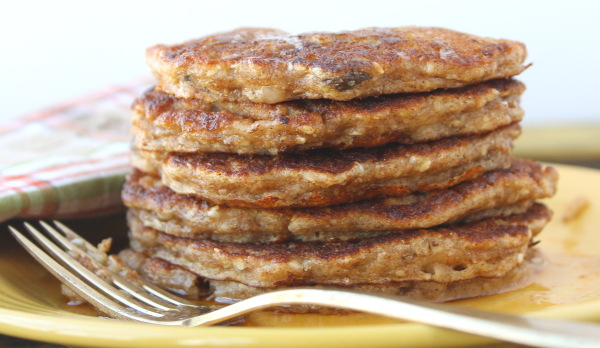 We love making pancakes on the weekends at our house, everything from the light-as-air family recipe Finnish pancakes with lingonberries, to the latest experiment of these hearty and delicious pancakes filled with all kinds of good things.  My husband likes them served with sausage links and maple syrup, but they can also be served with applesauce.  However you like them, they are stick-to-your-ribs kind of pancakes that will keep you going all day. The batter is made the night before and remaining ingredients added the next morning when you are ready to cook, or the batter will keep for several days in the refrigerator before adding the other ingredients.
Powerhouse Pancakes
2 cups milk
1 container (6 ounces) Greek yogurt  (I used Fage 0%)
1 egg
3/4 cup rolled oats
2 Tablespoons honey
1-1/4 cups whole wheat flour
2 Tablespoons canola oil
1 Tablespoon baking powder
1/4 teaspoon vanilla extract
1/4 teaspoon salt
1/2 cup dark raisins
1/4 cup finely chopped walnuts
1/4 cup sesame seeds
1/4 cup wheat germ
1/4 cup oat bran or wheat bran
1 teaspoon cinnamon
1 medium apple, peeled, seeded, and shredded
Canola oil, as needed, for griddle
Maple syrup (or applesauce)
Butter, optional
In a large bowl with a lid, whisk together milk, yogurt, and egg.  Add the rolled oats and honey; stir to blend.  Cover bowl and refrigerate overnight.  (or batter will keep, covered and refrigerated, for several days)
When ready to prepare pancakes, remove batter from refrigerator and stir in the flour, 2 Tablespoons canola oil, baking powder, vanilla, and salt; mix well.  Add the raisins, walnuts, sesame seeds, wheat germ, bran, cinnamon, and shredded apple until well combined.
Heat canola oil to generously cover griddle  and heat over medium-high heat until very hot.  Using a 1/4 cup measuring cup, scoop onto hot pan and cook pancakes, turning once, until nicely browned and cooked through. Add more oil as needed between batches.  Serve pancakes with maple syrup or applesauce, and pats of butter, if desired.  Serves 6.