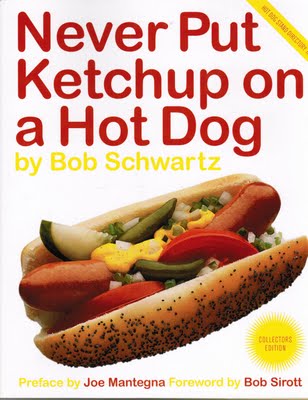 Chicagoans take their hot dogs very seriously, especially the Chicago dog.  If you don't know what that is, it means "dragging it through the garden," which means the following: The Chicago dog begins with an all-beef, natural casing hot dog, nestled into a perfectly steamed poppy seed bun.  It is then topped with seven ingredients (known as the Chicago Seven) starting with a slather of yellow mustard, a spoonful of white chopped onion, a splash of neon green relish, a couple of half-moon shaped tomato slices, a kosher dill pickle spear, a couple sport peppers, and a dash of celery salt.  It's a work of art, as you can see on the cover.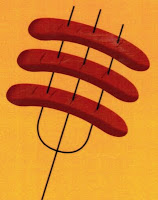 This book has so much history and great stories, it's like reading a novel.  Who knew a hot dog was so interesting?  It has been suggested that the term "hot dog" was coined in 1910 at the Polo Grounds in New York on a cold day early in the baseball season.   Vendors were hawking their "dachshund" sausages by saying they were "red hot" for a cold day.  A New York sports cartoonist, observing the selling, drew a cartoon of a barking dachshund inside a roll.   Since he didn't know how to spell "dachshund" he just called it a "hot dog."   Another story is the origin of the bun.  Some say that during the Louisiana Purchase Exposition in St. Louis in 1904, a Bavarian concessionaire would loan his customers his white gloves to hold the hot sausage so they wouldn't burn their hands.  Since so many of his gloves were never returned, he asked his brother-in-law, a baker, for help.   He experimented in his bakery and developed a bread holder it fit the sausage.  There are many other theories thrown around, and who knows which is actually correct.  It doesn't really matter to a hot dog lover.  All they want to do is indulge.
There are many kinds of hot dogs – Coney Island, Cincinnati, corn dogs, chili dogs, barbecue, bacon-cheese, deep-fried dogs, and a zillion others.  But for Chicagoans like actor Joe Mantegna, there is no dog but the Chicago dog.  Joe wrote the preface in this book, where he describes his love affair with the dog.  He grew up on the West Side of Chicago and lived upstairs from his grandmother in a two-flat.  When he walked home from school, he would spend two quarters to buy two Chicago dogs, "through the garden," of course.  Joe still loves his Chicago dogs so much that he has a restaurant in Burbank, California that offers all kinds of Chicago foods, and of course features his beloved hot dog.  Chicago still loves Joe Mantegna, too.   Just this past week, he was honored by having a stretch of Austin Avenue at 25th Street named in his honor.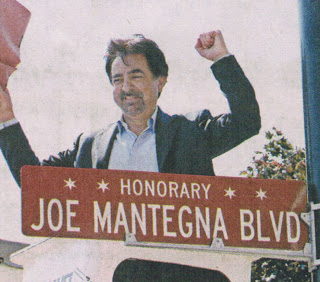 If you love hot dogs, Chicago, historical facts, fun trivia, or maybe just love Joe Mantegna, buy this book.  You will love it.  I swear on my bottle of ketchup, I mean mustard.