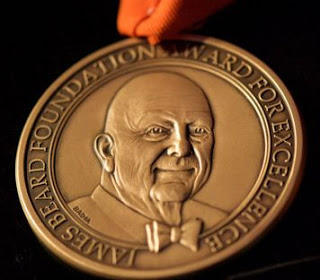 The James Beard Awards are the "Oscars of the Food World."  The nominees are announced each year, just like the Academy Awards, except this is for food and not acting, although some may say that great food is theatre.  Award categories include – Best Chef, Best Restaurant, the Rising Star Award for new chefs, Outstanding restaurant design, awards for television hosts and personalities, and of course my favorite, for cookbooks!  Awards include baking and desserts, beverages, healthy, international, and American.  There are so many awards, check out this list to read them all. 
The gala is held at Avery Fisher Hall, Lincoln Center, in New York City.  I happen to know this area of Lincoln Center well as it was where my daughter Kara had her graduation ceremony from NYU.  It's a lovely venue.  The awards begin at 6:00 pm tonight and it is a black tie affair hosted by Tom Colicchio, Traci des Jardins, and Ming Tsai.  A gala reception immediately follows the awards ceremony and will feature dishes created by chefs from across the country whose cuisine embodies the spirit of this year's theme, the "Ultimate Melting Pot."  The menu will be a combination of "fine traditional cookery" and "mingled cuisines" that will bring the exciting flavors of the great American melting pot. 
Later this week, I will be able to give you a first hand account of this event because my daughter, Kristina will be attending.  She arrived in New York City yesterday and is having a ball getting ready for tonight's exciting events, and also having a great time visiting some of her favorite restaurants and food stores.  I can't wait to hear all about it myself.  What an exciting evening it will be!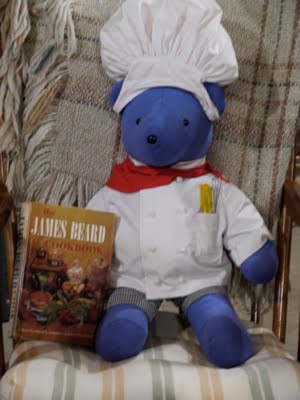 I have my own homage to James Beard sitting on a rocking chair in my cookbook library.  The bear is now a collectible item, whose name is, of course, James BEARd.  I love him.  Plus the great cookbook next to him.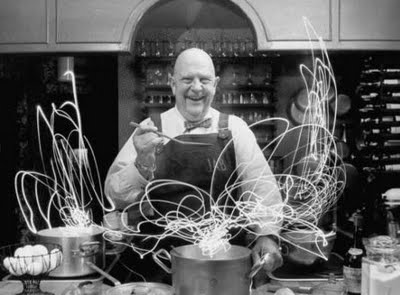 James Beard would love the awards!
P.S.  Watch for my usual Monday cookbook giveaway tomorrow instead!  It will be great, I promise!!