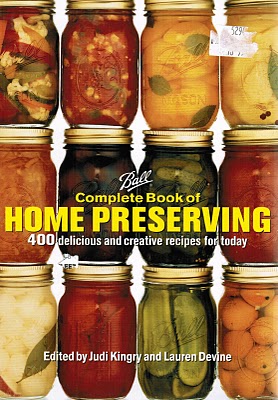 This is what I love the most about summer –  all of the great produce and then canning or freezing the bounty for those cold winter days, or to give away as gifts.  As I mentioned a couple blogs ago, my husband, Bill, brought home 8 quarts of Michigan strawberries on his way back home from a fishing trip.  My newest go-to recipe for strawberry jam is in this cookbook.  I made it for the first time last summer and it was fabulous.  Like many jam recipes, it's pretty basic, but it uses a fresh vanilla bean in the preparation.  The jam is enhanced by the subtle yet distinct vanilla overtones.  I can never make enough of this.
Canning and preserving foods is making a comeback in a big way.  The National Center for Home Food Preservation, a government-funded program that advises consumers on how to safely preserve food, says requests for canning classes are flooding in a rate not seen in many years.  At Jarden Home Brands, the maker of Kerr and Ball brand jars, sales of canning jars is also skyrocketing.
Lately, canning has found a new appeal to consumers, not just because of the slumping economy, but because people are buying fresh, local, and seasonal ingredients to preserve for their own enjoyment.  Many restaurant chefs are also jumping on the canning bandwagon, so their customers can enjoy high-quality gourmet preserves and condiments.  Chefs have offered such items as cranberry ketchup and peach relish to their customers.  A recent trend of some chefs is to can or pickle seasonal produce for year-round use.
This cookbook is a must for anyone who loves canning and preserving.   There are over 400 pages of delectable recipes, along with canning tips.  In fact, on every page of a recipe, there is a special column that has tips for that particular recipe.  I have many canning books, but I think this one is so complete and easy to follow for experts and novices alike.  If you are inexperienced at canning and would like to learn, this book is what you want.  You can also seek out information from a local extension service for canning expertise, or find information online at the National Center for Home Food Preservation.  If you want to learn canning, learn to do so safely and with care. 
I love everything about this entire book, but especially love the chapters on jams, relishes, mustards, and sauces.  I love the lemon-sage wine mustard, the pizza sauce, Oktoberfest beer mustard, and can't wait to try the harissa sauce, and fresh herb jelly.  I will make many of jams and marmalades, because they are probably my favorites.   I run out of space in my basement for all the canned items, but then they quickly disappear as Christmas comes along and I give many of them as gifts.  I wish I could send every single one of you something.  But I won't have to if you find this book and make them for yourself!