My husband Bill loves these muffins.  They are cake-like and very large, using over-sized muffin tins.  The recipe makes about 18 muffins, and if you decide to make them standard size, the baking time will be less and you will have muffins coming out your ears.  Just a warning.  You can also skip the lemon glaze if you prefer your muffins plain.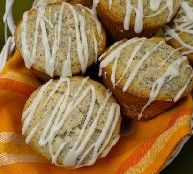 JUMBO LEMON POPPY SEED MUFFINS WITH LEMON GLAZE
2-1/2 cups granulated sugar
1-1/2 teaspoons salt
3 eggs
1 cup vegetable oil
2 cups milk
5-3/4 cups all-purpose flour
3 Tablespoons baking powder
1/3 cup freshly squeezed lemon juice
2-1/2 teaspoons lemon extract
1/2 cup poppy seeds
Lemon Glaze:
1/3 cup butter, melted
2 cups confectioner's sugar
3-4 Tablespoons freshly squeezed lemon juice
1.  Heat oven to 350 degrees.  Grease over-sized muffin tins or use jumbo paper liners. Blend sugar, salt, and eggs with paddle attachment of electric mixer at low speed.  Combine oil and milk; add slowly to egg mixture with mixer running.  Stop mixer and add flour and baking powder.  Mix until all dry ingredients are incorporated, about 1 minute.  Stop mixer and scrap down sides of bowl.  Add lemon juice, lemon extract, and poppy seeds.  Fold into batter until thoroughly combined.
2.  Fill prepared muffin tins about 2/3 full with batter.  Bake for about 25-30 minutes or until a toothpick inserted in the center comes out clean.  Remove to wire rack to cool.  Using a pastry brush,  brush each muffin top with lemon glaze and let sit until glaze sets, or you can just drizzle on the glaze.  Makes about 18 jumbo muffins. 
For lemon glaze:  Stir together melted butter and confectioner's sugar until combined and smooth.  Stir in lemon juice until desired consistency for brushing or drizzling on muffins.