To celebrate National Strawberry month, here is my favorite strawberry pie.  It's so simple, yet the simplicity is what makes it grand.  It's the only strawberry pie I make.  I hope you will love it, too.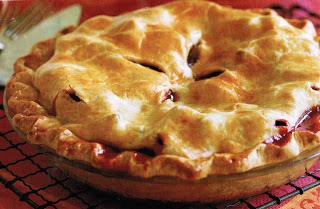 Fresh Strawberry Pie
Crust:
2 cups all purpose flour
1 cup solid vegetable shortening, chilled and cut into bits
1 teaspoon salt
1/4 cup cold water
Heavy cream, for brushing on pie
Granulated sugar, for sprinkling on pie
Strawberry Filling:
4 heaping cups fresh, ripe small-sized strawberries
1 cup granulated sugar
2 Tablespoons cornstarch
1 Tablespoon freshly squeezed lemon juice
2 Tablespoons unsalted butter
Vanilla ice cream, or whipped cream, for serving – Optional
1.  For crust:  Place flour in mixing bowl and cut in shortening with a pastry blender until crumbly.  Place salt in cold water and stir to dissolve; drizzle over flour mixture.  Stir gently with a fork until the dough holds together.  Form dough into two equal-sized discs.  Dust lightly with flour and wrap each in waxed paper or plastic wrap.  Refrigerate until ready to make pie.
2.  When ready to make pie, heat oven to 450 degrees.  Wash and hull the strawberries and drain them on a towel.  Stir together the sugar and cornstarch in a large bowl and mix in the berries.  Sprinkle on the lemon juice and let berries stand for 15 minutes.
3.  Remove one of the dough discs from refrigerator and roll out on lightly floured surface.  Ease into a 9-inch pie plate.  Spoon in the strawberry filling.  Scatter slivers of the butter on top of filling.  Cover pie with rolled out top crust; flute edges, sealing tightly.  Using a pastry brush, brush the top crust with a light layer of cream, then sprinkle lightly with granulated sugar.  Cut several slits on top with the tip of a sharp knife.
4.  Bake for 10 minutes at 450 degrees, then reduce heat to 350 degrees and bake for 40-45 minutes or until the crust is golden brown and the filling is thick and bubbling.  Remove pie from oven and cool on a wire rack.  Serve pie with vanilla ice cream or whipped cream,  if desired.  Serves 8.