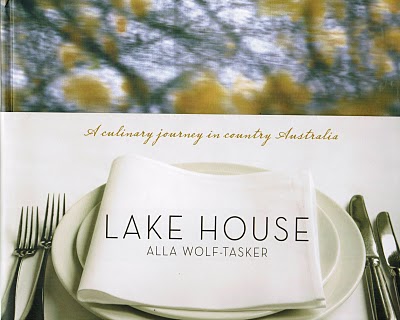 With many people enjoying our country's lakes this summer, I thought we would go to a lake house, actually a lake house restaurant in Australia, where my daughters, Kristina and Kara, enjoyed an amazing meal down-under.  This beautiful coffee table book is so big, it didn't quite fit in my scanner.  That's because it's filled with gorgeous photos and recipes.  Lake House is located outside of Melbourne in the town of Daylesford.  It is one of Australia's most highly regarded gourmet destinations, and has collected virtually every significant national hospitality award as well as several international ones.  Lake House opened its doors in 1984, a time when regional Australia was not a considered choice for good food and wine. 
The waters surrounding Daylesford were known for centuries for their healing properties.  The region had the largest number of naturally occurring mineral springs in Australia.  In this idyllic setting, author Alla Wolf-Tasker grew up with parents who were great cooks.  Her mother was the more disciplined one who made great pastries and preserves.  Her father was "a dreamer and stirrer of pots, who sang in three languages while stews and soups bubbled away."  It was a big leap to go from these pleasures of the table of family and friends to starting a country restaurant.  The journey of this amazing restaurant is captivating.  I wish I could write about it all, but you would be reading for hours!  But I will tell you about some of the recipes.  I have post-it notes all over the book of recipes I wish to try.  One of the first ones I came across was for "Summer Rose Cupcakes."  The cupcakes use rose-scented sugar, the icing uses rosewater, and they are decorated with crystallized rose petals!  I have a sausage-making attachment to my mixer and always like finding unusual homemade sausages.  I found smoked trout, chicken, and lamb and fennel sausages that I can't wait to try.  Since it is summer, I am intrigued with the strawberry fritters with raspberry sauce.  My girls both love poached eggs, and there is a recipe where you take freshly poached eggs, carefully roll them in flour, then dip in beaten egg, then dip in panko crumbs.  After that process, the eggs are refrigerated for about 10-20 minutes, then fried in oil.  Apparently, the yolks are still runny!  I must try this one for the girls. 
This is a lovely, informative cookbook, about cooking, Australia, organic foods, and just the love of good food.  The author believes that eating something truly delicious has always done wonders for the human spirit.  I think we can all agree with that!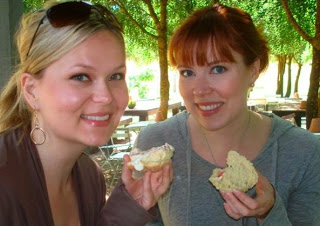 Photo of Kara and Kristina enjoying lavender scones in the Australian countryside.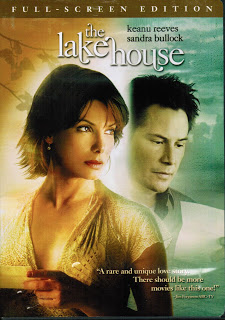 Completely random placing of "The Lake House" movie, just because I like it..