What to do with all those leftover hard-boiled eggs after Easter dinner today ?  I have a great recipe from my favorite (now retired) food editor of the Chicago Tribune, Carol Haddix.  I cut this out of the Good Eating section some time ago, and it still remains a favorite.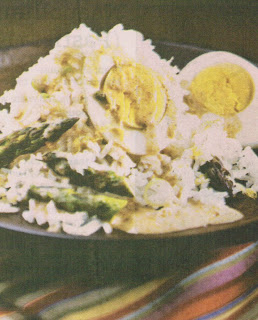 Curried Eggs and Asparagus with Basmati Rice
2 Tablespoons vegetable oil
6 green onions, sliced
3 cloves garlic, sliced
2 teaspoons Thai or other curry paste
1 can (14 ounces) chicken broth
1 bunch asparagus, cut on diagonal into pieces
1/2 cup whipping cream or half-and-half
1/4 teaspoon salt
8 hard-cooked eggs, peeled and halved
Grated zest of 1 lemon
1 cup basmati rice, cooked
1.  Heat oil in large skillet over medium heat; add half of the onions and the garlic.  Cook, stirring, until softened, 2 minutes.  Add curry paste; cook, stirring, 1 minute.  Stir in chicken broth; heat to a boil.  Reduce heat to low; simmer 5-7 minutes.
2.  Stir in asparagus; cook over low heat until crisp-tender, 3-5 minutes.  Stir in cream and salt.  Add eggs; heat 2 minutes.  Sprinkle lemon zest and the remaining onions over.  Serve over rice.  Serves 4. 
Happy Easter!!