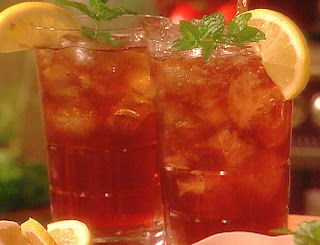 This is my very favorite iced tea to make when my mint pops up in the garden, which should be very soon.  I can never make enough.  It's so refreshing and tastes like Spring!
Sweet Tea with Fresh Mint
1 cup firmly packed fresh green mint leaves
2 cups water
3/4 cup granulated sugar
6 plain tea bags (I use plain Lipton tea)
12 cups boiling water
Garnish:  fresh mint sprigs
               lemon slices
1.  In a saucepan, combine the mint leaves, water, and granulated sugar; simmer for 10 minutes, stirring occasionally to dissolve sugar; set aside.
2.  Place the tea bags in a pottery bowl or glass bowl and pour on boiling water.  Let stand until cooled, then remove tea bags.
3.  Strain the sugar/mint syrup into the cooled tea.  Refrigerate until very cold.  To serve, fill tall clear glasses with ice, pour in tea, and garnish with fresh mint and lemon slices.  Makes about 18 glasses.