I enjoy reading letters to the editor sections in newspapers and magazines.  It's always interesting to read what others are thinking about, giving opinions, or just venting.  Two recent letters in the Chicago Tribune caught my eye.  One was a real heartbreaker for anyone who loves family recipes.  The writer expressed that her mother had passed away a few months ago, and she had failed to write down her mother's recipe for a special soup.  The soup, she explained, was part of her childhood and a staple at holiday meals.  She has shed many tears over the loss of the recipe, not just for what it represented in her life, but it was something so special associated with her mother.  I truly felt for her.  My mother still talks about her aunt's big, floury molasses cookies she remembers from childhood, but she thinks there never really was an actual recipe – it was all in her aunt's head.
The next letter had happier news on the same subject.  The writer's mother-in-law had a treasured recipe for "mama's Christmas ravioli."  Mama's wise daughters decided they had to learn how to make the ravioli before it became nothing but a fond memory.  They sat down with mama as she made the ravioli and stopped her each time she threw an ingredient into a bowl, found out what a "pinch of this" and a "pinch of that" actually meant.  This family can now continue their tradition of mama's ravioli at every Christmas gathering.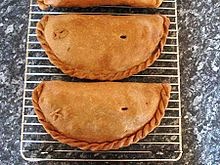 About 20 years ago, I did the exact same thing with a Finnish relative of my husband.  Cousin Esther made pasty every single Saturday morning at noon, and had done this for decades.  For those who don't know what a pasty is, it is a meat pie, as seen above.  It can also be made in a pie pan and cut into wedges, but is usually made as a hand-held pastry-covered small savory pie, filled with meat, potatoes, onion, and a vegetable, usually rutabagas or carrots.  It is a staple in the Upper Peninsula (UP) of Michigan where my husband's Finnish relatives settled.  You will find pasty shops and stands all over the UP.  Esther always made her Saturday pasty as a whole pie.  When I approached her about wanting the recipe, she just laughed and said, "what recipe?"  One Saturday morning I asked Esther if I could come to watch her make the pasty, and stop her each time she "measured" an ingredient.  She thought it was highly amusing that I wrote down every pinch of salt, but now our family has Esther's actual recipe.  It meant a lot to my husband, since Esther has since died of Alzheimer's.  She may be gone but her pasty is forever.
After reading the letters to the editor, I called my daughters and asked which recipes of mine they never wanted to lose.  Without hesitation, both said my apple pie.  They both have that recipe, but my oldest said she wanted to make sure I wrote down how I make my pizza sauce every summer from the tomatoes in my garden. Whoops –  I need to write that down.  With every pinch.
Esther with my girls when they were young: