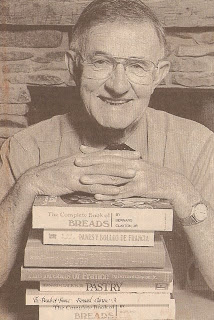 If you are a bread baker, you already know the name Bernard Clayton, Jr., because he composed the finest and most celebrated bread cookbook of all times, "The Complete Book of Breads"  published in 1973, followed by "The New Complete Book of Breads" published in 1987.  He also wrote,  The Breads of France, The Complete Book of Pastry, The Complete Book of Soups and Stews, and others.  I have all of Bernard's cookbooks, and will be talking about every one of them at some point, but for now I am going to concentrate on one close to my heart called "Bernard Clayton's Cooking Across America."  More importantly, I want to tell you about Bernard and his wife Marje, two of the most endearing, delightful, and fascinating persons you could ever hope to meet in a lifetime.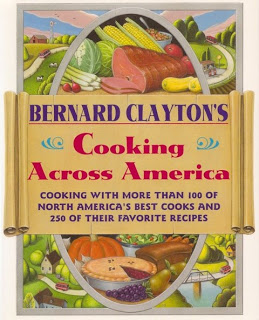 Bernard Clayton, Jr, is not only one of the best known cookbook authors in American cookery, but has had a life that Hollywood should film.  Bernard Clayton, Sr,  purchased a small town newspaper in 1924, where Bernard, Jr, first developed his love of photography.  His photography skills led to a career in photojournalism, first with the Indianapolis News and later with LIFE magazine in New York.  While visiting a friend on the campus of Indiana University, Bernard met Marjorie Roach.  It was love at first sight.  Since Bernard was settled in New York with a full-time job at LIFE, he wrote to Marje proposing marriage.  She accepted and they are still blissfully in love.
In 1940, Bernard was sent to Chicago, the first full-time LIFE editorial representative to be sent out of New York.  When the United States entered World War II, Bernard's first assignment as a war correspondent with LIFE was with the Navy under Admiral Chester Nimitz.  In 1945, Bernard joined the army and was with General Douglas MacArthur's forces in the Philippines, where he remained until the war ended.  Bernard was aboard the U.S.S. Missouri when MacArthur, as commander-in-chief of the Allied Forces in the South Pacific, signed the treaty to end the war.
Following the war, Bernard and Marje took a long vacation bicycling through Europe, meeting people and enjoying the cuisines Europe had to offer.  This journey sparked ideas for Bernard about exploring the kitchen.  Armed with Julia Child's first cookbook, Bernard began with a slice of ham and mustard sauce.  One success led to another, and soon the Clayton kitchen was full of lively activity and great aromas.  Bernard's mother, Lenora, was an excellent cook, and his love of good food had been cultivated since childhood.  Bernard recalls a letter received from a friend of his mother's who expressed how much she had especially loved Lenora's dinner rolls.  Recalling those rolls himself, and all the delicious breads he and Marje had enjoyed on their European adventures, Bernard began collecting recipes from family, church cookbooks, and friends, including those he met in Europe.  So he began baking bread.  Lots of bread.  By the time Bernard had about 50 perfected recipes, he decided to write a cookbook.  And write a cookbook he did.  "The Complete Book Of Breads" is heralded as the most complete and most satisfying collection of bread recipes ever published.
Now let's go back to the aforementioned cookbook, "Cooking Across America," which is how, on one ordinary suburban Chicago day in the early 90's, my life suddenly became richer as I heard the voice of Bernard Clayton, Jr, on my telephone.  Bernard had an idea for his next cookbook where he, Marje, and their dog Timothy, would travel our country in their GMC van in search of the best food American cooks have to offer.  For three years they visited 28 states looking for cherished recipes of home cooks.  One way Bernard found people was to call food editors at newspapers.  He happened to call Carol Haddix, food editor extraordinaire for the Chicago Tribune, and asked her for the name of a home cook in the Chicago area.  Since Carol knew I had been active in cooking contests, she gave Bernard my name.  As I was puttering around my kitchen one weekend, my phone rang and a booming, friendly voice asked – "Is this Debbie Vanni?  This is Bernard Clayton.  I am a cookbook author, and I am interested in featuring you for my new cookbook."  The poor man heard nothing but dead air for a few seconds until I managed to stammer, "You mean Complete-Book-Of-Breads-Bernard-Clayton??"  I don't remember everything about the remainder of the conversation, except that he was coming to my home soon for an interview, plus I had to cook for him.  What am I, nuts??  How could I possibly cook for one of the greatest cookbook authors in the world?  Not only that, Food Editor Carol Haddix was also coming to dinner.  Don't ask me how I survived, but I did, and it was one of the highlights of my culinary life. 
This charming cookbook-cum-travelogue features over 100 home cooks along with their personal cooking stories and recipes.  You can read about cooks from Montana to the bayous of Louisiana; a 14-ingredient barbecue sauce to my own recipe for Shrimp and Feta Pizza from the Pillsbury Bake-Off Contest.
I am pleased to say that we have kept in touch with Bernard and Marje for close to twenty years with annual Christmas cards and an occasional visit.  I look forward to their cards and cheery letters, which always begin with what wildlife and flora they are currently enjoying out the back door.  In a recent letter from just a few weeks ago, Marje's first sentence was "The daffodils are peeping up!"  Bernard and Marje take joy in life, whether it be flowers, deer, or baking bread.  I am proud to know them both, and want them to know how much they have enriched my life.  There is never a time when I bake bread that I don't think of Bernard. The photo below shows his incredible  former kitchen, which housed seven ovens and a massive working surface.  It's where he worked his magic for all of us.  Thank you, my friend.