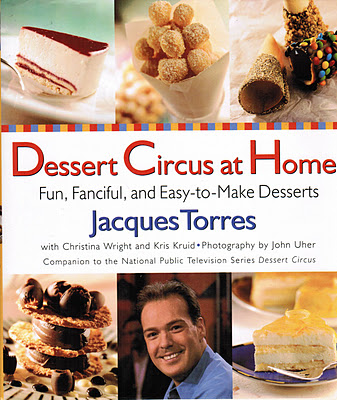 Kitchens across the country are getting ready for the upcoming celebrations of Thanksgiving, Chanukah, Kwanzaa, and Christmas.  That means pumpkin pie, Christmas cookies, fudge, tortes, candy, and everything in between.   Americans certainly love their sweets.  Desserts are always special on these occasions, but Jacques Torres takes it to a whole new level.  Known as "Mr. Chocolate, Jacques has won numerous awards for his delectable desserts including the James Beard Foundation Pastry Chef of the Year, the Chefs of America Pastry Chef of the Year, Chartreuse Pastry Chef of the Year, and  the coveted Meilleur Ouvrier de France, France's highest award for a pastry chef, and the youngest ever to earn that distinction.  "Dessert Circus" was the name of the series the chef hosted on public television. 
With all of these awards, one would think it would be impossible to recreate the chef's masterpieces, but the book was written with the home cook in mind, and is a tribute to the American dessert.  He makes desserts fun and easy, from the traditional banana cream pie to an exotic mint soup.   Jacques says he wants to wake people up at the end of a meal, even when they think they don't want dessert.  The dessert must be so special that it must excite the diner to eat more. 
Desserts offer the opportunity for creative expression with food. There is no one more creative than Jacques Torres.  I can't even begin to tell you about all of the incredible recipes in this cookbook, coupled with the most amazing photos.  Along with this, you will also learn as if you are in the kitchen with Jacques.  He thoroughly explains equipment, ingredients, and terms to know.  And I mean pages and pages of them, just like you were in a classroom with him at a pastry school. 
I will leave you with one photo because it's for Christmas.  It was one of the signature seasonal desserts made by Jacques while he was the pastry chef at Le Cirque.  He first made this dessert to celebrate a tradition started with his family.  They have a farm high in mountains of France.  Every year when friends visit, the chef and his wife would ask everyone to transplant a tree somewhere on the property.  The friends are asked to plant the tree wherever they would like, and then the tree was named after the friend who planted it.  Then when Jacques and his family visit their farm, they feel as if the friends are there with them.  Such a lovely tradition, done with love, just as Jacques makes his masterpieces.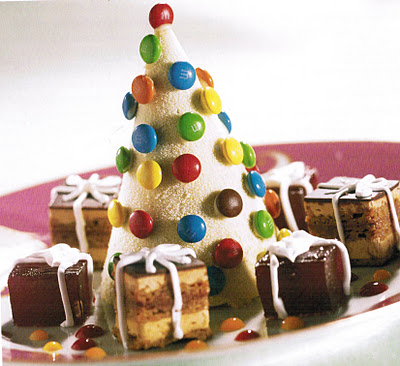 Think this is something??  Wait until you see Jacques' Christmas "Buche de Noel!"
Okay, okay, I'll show you….