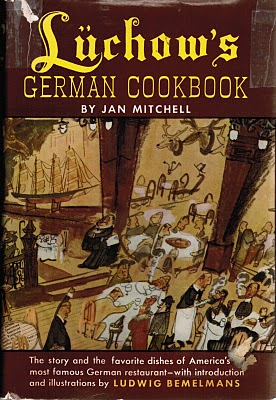 At the time of the first printing  of this cookbook in 1952, Luchow's Restaurant in New York City had been operating for 70 years.  It was founded by August Luchow in 1882.  The restaurant on 14th Street was New York's musical and cultural main street.  Luchow's  faced the five-block thoroughfare of Irving Place, where there were more luminaries of the theatre, art, and literary worlds in residence than in any other neighborhood in the nation.  The restaurant patrons included Teddy Roosevelt, O. Henry, H.L. Mencken, Andrew Carnegie, Toscanini, and Caruso.  The list in the book reads like a Who's Who of America.  Another frequent guest was Diamond Jim Brady.  He was known to host lavish banquets at Luchow's, where he would find chorus girls to accompany his friends to dinner.  When the girls arrived, they found they were thanked by Mr. Brady with $500, along with diamonds, tucked into their napkins.  Diamond Jim certainly lived up to his name.  He was also a very large man with a huge appetite.  On one of his visits, he brought along his own personal cook and sent her to the kitchen to obtain a recipe for one of his favorite dishes at the restaurant.  The Luchow chef wrote it out and, handing it to her, explained "This recipe is for fifty servings."  "Thank you," the cook replied, "Then I won't have to change it for Mr. Brady."
I love reading about old restaurants such as Luchow's.  The descriptions read like a movie set and one can only imagine the atmosphere of earlier eras.  Luchow's had two entrances to its baroque, dark brown exterior.  Once beyond the doors, it sounds like a different world.  Their door on the right, toward Broadway and Union Square, led into a "Gentleman's Grill," where a man could eat or drink there, safe from the company of women, if that was his pleasure.  He would find himself confronting a vast mahogany stretch of bar with its mirrored expanse surmounted by hand carvings brought to this country from Germany.  On one of the walls was a shaggy buffalo head obtained at the St. Louis World's Fair in 1904.  An oil painting of Bacchus appropriately surveyed this scene from an opposite wall.  The other entrance, for the family trade, would lead directly into a small reception room, where a plaque advised you, "Through the doors of Luchow's pass all the famous people of the world."  The first room entered paralleled the bar, but was completely walled from it.  It had a nineteenth century serenity, that air of high-ceilinged spaciousness which set the tone for Luchow's.  Everywhere on the walls were oils by German and Dutch artists, a porcelain statue of Frederick the Great, and an admirable collection of steins which lined the walls of the room.  The intricate carvings on the steins were of religion, hunting, and battles, reminders of the Luchow heritage, which goes beyond its American beginnings to the eating and drinking places of Munich and Hamburg.  Can't you just picture it in your head?  And we haven't even talked the recipes yet!
The restaurant with its 28 chefs turned out classic German fare such as sauerbraten, Black Forest torte, spatzle, bratwurst and sauerkraut casserole, hot potato salad, potato pancakes with applesauce, and their special German ragout, not to mention the endless varieties of beer.  Imagine eating some of these dishes at Christmas time, when Luchow's would have the largest indoor tree in the city, aglow with five hundred electric candles and original nineteenth century toys imported from Germany.  The holy village was beneath the tree, with the church bells chiming hymns and the Apostles revolving in the tower, all hand-carved by famous wood-carvers in Bavaria, and an orchestra would play carols while the diners sang.  The Christmas menu was always the same:  oxtail soup, boiled carp, roast goose with chestnut stuffing, creamed onions, pumpernickel, plum pudding with brandy sauce, and ice cream Santa Clauses.  I doubt Santa would have left diamonds under the napkins as did Jim Brady, but who needs diamonds when you have the splendor of Luchow's?